If you are new to DFS and aren't familiar with pace-of-play statistics, it's time to start familiarizing yourself with them. NFL and NBA daily fantasy sports revolves around pace of play, more specifically, around opponent pace for any given slate.
A player's upside in daily fantasy is ultimately controlled by the number of opportunities he gets to score points. The higher the pace of the game, the more opportunities to score. So we want high usage players in fast-paced contests.
What Are We Looking For in Pace Statistics?
The one major mistake we see new DFS players make when it comes to pace of play is targeting players on uptempo teams, assuming they get more opportunities to score. However, we are specifically looking at the opponent's pace of play when we analyze a matchup because that player's averages are already based on his team's pace.
So if Randall Cobb averages 16 points on 66 plays per game, but this week he is facing a Minnesota team that limits their opponents to 60 plays per game, he is going to see fewer targets than he normally would be based on pace alone. However, the opposite is true of Minnesota, their pace will increase because they are facing a more uptempo team in the Packers.
How Do You Use Pace in Fantasy Football?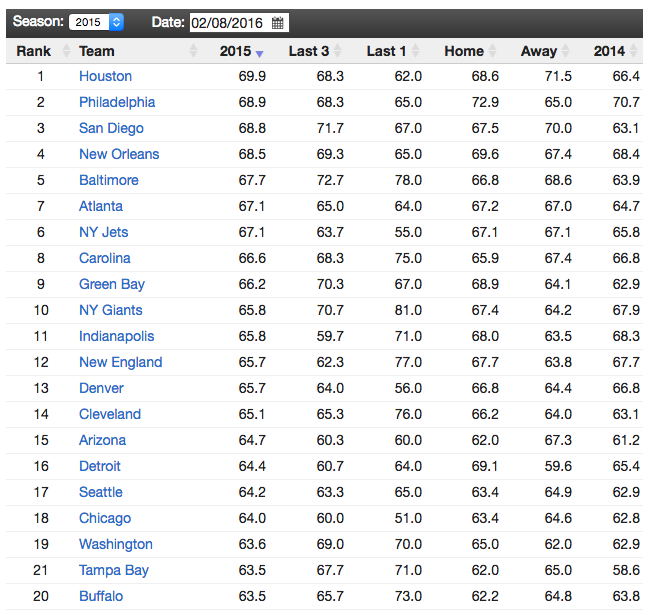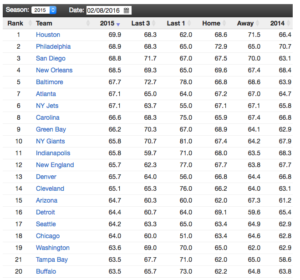 Pace is a slightly overrated variable in fantasy football (at least when comparing to it's role in daily fantasy basketball) however it should still play a role in your research. What we are looking for are positive correlations between positional matchups, the pace of play, and scoring defense.
If we can find players that are going to see increased opportunity in favorable matchups, we can consistently find value. So take a look at a week's Vegas totals, identify high scoring teams, cross-check those teams with their opponent's pace of play, then move on to targeting the top defense vs position matchups in those games.
Let's give you an example of what we would be looking for: Dallas has a Vegas team total of 34 points in a matchup with Philly. Philly runs 70 plays per game, 10% above league average. They allow the 28th most PPG to oppose slot receivers, and Cole Beasley has averaged 7 targets per game over the last three weeks. Given the matchup, the volume of targets he has received and projects to receive in this matchup based on previous weeks and pace of play, Beasley is a strong play this week.
While there are outliers, there is a direct correlation between plays per game and fantasy points allowed. Anytime you can take a slate of 14 games and whittle it down to 3 or 4 that are really worth targeting it helps you determine who your stacks are for the week, and where opportunities exist to find value.