Training camps are only a few days in and we are still over a week away from real preseason action, but it's never too early to start our week 1 DFS work. Last season's DraftKings NFL Week 1 Millionaire winning lineup (seen below) hit 4.5x value, which is the number we used as our target when picking our 2022 NFL Week 1 targets.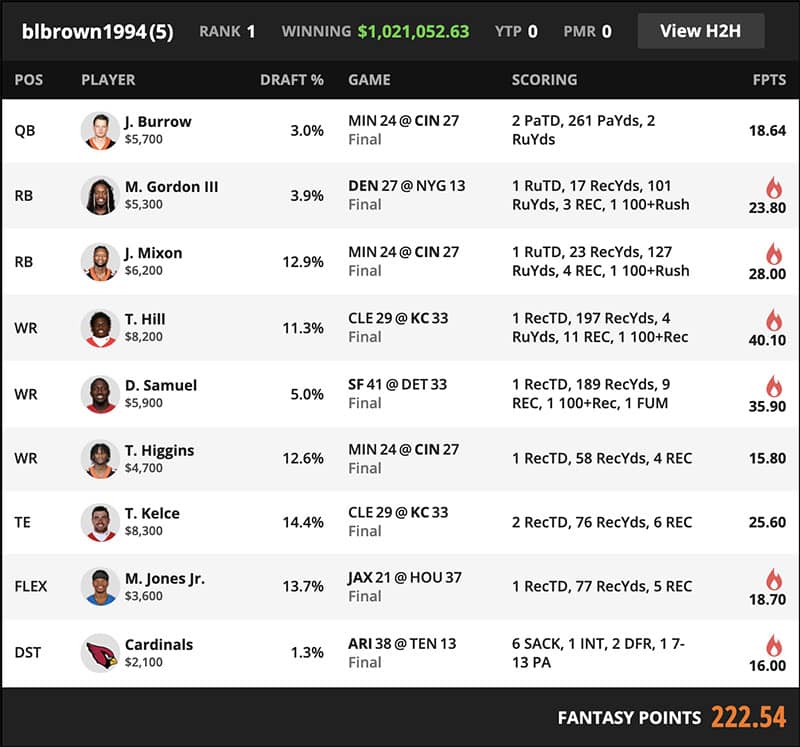 Best Week 1 DraftKings Stacks
We tracked every winning Millionaire lineup from last season, and it shouldn't come as a surprise that every winner stacked at least one WR with their QB pick. Here are the three stacks that stand out at first glance at DraftKings week 1 pricing.
Lamar Jackson with Rashod Bateman
While the Jets secondary looks solid on paper, they are nothing compared to the group Jackson and Bateman are going up against every day in practice. The Ravens have PFF's number one rated secondary heading into this season, and we think working against this group throughout camp will give the Ravens' passing attack a massive advantage heading into the regular season.
Justin Herbert with Mike Williams and Austin Ekeler
The Chargers offense is absolutely loaded, and this trio decimated the Raiders last season. Herbert averaged just over 26 PPG against the Raiders, Ekeler averaged over 30, and Williams put up 29.9 against them in the final game of the regular season. With Casey Hayward now gone, the Raiders secondary may be the worst in the NFL. If Vegas' offense can keep pace, the Chargers could put up 40 points in week 1.
Jameis Winston with Michael Thomas
Speaking of Casey Hayward, the Falcons added the vet this offseason but did little else to address a secondary that gave up an opponent QB rating of 98 and the third-most passing touchdowns in the league last season. Combine that with the league's lowest-rated pass-rush group, and we think Winston and Thomas hit the ground running in 2022. Given this stack has a budget-friendly price tag of just $11,000, this stack allows you to pay up for one (or both see our optimal lineups) of the big-name RB's in week 1.
Best RB Plays for DrafKings NFL Week 1
There is plenty of upside at the RB position for week 1, unfortunately, it looks like you will have to pay up for it as the pricing at this position is tough. Barring any preseason injuries, there aren't a lot of names under Elijah Mitchell that stand out as solid value plays in this slate.
Johnathan Taylor and/or Derrick Henry
Get ready for immediate fireworks out of this duo as both players have favorable week 1 matchups. The Titans got blown out in their opener, but Henry averaged 35 DraftKings PPG in weeks 2 through 6 last season. Taylor faces arguably the league's worst defense in the Houston Texans, a team he averaged 30 DraftKings PPG against last season.
Nick Chubb
The Browns offense was decimated by injuries last season, with both Chubb and Hunt missing time, and the offensive line missing starters in nearly every game. Chubb should get 20+ carries behind a healthy offensive line in week 1, which has historically been a recipe for fantasy success.
Elijah Mitchell
Kyle Shannahan should be able to ease Trey Lance into his first full season as the 49ers' starter thanks to a cupcake week 1 matchup. The Bears front seven is one of the weakest units in the NFL, including a defensive line that ranks 31st according to PFF. Mitchell closed out the 2021-22 season with 17+ carries in 7 of his final 8 games. That sort of volume should allow him to reach 4.5x value against this weak Bears defense.
Best Value WR Plays for DraftKings NFL Week 1
We know there will be plenty of value available at the WR position by the time week 1 gets here, but there are two names that stand out today as great punts at the position, should you need one.
Parris Campbell ($3,300)
Campbell enters this third season with the Colts as the #2 wide receiver and is already turning heads in camp. We know he can fly, but can the combination of Reich and Ryan finally figure out how to use that speed? If it's going to happen, it should be against the Texans. A lack of pass rush and zero proven players in the secondary should encourage the Colts to take some down-field shots with Campbell in week 1.
Rondale Moore ($4,000)
With Hopkins out, Kirk in Seattle, and Edmonds in Miami, there should be no shortage of targets for Moore early on this season. Combine that with the firepower on the other side of the ball, and the second-year receiver looks like a nice week 1 value play.
Best TE Plays for DraftKings NFL Week 1
If you didn't pay up at the tight end position last season, you paid the price. That being said, we do think there is a player that could provide some value at the position, should you choose to try and buck that trend here in week 1.
Dallas Goedert
Goedert was a beast down the stretch for the Eagles, averaging 18 DraftKings PPG over his last 5, and we are betting he picks up where he left off. With A.J. Brown and Devonta Smith on the outside, Goedert should have plenty of space to operate over the middle of the field. Detroit has some intriguing talent on the outside, but their current group of linebackers and safeties have really struggled in coverage and allowed the 8th most fantasy production to opposing tight ends last season.
Hayden Hurst
Hurst is by far our favorite value tight end play for week 1. We saw C.J. Uzomah turn in a respectable fantasy season in this offense last year, and Hurst is a considerably better talent. The Steelers have one of the better front 7's in football, so if the Bengals are forced to throw, Hurst could find himself targeted several times here in week 1 and may find the end zone in his debut.

DraftKings NFL Week 1 Optimal Lineups
Again, these picks will evolve as we work through the 2022 preseason, but putting everything together resulted in the three lineups you see above. Let's start out the 2022 DFS season with a winner!