It has become extremely clear that DFS has an enormous effect on the business that is professional sports. In the most popular NBA DFS season to date, the league reported League Pass sales were up 12% despite offering packages that allowed you to watch your choice of teams or games at a lower price. Meaning these sales could not be credited to fans wanting to watch their teams… these were fans that wanted to be able to watch any game at any time. What does that sound like?
DraftKings is also having a massive effect on golf ratings. A sport that was once ignored by millennials is quickly becoming one of the three most popular fantasy games on DraftKings. The result? A 29% increase in millennial viewership and the second-best quarter in the history of the golf channel.
It is clear that the PGA Tour has officially acknowledged the role DFS can play in the growth of their sport. Despite offering a wide variety of popular fantasy games of their own, the PGA Tour named DraftKings the Official Daily Fantasy Home for the PGA Tour. That announcement came in early 2019.
We have seen similar deals with the NHL, UFC, WNBA, and both domestic and European soccer leagues. All of these leagues cater more to niche fan bases, and opening their sport up to daily fantasy offers an opportunity for growth where it may not have otherwise existed.
What Sport is Next?
We think the CFL will be the next sport to leverage the power of Daily Fantasy Sports. The CFL is already growing in popularity in the DFS community, a quick look over the CFL lobby shows very little overlay, compared to the significant amount of overlay this time last week.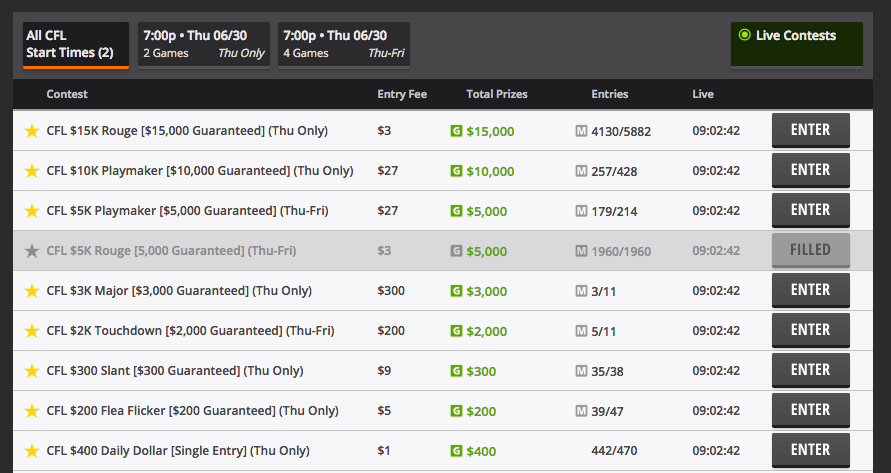 We will see what sort of effect this ends up having on the TV numbers for the CFL, but we believe there is a significant chance this takes off. There are several factors here. First, it's a solid product, similar to the NFL, but different enough to be interesting. With only 3 downs to get 10 yards, consistently running the ball is essentially impossible. Couple that with a 20-second play clock, and you get a fast-paced game with the ball changing possessions constantly.
The second major reason this will work is the timing. Part of what makes golf great is the fact that it fills the gap between the end of the NBA/NHL season and the start of football. This is where CFL could really drive viewership and revenue for both themselves and daily fantasy sites. It will obviously sink back into irrelevance once the NFL begins, but from June 23rd to August 8 lies an opportunity worth capitalizing on.
DraftKings made it clear when they partnered with the CFL that players, coaches, owners, and referees were not allowed to participate in contests.
Can FanDuel and DraftKings Leverage this Power?
The obvious answer here is yes. Leagues are constantly fighting for ratings and would do nearly anything to leverage the sort of influence FanDuel and DraftKings have. We saw this with the early flurry of partnerships between FanDuel, DraftKings, and NFL, NBA, and NHL teams. That being said, those partnerships were based more around what the teams could provide in terms of advertising than what the DFS monsters can do for the league.
A deal with the CFL certainly seems like one that DraftKings would get a significant kickback for. They are certainly making some nice coin off these contests (currently $17,000 – $25,000 weekly in rakes and rising). However that amount seems like peanuts when compared to the effect this could have on the league's viewership, and increased advertising revenue the CFL should see.
"We're pleased to form an advertising and promotional partnership with DraftKings that will elevate both of our brands. This new fantasy offering will give avid CFL fans and sports fans new to our league an opportunity to deepen their engagement with our game. It's an important part of our strategy to serve our existing fan base better than ever before at the same time we attract new fans, including the next generation of fans." – Christina Litz, CFL Senior Vice-President of Marketing and Content
The financials of this deal haven't been made available, but one would expect that there was some sort of financial kickback to DraftKings in this partnership. It also continues its efforts to become a global brand and increases its reach into Canada.
An additional benefit to expanding into Canada, whether that is through golf, the CFL, or even NHL which has 7 Canadian teams, is a much more favorable legal environment. As we have recently seen with the resurgence of the CFL on DraftKings in Canada, DFS and sports betting can work in the North.
These relationships between DFS platforms and leagues are clearly win-wins because both the league and the fantasy sites expand their reach to potential new customers. The reality is both FanDuel and DraftKings DFS are struggling to remain profitable as they fight state-by-state legal battles.