CFB Thursday: 2 Best Bets to Target for November 9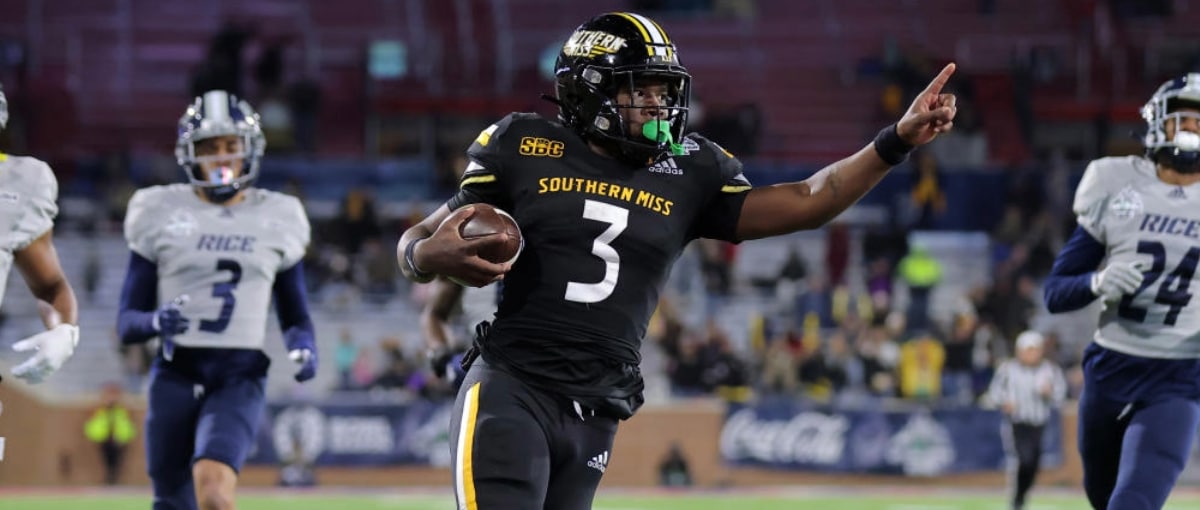 Ready for some Thursday night college football action? We got you! Here are 2 CFB best bets for November 9. Let's get to it!
Best Bet: Southern Mississippi +10.5 (BetMGM)
After winning their opener, Southern Miss lost 7 straight before last week when they finally snapped that losing streak. They did so in dominant fashion, winning 24-7 over ULM.
Frank Gore Jr. took 24 carries for 131 yards and a score. The defense forced 4 turnovers and held ULM to just 4 of 13 on 3rd down. They also shut down the rush game by holding them to just 73 rushing yards.
ULL is 5-4 and coming off a 37-17 loss at Arkansas State. Both Zeon Chriss and Chadler Fields both saw time under center and combined to throw for 261 yards and a touchdown with 1 pick.
Peter LeBlanc was the main target and hauled in 6 catches for 129 yards and a touchdown. They had no ability to stop the run as they allowed Arkansas State to go for 232 on the ground. They were held to 3/11 on 3rd down and turned the ball over twice to Arkansas State's 0.
Arkansas State was able to hold ULL's run game in check last week. While the run game had been the key to ULL's previous victories, it may be taking a step backwards.
Over the last decade, the Golden Eagles have dominated this rivalry in terms of against the spread. We like So Miss here to keep the ULL run game in check and look for Frank Gore Jr to have a solid game in this one.
Key Trends:
So Miss is 7-1 ATS in their last 8 games played in November.
So Miss is 5-0 ATS in their last 5 games played in week 11.
ULL is 3-7 ATS in their last 10 games.
ULL is 0-8 ATS in their last 8 games against Southern Miss.
Best Bet: Louisville -20 (Caesars)
Virginia had lost 5 games to start their season. After defeating William & Mary, they then defeated then #10 UNC. One would think this could be turning their season around. However, losses to Miami and Georgia Tech prove otherwise.
In their latest game, against GT, they allowed over 300 yards rushing while being held to 2 of 12 on 3rd down. UVA committed 3 turnovers while GT had none. Both of those factors played a larger part in this game.
#11 Louisville is 8-1 and have their eyes set on a major bowl game. Their lone lost came on the road to Pitt but after a bye, they picked up wins over #20 Duke and Virginia Tech.
They held VT to just 3 points and 140 total yards. Jack Plummer was nearly perfect, finishing 11-12 passing while his backfield mate, Isaac Guerendo went for 146 yards on 11 carries and scored 3 times.
The Cardinals rank 21st in the country in points allowed per game with just over 16ppg. This is vastly different from the Cavaliers, who allow over 32ppg which is 235th in the country.
We like that we got the spread under 21 here but even still, we expect them to blow the doors off this UVA team that looks to be having trouble getting up for games this late in the season.
Key Trends:
UVA is 1-6 ATS in their last 7 games played in week 11.
Louisville is 10-0 ATS in their last 10 games at home.
Louisville is 5-2 ATS in their last 7 games against an opponent in the Coastal Division

Sports Betting Contributor
Bill is a high-volume sports bettor who runs his own sports investing business. He has an uncanny ability to find tons of mathematical edges on each day's sports betting card. Bill covers all sports but his bread and butter is UFC, Golf, and College Hoops. Find him on X at @LarrysLocks2