Broncos at Chiefs: Best Props for Thursday Night Football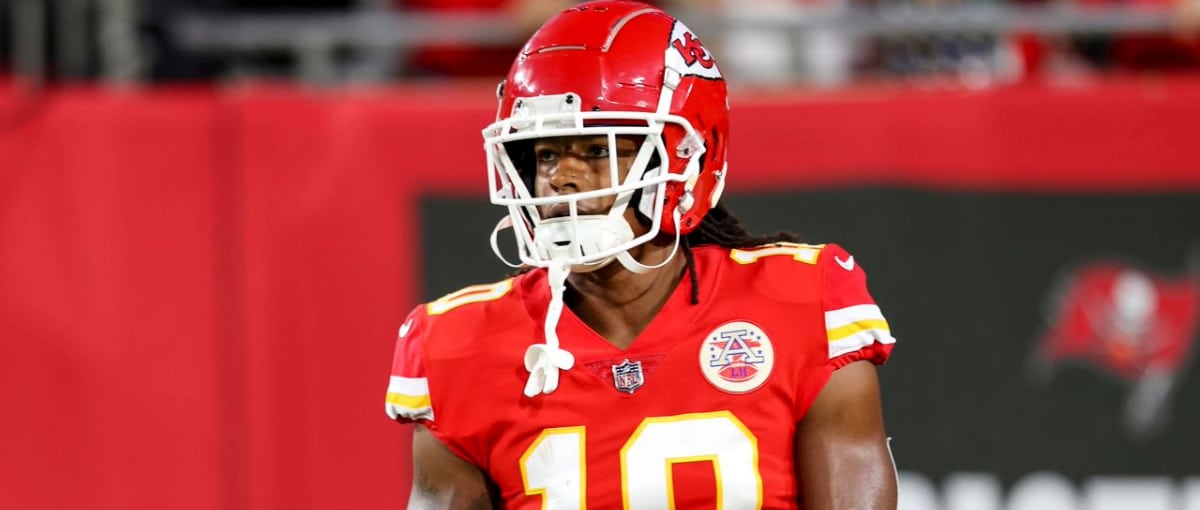 Two teams headed in opposite directions collide Thursday night when a pair of AFC West rivals meet with the Denver Broncos (1-4) travel to Arrowhead Stadium to take on the Kansas City Chiefs (4-1).
By Denver's standards, the Broncos have one of the worst defenses in team history through their first 5 games. Denver ranks last in points allowed per game (36.2), yards allowed (450), and rushing yards allowed (187). Their offense – helmed by veteran QB Russell Wilson – has been among the top 10 scoring teams in the NFL, but their inept defense has dramatically reduced its effectiveness.
Kansas City has not had those issues this year. Their defense ranks among the top 10 in points per game (16.0), yards allowed (301.4), and rushing yards allowed (97.2). Offensively, QB Patrick Mahomes is among the league's leaders in passing yards (7th, 1,287 yards) and TDs (6th, 10 TDs) through his first five games.
While on paper this Thursday Night matchup looks to be a mismatch, records and standings matter less when these two teams meet up. With so many opportunities for player prop bets, which wagers should savvy bettors explore? Find out our top three player prop bets for Thursday Night Football Week 6 contest.
Russell Wilson OVER 20.5 Rushing Yards
With Denver's sudden swoon in the passing game, Wilson has used his legs to gain yards. In Sunday's game against the New York Jets, Wilson – who was sacked four times – rushed seven times for 49 yards, including a 21-yard scramble.
In both games against Kansas City last year, Wilson was sacked 10 times trying to pass. Wilson resorted to running a handful of times against the Chiefs, going for 27 yards (and two TDs) and 57 yards in both of Denver's losses to the Chiefs last year.
Expect more of the same as the offensive line has surrendered 15 sacks through the Broncos' first four games in 2023.
Isiah Pacheco OVER 90.5 Total Yards
The Chiefs' two-headed RB approach favors Isiah Pacheco over backfield teammate Clyde Edwards-Helaire. Pacheco – a second-year player out of Rutgers – has received nearly four times as many targets and rushes than Edwards-Helaire, cementing his role as the feature back for Kansas City.
In that role, Pacheco could produce a stellar day against the Broncos. Currently, Denver is yielding 6.5 yards per RB touch.
Except for the season opener, the Chiefs have targeted Pacheco at least 14 times in running or passing plays. Pacheco should easily eclipse the 90.5-yard mark Thursday against Denver.
Travis Kelce OVER 67.5 Receiving Yards
Traditional wisdom would lead bettors to believe that Kansas City will take advantage of the Broncos' league-worst rushing attack en route to victory.
While that may indeed be the case, the Chiefs will undoubtedly need some semblance of a passing game to keep Denver honest. When Kansas City does pass, expect TE Travis Kelce to be the beneficiary.
The Broncos are the fifth-worst defense in the NFL against TEs with a 79% completion rate on QB-TE passes. Expect Kelce to excel in this contest despite having eclipsed the 67.5-yard mark only twice in his last six tries against the Broncos.

Sports Betting Contributor
Ernie is a 25-year veteran of the newspaper industry. He spent those early years working as a sports reporter and editor, but made the move back to the digital world in 2022. Ernie covers college football and NFL betting for Hello Rookie.