On June 22, 2023, Bally Bet made a significant announcement regarding their operations. Following their strategic merger with Kambi, they will take a brief hiatus to focus on developing the next evolution of the Bally Bet sportsbook. This temporary suspension is anticipated to last for several months. However, their commitment to providing uninterrupted service to all users remains strong. As such, customers based in Arizona will continue having full access to the sportsbook throughout this period.
Though they are relatively new to the online sports betting world, Bally's has been a name to be reckoned with for a long time. Until 2020, Bally's was owned by the iconic Caesar's group, later being sold and breaking into the sports betting market in the U.S. in 2021.
Bally Bet is now part of Twin River Worldwide Holdings, which has been aggressively expanding since its initial foray back in May of 2021.
| | |
| --- | --- |
| Bally Bet Sportsbook Promo Code | TBD |
| Offer | TBD | TBD |
| Valid Through | October 31, 2023 |
| Bonus Verified | September 30, 2023 by Chris Lollis |
| Terms for the Offer | We will release the promotion and terms if and when Ballys releases another promo code. |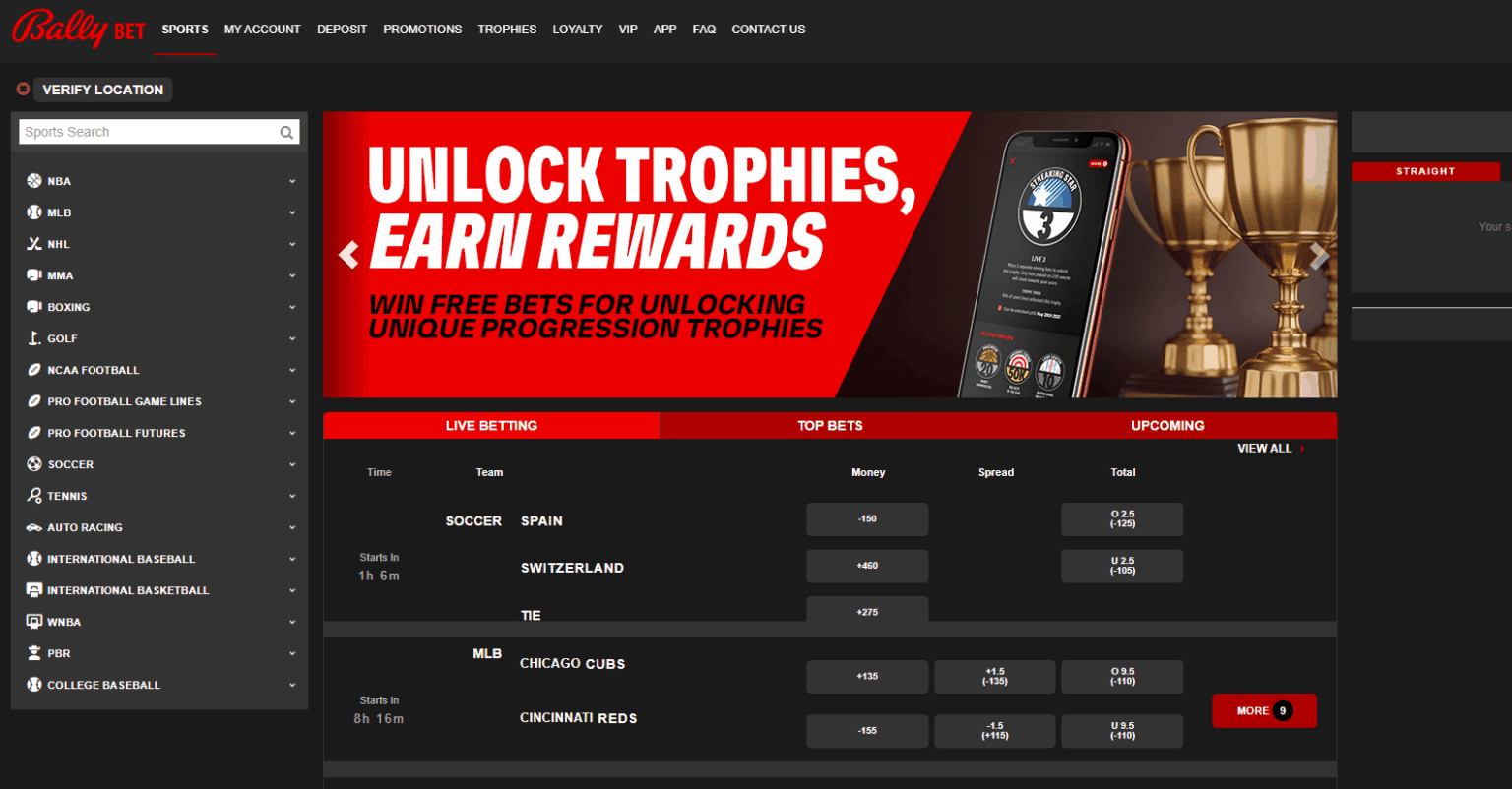 Promo Code Requirements for Bally Bet
Just like any other promotional offer out there, the fine print is worth reading before you make the move. One of the things to note is that this promo from Bally Bet doesn't actually require a promo code, so players signing up can get in on the bonus without the code.
There are requirements for the kind of bets this offer can be used for. Free bets are not eligible for use on lines that are either equal to or exceeding +300. There are also wagering requirements, which are among the lowest in the industry.
For other bonus offerings, it is not uncommon to have 20x requirements. This means that those bonus funds must be wagered 20 times before they are eligible for withdrawal. The BallyBet offer has just a 1x on free bets, which gives players the chance to withdraw their funds without nearly as much risk as some of the other places.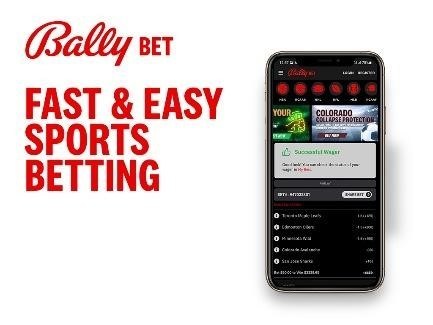 Where is Bally Bet Available?
Just because it is a new name in sports betting does not mean that it is a challenge to find them. Currently, Bally Bet is available in Colorado (where it began its journey), Indiana, Iowa, New York, and Virginia.
There are plans in the near future to expand, however. Arizona, Illinois, Louisiana, Nevada, New Jersey, and Pennsylvania are all believed to be joining the slate in the near future. Throughout 2023, Bally Bet continues to grow its presence in the online sportsbook market.
As more states legalize online sportsbooks, it is a safe bet that BallyBet will be there to obtain a license. There is a reason why they have become a force in online sportsbooks since their initial foray into the Colorado market.
How to Sign Up with Bally Bet
Signing up with Bally Bet is easier than ever before. All you need to do is to download the app, sign up for an account, and get started with playing. Here's how new players can get started with Bally Bet:
It begins with making a profile. You can either do this through their mobile app or website. You will need a user name and password, and to confirm your email address. From there, it is time for personal information. This includes legal name, phone number, birth date, and your social security number's last four digits. It is important that the name you list matches the one on your identification.
So, if you were to go by Alex but your legal name is Alexander, you need to put the latter. Also, and this kind of goes without saying, you need to be of legal gambling age to sign up.
After all of your information has been correctly entered and BallyBet has confirmed your identity, you will need to create a pair of security questions. Finally, acknowledge that you understand the terms and conditions, confirm your age, and you are ready to go.
Earn with Bally Bet and Their Rewards Program
While promotional offers are great for new players, what happens if you are an existing BallyBet customer? Well, the rewards program is definitely of interest to returning players. There are different tiers involved, so pay attention.
Straight wagers earn 1 point for every $2 wagered. Teasers earn 2 points for that same $2. A parlay will earn 1 point per $2 times the number of teams selected. And finally, a progressive parlay will get you 1 point for every $2 bet.
The point redemption rates are roughly 2,000 for every dollar in online free play or 4,000 points for every dollar of cash that would be used at a Bally's property. It takes a lot of playing to garner some of the bonuses, but there are exclusive offers at both the online and in-person locations, and dedicated customer support to go with it all.
Bally's has been an iconic name on the Las Vegas strip for a long time. However, Bally is newer to the online sportsbook. Because of this, sports bettors will have questions about Bally Bet and their new online sportsbook. Here are some of the most commonly asked questions that we get regarding Bally Bet.
Is Bally Bet legit?
Absolutely! Bally's Corporation purchased the brand from Caesars back in 2020. Bally's owns a ton of casinos throughout the US, so sports bettors can trust that they are doing business with a well-established entity.
What states offer Bally Bet?
Bally Bet recently had a successful launch in New York! This was huge because of the sheer size of the New York sports betting market. Bally Bet is also live in Arizona, Colorado, Iowa, Indiana, and Virginia.
Does Bally Bet have an app?
Yep! Bally Bet invested a ton of resources into their mobile app, which is available for download for all iOS and Android devices. The app currently has a 3.3 rating on the Google Play Store and a 4.4 rating on the Apple App Store.
Who can use Bally Bet?
Anyone who is 21 or older and physically located in Arizona, Colorado, Iowa, Indiana, New York, and Virginia. Bally Bet uses geolocation technology to verify locations.
Are College Sports Available on Bally Bet?
Yes, you can bet on college sports with Bally Bet. However, check your state laws for any restrictions. For example, gambling on college sports is legal in Virginia but NOT on teams that are located within the state.
How does Bally Bet handle customer support?
Bally Bet does a phenomenal job of giving stellar customer service to its clients. Reps can be reached by phone at 844.844.3238 or via email at support@ballybet.com
Review and Rating for Current Bally Bet Bonus Offer
The rating we assign to each online sportsbook promo is a reflection of several factors. First, we compare the bonus and the terms of the offer to other online sportsbooks. Next, we look at the overall quality of the app and reviews from current users.
Our current 4.2 (out of 5) rating for Bally Bet puts it on right in line with BetRivers and SugarHouse. This app is a definitely worth getting if it's available in your state.
Bally Bet Review Overview

Details

Bally Bet does a lot of things well. Their app is very user-friendly and their customer support team is full of rock stars! However, we are a little bit disappointed in their bonus offer, which caps out at only $250. While the overall offer is decent, there are lots of more lucrative promos in the sportsbook industry at the moment. Nevertheless, Bally Bet is worth trying out if you happen to be in one of the six states they are live in.
Rating
Author: Chris Lollis
Reviewed By: Mike Noblin