We tracked every DraftKings Millionaire winning lineup since the start of the 2021-22 NFL season, and have every winning lineup here for you to review. We will add every 2023 DraftKings Millionaire winning lineup on a weekly basis so be sure to bookmark this page to track winners and adjust your GPP strategy accordingly.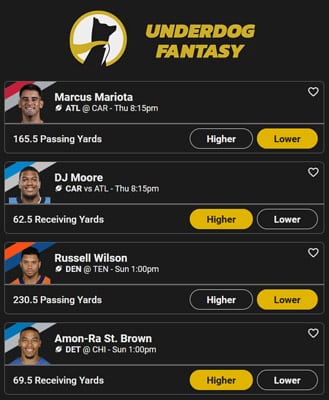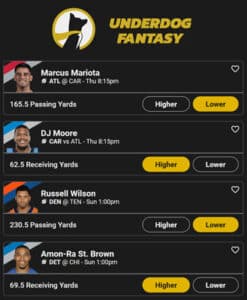 Looking for An Easier Way to Win? Try Player Prop Contests at Underdog Fantasy
Underdog pick'em contests are the easiest way to win money in DFS. Pick over/under for popular stat categories to multiply your entry as you would a parlay at a sportsbook. Use promo code ROOKIE to get the best available Underdog bonus, a 100% deposit bonus, up to $100!
Before we jump right into the 2023 Millionaire winners, we wanted to recap last season's winners. Here are some quick facts and takeaways from the 2022 winning lineups:
Average score needed: We might as well start by answering the question we get most often. The average DraftKings Millionaire-winning lineup scored 232.2 points. This sets a target value of 4.64 points per dollar.
Stack for the win: Of the 17 lineups we tracked, 16 utilized some sort of stack, 8 stacked a QB and 2 pass catchers, 7 stacked a QB and 1 pass catcher, and 1 stacked a QB and 3 pass catchers.
Balance your lineup: There were a total of 6 lineups where a player hit 8x value, in every case but one (Justin Fields) this was a WR or TE priced between $3,000-$4,000. Translation, you don't need to start a near-minimum salaried player that pops to take down a Millionaire contest. A balanced approach is typically best.
There is no D in fantasy: The average defense salary from winning lineups was $2,800. This would be in the bottom-third for most slates. However, winning lineups got, on average, 16.4 points out of their defense. The sweet spot seems to be a $2,700 – $3,000 defense capable of providing over 5x value.
The TE position is still brutal: The TE spot is tough on DFS owners and it shows. The average salary for the position was $4,880 due in large part to 6 appearances from Kelce and Andrews. If we take out Kelce/Andrews lineups, the average TE salary drops to just $3,400. QB/TE stacks occurred in 6 out of the 17 winning lineups.
DraftKings 2023 NFL Week 2 Millionaire Winning Lineup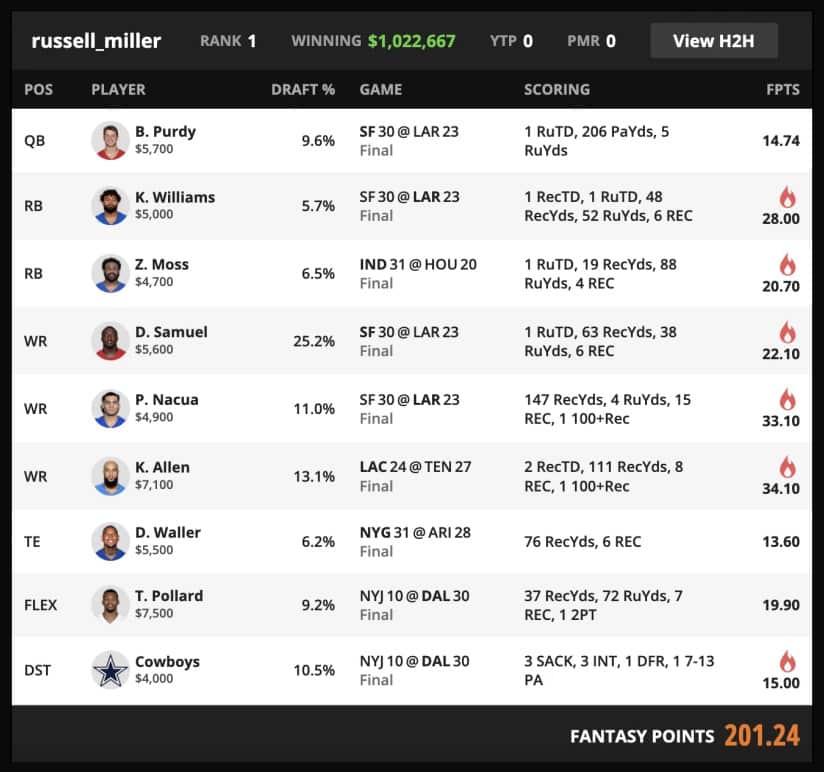 | Pos. | Player | Own % | Salary | Points |
| --- | --- | --- | --- | --- |
| QB | Brock Purdy | 9.6% | $5,700 | 14.74 |
| RB | Kylen Williams | 5.7% | $5,000 | 20.7 |
| RB | Zach Moss | 6.5% | $4,700 | 20.7 |
| WR | Deebo Samuel | 25.2% | $5,600 | 22.1 |
| WR | Puka Nacua | 11% | $4,900 | 33.1 |
| WR | Keenan Allen | 13.1% | $7,100 | 34.1 |
| TE | Darren Waller | 6.2% | $5,500 | 13.6 |
| FLEX | Tony Pollard | 9.2% | $7,500 | 19.9 |
| D/ST | Cowboys | 10.5% | $4,000 | 15 |
DraftKings 2023 NFL Week 1 Millionaire Winning Lineup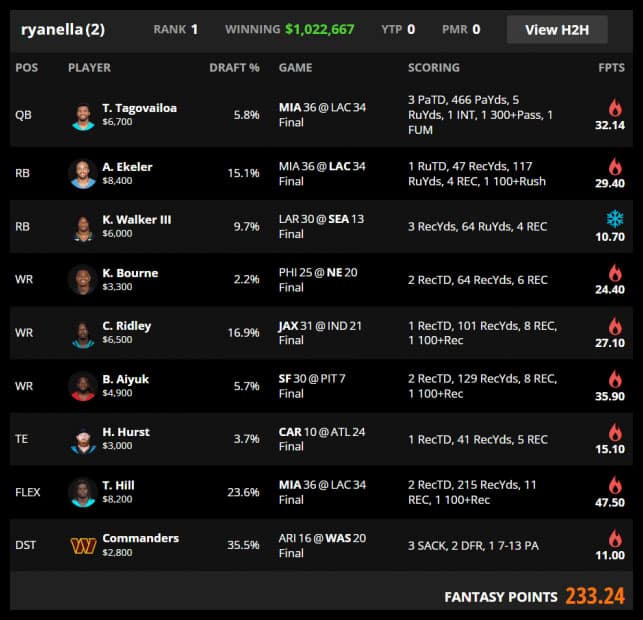 | Pos. | Player | Own % | Salary | Points |
| --- | --- | --- | --- | --- |
| QB | Tua Tagovailoa | 5.8% | $6,700 | 32.14 |
| RB | Austin Ekeler | 15.1% | $8,400 | 29.4 |
| RB | Kenneth Walker III | 9.7% | $6,000 | 10.7 |
| WR | Kendrick Bourne | 2.2% | $3,300 | 24.4 |
| WR | Calvin Ridley | 16.9% | $6,500 | 27.1 |
| WR | Brandon Aiyuk | 5.7% | $4,900 | 35.9 |
| TE | Hayden Hurst | 3.7% | $3,000 | 15.1 |
| FLEX | Tyreek Hill | 23.6% | $8,200 | 47.5 |
| D/ST | Commanders | 35.5% | $2,800 | 11 |
DraftKings 2022 NFL Week 17 Millionaire Winning Lineup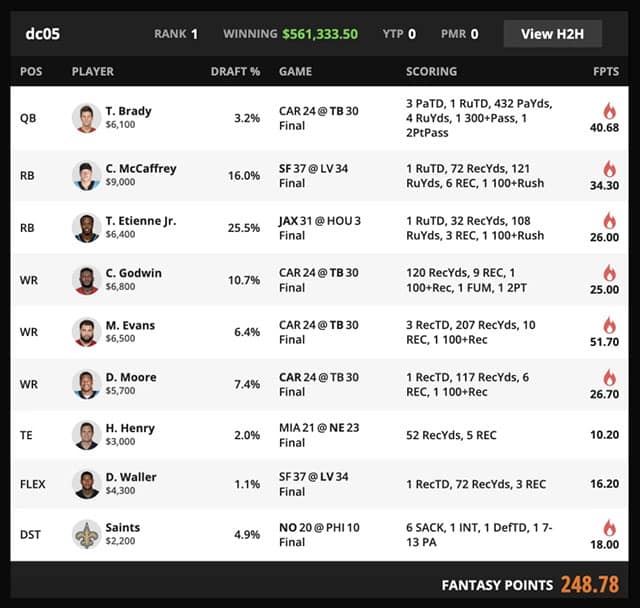 | Pos. | Player | Own % | Salary | Points |
| --- | --- | --- | --- | --- |
| QB | Tom Brady | 3.2% | $6,100 | 40.68 |
| RB | Christian McCaffrey | 16.0% | $9,000 | 34.3 |
| RB | Travis Etienne | 25.5% | $6,400 | 26.0 |
| WR | Chris Godwin | 10.7% | $6,800 | 25.0 |
| WR | Mike Evans | 6.4% | $6,500 | 51.7 |
| WR | DJ Moore | 7.4% | $5,700 | 26.7 |
| TE | Hunter Henry | 2.0% | $3,000 | 10.2 |
| FLEX | Darren Waller | 1.1% | $4,300 | 16.2 |
| D/ST | Saints | 4.9% | $2,200 | 18.00 |
DraftKings 2022 NFL Week 16 Millionaire Winning Lineup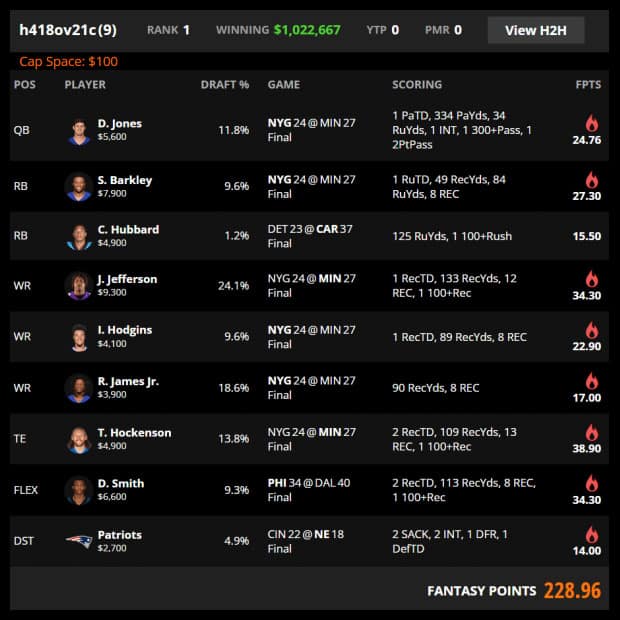 | Pos. | Player | Own % | Salary | Points |
| --- | --- | --- | --- | --- |
| QB | Daniel Jones | 11.8% | $5,600 | 24.76 |
| RB | Saquon Barkley | 9.6% | $7,900 | 27.30 |
| RB | Chuba Hubbard | 1.2% | $4,900 | 15.50 |
| WR | Justin Jefferson | 24.1% | $9,300 | 34.30 |
| WR | Isiah Hodgins | 9.6% | $4,100 | 22.90 |
| WR | Richie James | 18.6% | $3,900 | 17.00 |
| TE | TJ Hockenson | 3.6% | $4,900 | 38.90 |
| FLEX | Devonta Smith | 9.3% | $6,600 | 34.30 |
| D/ST | Patriots | 4.9% | $2,700 | 14.00 |
DraftKings 2022 NFL Week 15 Millionaire Winning Lineup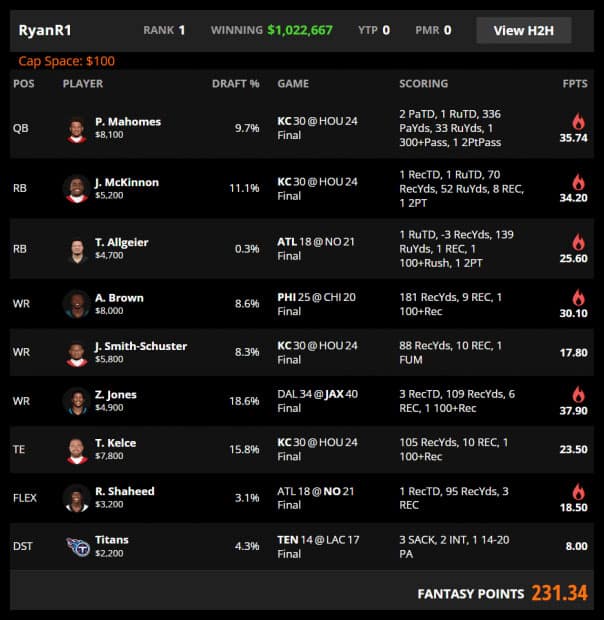 | Pos. | Player | Own % | Salary | Points |
| --- | --- | --- | --- | --- |
| QB | Patrick Mahomes | 9.7% | $8,100 | 35.74 |
| RB | Jerrick McKinnon | 11.1% | $5,200 | 34.20 |
| RB | Tyler Allgeier | 0.3% | $4,700 | 25.60 |
| WR | AJ Brown | 8.6% | $8,000 | 30.40 |
| WR | JuJu Smith-Schuster | 8.3% | $5,800 | 17.80 |
| WR | Zay Jones | 18.6% | $4,900 | 37.90 |
| TE | Travis Kelce | 15.8% | $7,800 | 23.50 |
| FLEX | Rashid Shaheed | 3.1% | $3,200 | 18.50 |
| D/ST | Titans | 4.3% | $2,200 | 8.00 |
DraftKings 2022 NFL Week 14 Millionaire Winning Lineup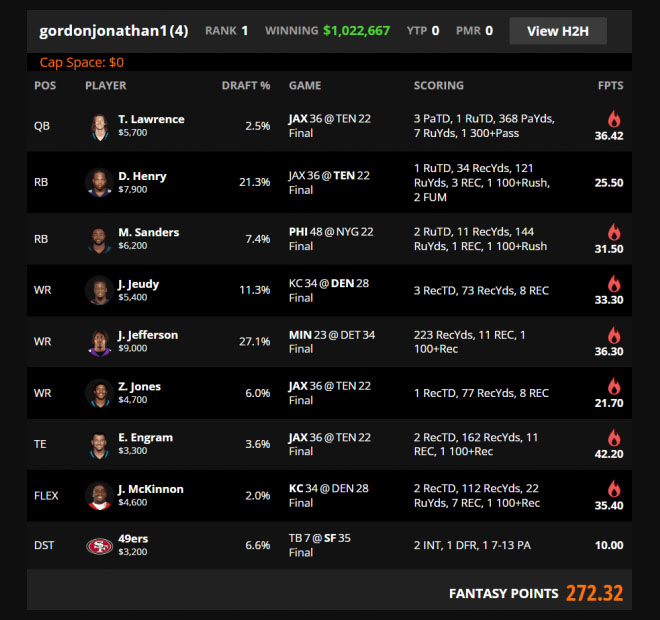 | Pos. | Player | Own % | Salary | Points |
| --- | --- | --- | --- | --- |
| QB | Trevor Lawrence | 2.5% | $5,700 | 36.42 |
| RB | Derrick Henry | 21.3% | $7,900 | 25.50 |
| RB | Miles Standers | 7.4% | $6,200 | 31.50 |
| WR | Jerry Jeudy | 11.3% | $5,400 | 33.30 |
| WR | Justin Jefferson | 27.1% | $9,000 | 36.30 |
| WR | Zay Jones | 6.0% | $4,700 | 21.70 |
| TE | Evan Engram | 3.6% | $3,300 | 42.20 |
| FLEX | Justin McKinnon | 2.0% | $4,600 | 35.40 |
| D/ST | 49ers | 6.6% | $3,200 | 10.00 |
DraftKings 2022 NFL Week 13 Millionaire Winning Lineup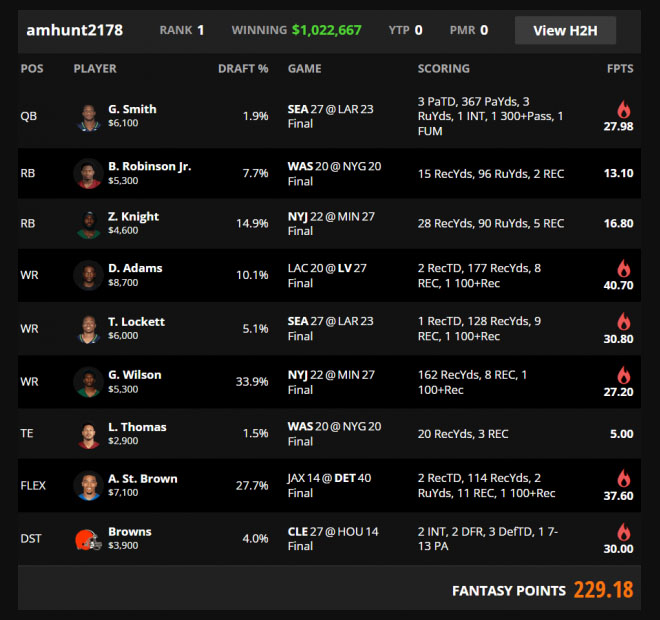 | Pos. | Player | Own % | Salary | Points |
| --- | --- | --- | --- | --- |
| QB | Trevor Lawrence | 2.5% | $5,700 | 36.42 |
| RB | Derrick Henry | 21.3% | $7,900 | 25.50 |
| RB | Miles Standers | 7.4% | $6,200 | 31.50 |
| WR | Jerry Jeudy | 11.3% | $5,400 | 33.30 |
| WR | Justin Jefferson | 27.1% | $9,000 | 36.30 |
| WR | Zay Jones | 6.0% | $4,700 | 21.70 |
| TE | Evan Engram | 3.6% | $3,300 | 42.20 |
| FLEX | Justin McKinnon | 2.0% | $4,600 | 35.40 |
| D/ST | 49ers | 6.6% | $3,200 | 10.00 |
DraftKings 2022 NFL Week 12 Millionaire Winning Lineup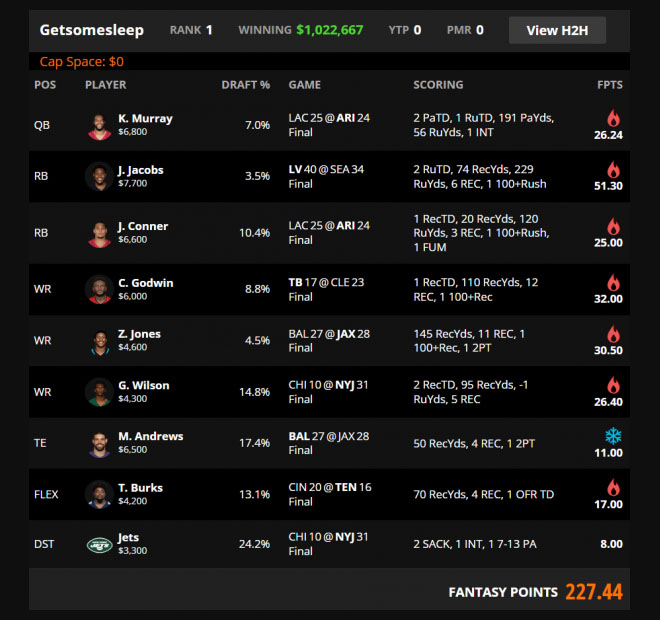 | Pos. | Player | Own % | Salary | Points |
| --- | --- | --- | --- | --- |
| QB | Kyler Murray | 7.0% | $6,800 | 26.24 |
| RB | Josh Jacobs | 3.5% | $7,700 | 51.30 |
| RB | James Conner | 10.4% | $6,600 | 25.00 |
| WR | Chris Godwin | 8.8% | $6,000 | 32.00 |
| WR | Zay Jones | 4.5% | $4,600 | 30.50 |
| WR | Garrett Wilson | 4.5% | $4,300 | 26.40 |
| TE | Mark Andrews | 17.4% | $6,500 | 11.00 |
| FLEX | Treylon Burks | 13.1% | $6,500 | 17.00 |
| D/ST | Jets | 24.2% | $4,200 | 8.00 |
DraftKings 2022 NFL Week 11 Millionaire Winning Lineup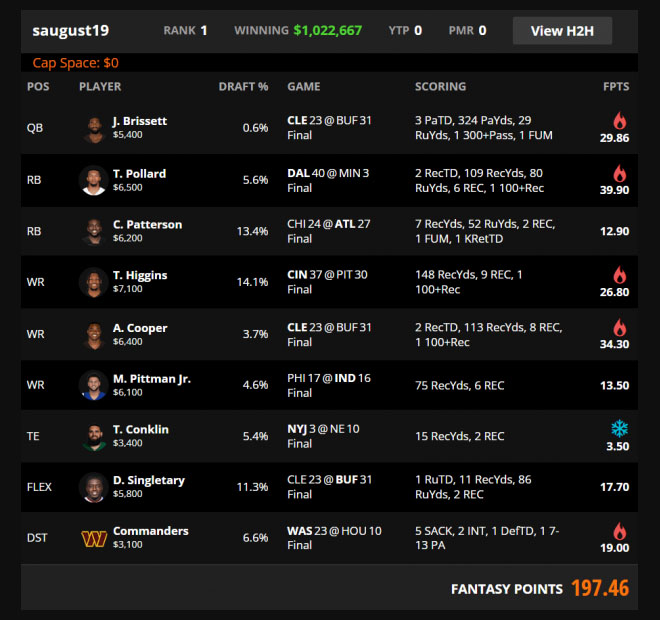 | Pos. | Player | Own % | Salary | Points |
| --- | --- | --- | --- | --- |
| QB | Jacoby Brissett | 0.6% | $5,400 | 29.86 |
| RB | Tony Pollard | 5.6% | $6,500 | 39.90 |
| RB | Cordarrelle Patterson | 13.4% | $6,200 | 12.90 |
| WR | Tee Higgins | 14.1% | $7,100 | 26.80 |
| WR | Amari Cooper | 3.7% | $6,400 | 34.30 |
| WR | Michael Pittman Jr | 4.6% | $6,100 | 13.50 |
| TE | Tyler Conklin | 5.4% | $3,400 | 3.5 |
| FLEX | Devin Singletary | 11.3% | $5,800 | 17.70 |
| D/ST | Commanders | 6.6% | $3,100 | 19.00 |
DraftKings 2022 NFL Week 10 Millionaire Winning Lineup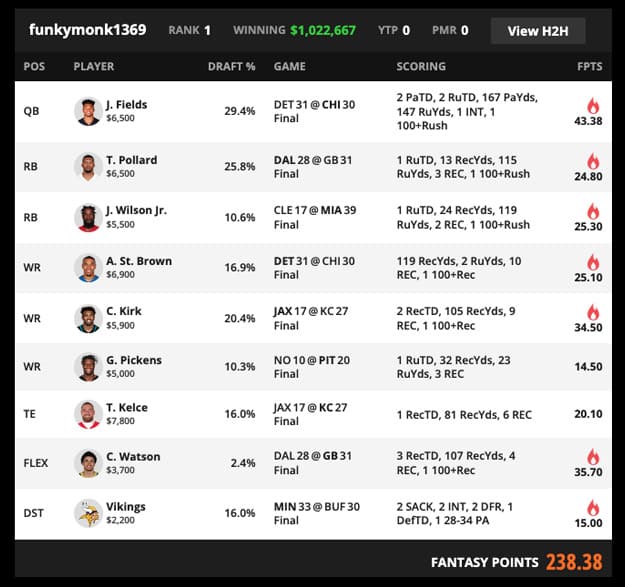 | Pos. | Player | Own % | Salary | Points |
| --- | --- | --- | --- | --- |
| QB | Justin Fields | 29.4% | $6,500 | 43.38 |
| RB | Tony Pollard | 25.8% | $6,500 | 24.80 |
| RB | Jeff Wilson Jr | 10.6% | $5,500 | 25.30 |
| WR | Amon-Ra St. Brown | 16.91% | $6,900 | 25.10 |
| WR | Christian Kirk | 20.4% | $5,900 | 34.50 |
| WR | Darnell Mooney | 10.3% | $5,000 | 14.50 |
| TE | Travis Kelce | 16.0% | $7,800 | 20.10 |
| FLEX | Christian Watson | 2.4% | $3,700 | 35.70 |
| D/ST | Vikings | 16.0% | $2,200 | 15.00 |
DraftKings 2022 NFL Week 9 Millionaire Winning Lineup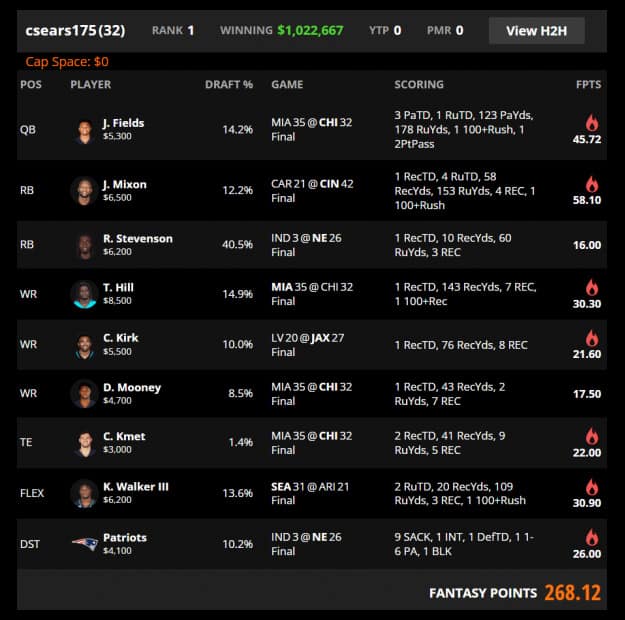 | Pos. | Player | Own % | Salary | Points |
| --- | --- | --- | --- | --- |
| QB | Justin Fields | 14.2% | $5,300 | 45.72 |
| RB | Joe Mixon | 12.2% | $6,500 | 58.10 |
| RB | Rhamondre Stevenson | 40.5% | $6,200 | 16 |
| WR | Tyreek Hill | 8.0% | $8,500 | 30.30 |
| WR | Christian Kirk | 10% | $5,500 | 21.60 |
| WR | Darnell Mooney | 8.5% | $4,700 | 17.50 |
| TE | Cole Kmet | 22.0% | $3,000 | 22.00 |
| FLEX | Kenneth Walker III | 13.6% | $6,200 | 30.90 |
| D/ST | Patirots | 10.2% | $4,100 | 26.00 |
DraftKings 2022 NFL Week 8 Millionaire Winning Lineup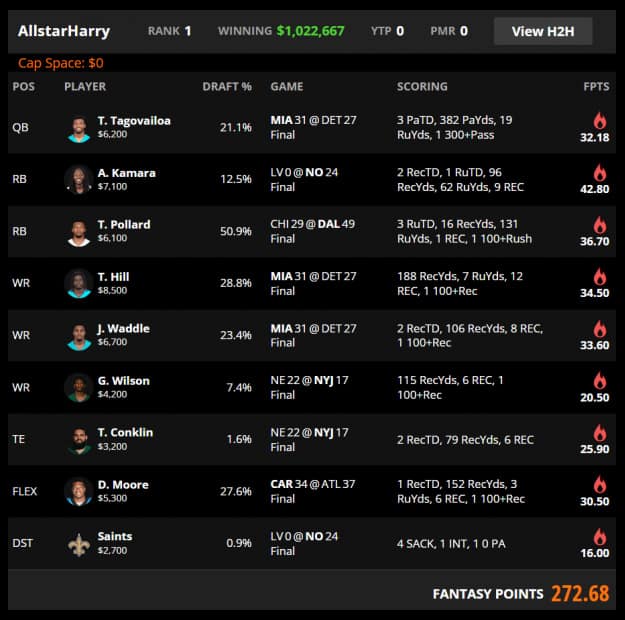 | Pos. | Player | Own % | Salary | Points |
| --- | --- | --- | --- | --- |
| QB | Tua Tagovailoa | 21.1% | $6,200 | 32.18 |
| RB | Alvin Kamara | 12.5% | $7,100 | 42.80 |
| RB | Tony Pollard | 50.9% | $6,100 | 36.70 |
| WR | Tyreek Hill | 28.8% | $8,500 | 34.50 |
| WR | Jaylen Waddle | 23.4% | $6,700 | 33.60 |
| WR | Garrett Wilson | 7.4% | $4,200 | 40.50 |
| TE | Tyler Conklin | 1.6% | $3,200 | 25.90 |
| FLEX | D.J. Moore | 27.6% | $5,300 | 30.50 |
| D/ST | Saints | 0.9% | $2,700 | 16.00 |
DraftKings 2022 NFL Week 7 Millionaire Winning Lineup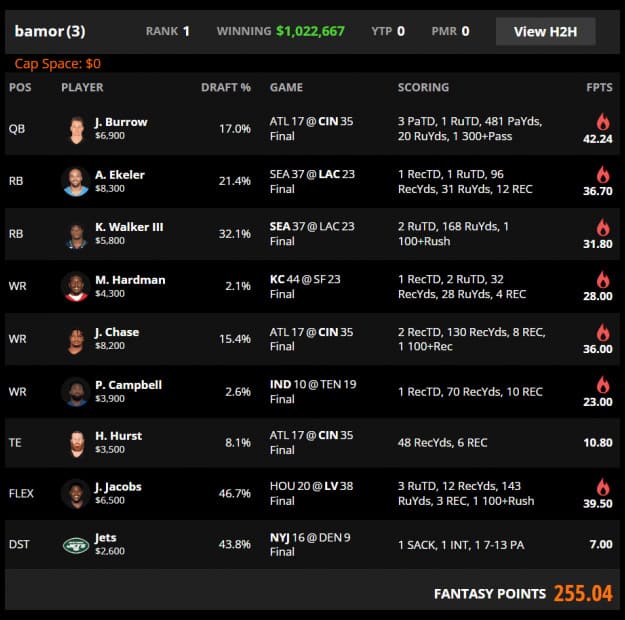 | Pos. | Player | Own % | Salary | Points |
| --- | --- | --- | --- | --- |
| QB | Joe Burrow | 17.0% | $6,900 | 42.24 |
| RB | Austin Ekeler | 21.4% | $8,300 | 36.70 |
| RB | Kenneth Walker III | 32.1% | $5,800 | 31.80 |
| WR | Mecole Hardman | 2.1% | $4,300 | 28.00 |
| WR | Ja'Marr Chase | 15.4% | $8,200 | 36.00 |
| WR | Parris Campbell | 2.6% | $3,900 | 23.00 |
| TE | Hayden Hurst | 8.1% | $3,500 | 10.80 |
| FLEX | Josh Jacobs | 46.7% | $6,500 | 39.50 |
| D/ST | Jets | 43.8% | $2,600 | 7.00 |
DraftKings 2022 NFL Week 6 Millionaire Winning Lineup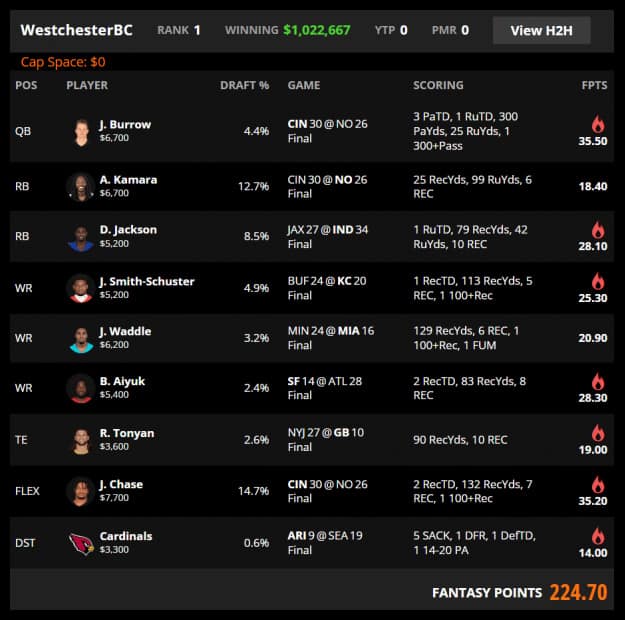 | Pos. | Player | Own % | Salary | Points |
| --- | --- | --- | --- | --- |
| QB | Joe Burrow | 4.4% | $6,700 | 35.5 |
| RB | Alvin Kamara | 12.7% | $6,700 | 18.4 |
| RB | Deon Jackson | 8.5% | $5,200 | 28.1 |
| WR | JuJu Smith-Schuster | 4.9% | $5,200 | 25.3 |
| WR | Jaylen Waddle | 3.2% | $6,200 | 20.9 |
| WR | Brandon Aiyuk | 2.4% | $5,400 | 28.3 |
| TE | Robert Tonyan | 2.6% | $3,600 | 29.1 |
| FLEX | Justin Jefferson | 12.5% | $7,800 | 19.0 |
| D/ST | Cardinals | 3% | $2,400 | 26 |
DraftKings 2022 NFL Week 5 Millionaire Winning Lineup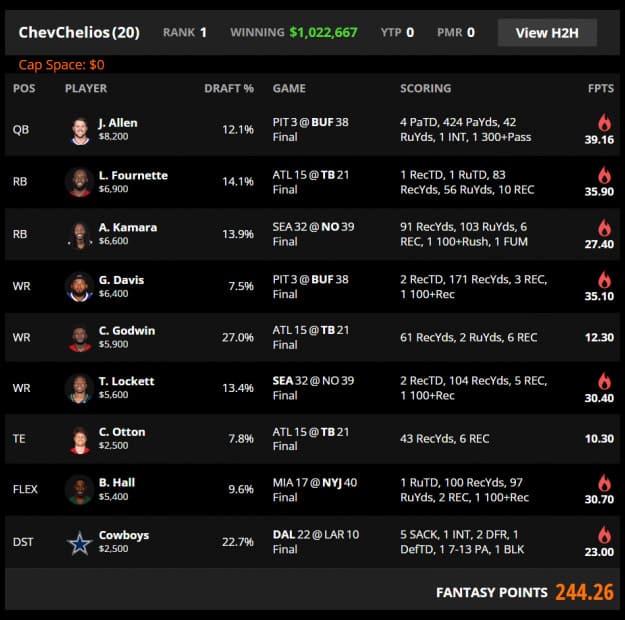 | Pos. | Player | Own % | Salary | Points |
| --- | --- | --- | --- | --- |
| QB | Josh Allen | 12.1% | $8,200 | 39.16 |
| RB | Leonard Fournette | 14.1% | $6,900 | 35.9 |
| RB | Alvin Kamara | 13.9% | $6,600 | 27.40 |
| WR | Gabe Davis | 7.5% | $6,400 | 35.10 |
| WR | Chris Godwin | 27.0% | $5,900 | 12.30 |
| WR | Tyler Lockett | 13.4% | $5,500 | 30.40 |
| TE | Cade Otton | 7.8% | $2,500 | 10.30 |
| FLEX | Breece Hall | 9.6% | $5,400 | 30.70 |
| D/ST | Cowboys | 22.7% | $2,500 | 23.0 |
DraftKings 2022 NFL Week 4 Millionaire Winning Lineup
| Pos. | Player | Own % | Salary | Points |
| --- | --- | --- | --- | --- |
| QB | Geno Smith | 6.8% | $5,400 | 34.70 |
| RB | Austin Ekeler | 15.2% | $7,700 | 34.9 |
| RB | Jamaal Williams | 38% | $6,100 | 26.90 |
| WR | DK Metcalf | 5.7% | $6,800 | 24.9 |
| WR | Tyler Lockett | 15.4% | $5,900 | 14.10 |
| WR | Josh Reynolds | 11.4% | $4,600 | 21.10 |
| TE | TJ Hockenson | 19.8% | $4,100 | 42.90 |
| FLEX | Josh Jacobs | 6.1% | $5,500 | 37.50 |
| D/ST | Eagles | 3.3% | $3,800 | 15.00 |
DraftKings 2022 NFL Week 3 Millionaire Winning Lineup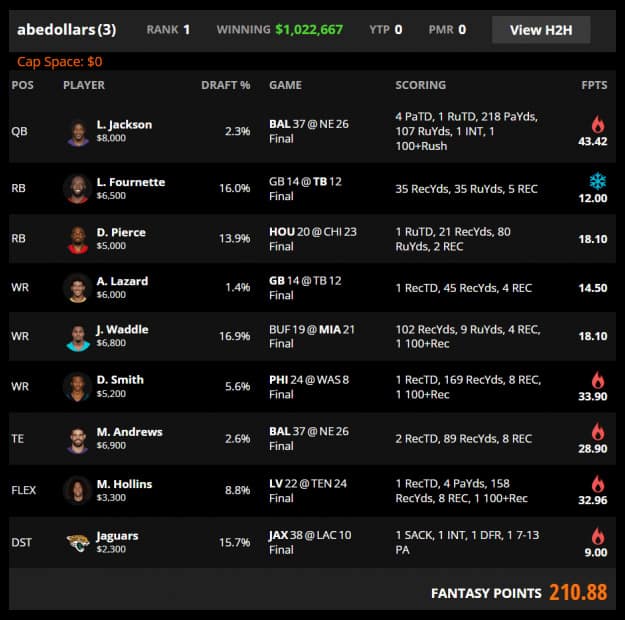 | Pos. | Player | Own % | Salary | Points |
| --- | --- | --- | --- | --- |
| QB | Lamaar Jackson | 2.3% | $7,700 | 37.9 |
| RB | Leonard Fournette | 16.0% | $6,500 | 12.00 |
| RB | Dameon Pierce | 13.9% | $5,000 | 18.10 |
| WR | Allen Lazard | 1.4% | $6,000 | 14.50 |
| WR | Jaylen Waddle | 16.9% | $6,800 | 18.10 |
| WR | DeVonta Smith | 5.6% | $5,200 | 33.90 |
| TE | Mark Andrews | 2.6% | $6,900 | 28.9 |
| FLEX | Mack Hollins | 8.8% | $3,300 | 32.96 |
| D/ST | Jaguars | 15.7% | $2,900 | 9 |
DraftKings 2022 NFL Week 2 Millionaire Winning Lineup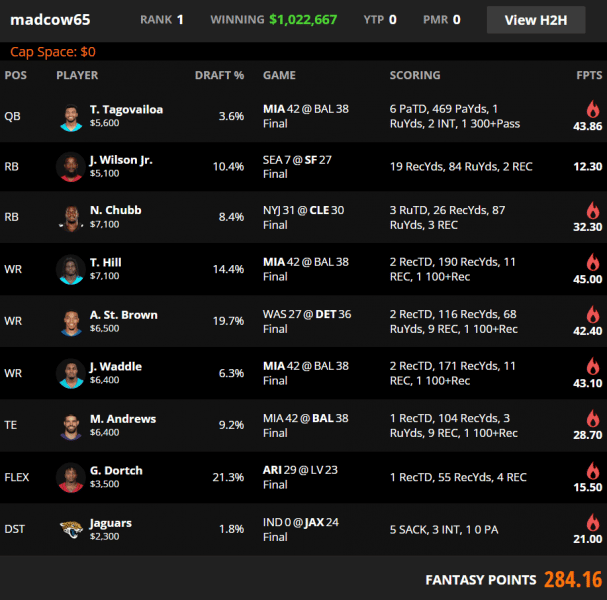 | Pos. | Player | Own % | Salary | Points |
| --- | --- | --- | --- | --- |
| QB | Tua Tagovailoa | 3.6% | $5,600 | 43.86 |
| RB | Jeff Wilson Jr. | 10.4% | $5,100 | 12.30 |
| RB | Nick Chubb | 8.4% | $7,100 | 32.30 |
| WR | Tyreek Hill | 14.4% | $7,100 | 45.00 |
| WR | Amon-Ra St. Brown | 19.7% | $6,500 | 42.40 |
| WR | Jaylen Waddle | 6.3% | $6,400 | 43.10 |
| TE | Mark Andrews | 9.2% | $6,400 | 28.70 |
| FLEX | Greg Dortch | 21.3% | $3,500 | 15.5 |
| D/ST | Jaguars | 1.8% | $2,300 | 21.00 |
DraftKings 2022 NFL Week 1 Millionaire Winning Lineup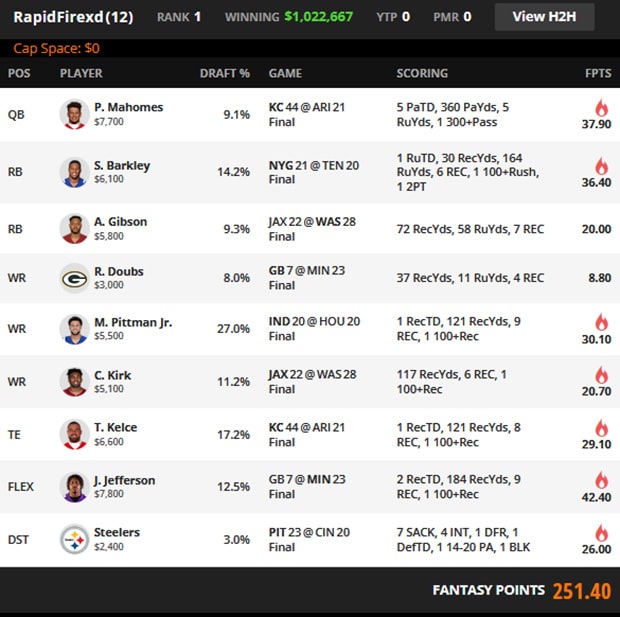 | Pos. | Player | Own % | Salary | Points |
| --- | --- | --- | --- | --- |
| QB | Patrick Mahomes | 9.1% | $7,700 | 37.9 |
| RB | Saquon Barkley | 14.2% | $6,100 | 36.4 |
| RB | Antonio Gibson | 9.3% | $5,800 | 20 |
| WR | Romeo Doubs | 8.0% | $3,000 | 8.8 |
| WR | Michael Pittman | 27% | $5,500 | 30.1 |
| WR | Christian Kirk | 11.2% | $5,100 | 20.7 |
| TE | Travis Kelce | 17.2% | $6,600 | 29.1 |
| FLEX | Justin Jefferson | 12.5% | $7,800 | 42.4 |
| D/ST | Steelers | 3% | $2,400 | 26 |
DraftKings 2021 NFL Conference Championship Round Millionaire Winning Lineup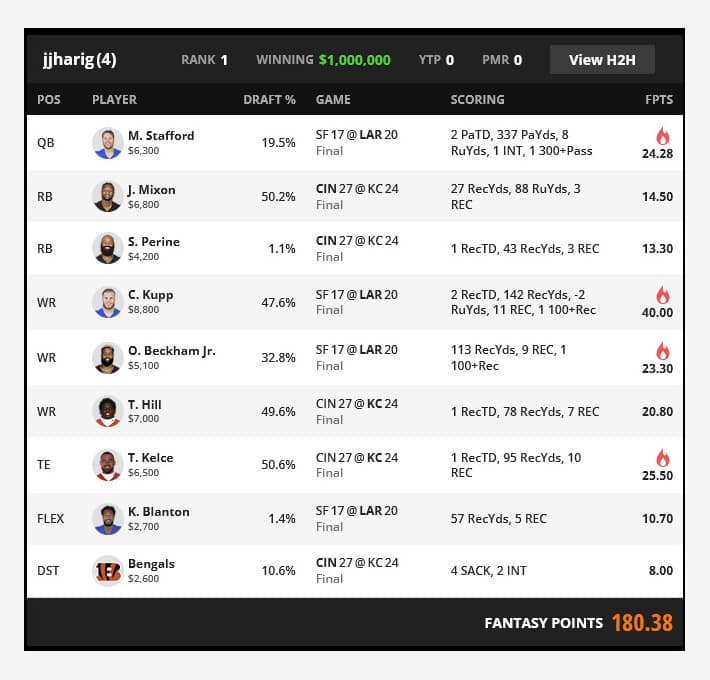 | Pos. | Player | Own % | Salary | Points |
| --- | --- | --- | --- | --- |
| QB | Tom Brady | 6.4% | $7,400 | 40.74 |
| RB | Chuba Hubbard | 6.4% | $6,000 | 21.4 |
| RB | Alexander Mattison | 35.4% | $5,500 | 40.6 |
| WR | Davante Adams | 23.6% | $8,200 | 40.6 |
| WR | Mike Evans | 5.4% | $6,800 | 32.3 |
| WR | Antonio Brown | 14.7% | $5,200 | 34.4 |
| TE | Hunter Henry | 4.5% | $3,700 | 19.5 |
| FLEX | Kadarius Toney | 20.2% | $4,000 | 32.6 |
| D/ST | Vikings | 8.1% | $3,000 | 9 |
DraftKings 2021 NFL Divisional Round Millionaire Winning Lineup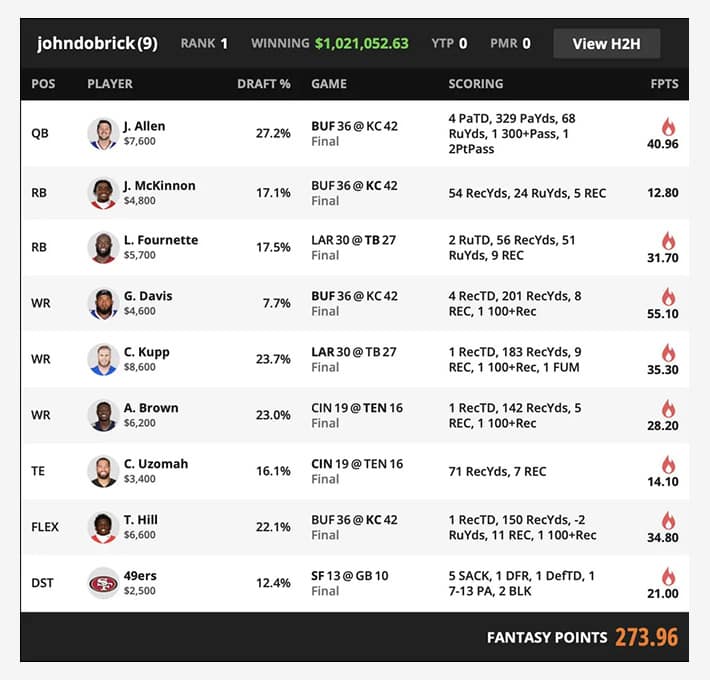 | Pos. | Player | Own % | Salary | Points |
| --- | --- | --- | --- | --- |
| QB | Josh Allen | 27.2% | $7,600 | 40.96 |
| RB | Jerrick McKinnon | 17.1% | $4,800 | 12.8 |
| RB | Leonard Fournette | 17.5% | $5,700 | 31.7 |
| WR | Gabriel Davis | 7.7% | $4,600 | 55.1 |
| WR | Cooper Kupp | 23.7% | $8,600 | 35.3 |
| WR | Antonio Brown | 23% | $6,200 | 28.2 |
| TE | CJ Uzomah | 16.1% | $3,400 | 14.1 |
| FLEX | Kadarius Toney | 20.2% | $4,000 | 32.6 |
| D/ST | 49ers | 12.4% | $2,500 | 21 |
DraftKings 2021 NFL Wildcard Round Millionaire Winning Lineup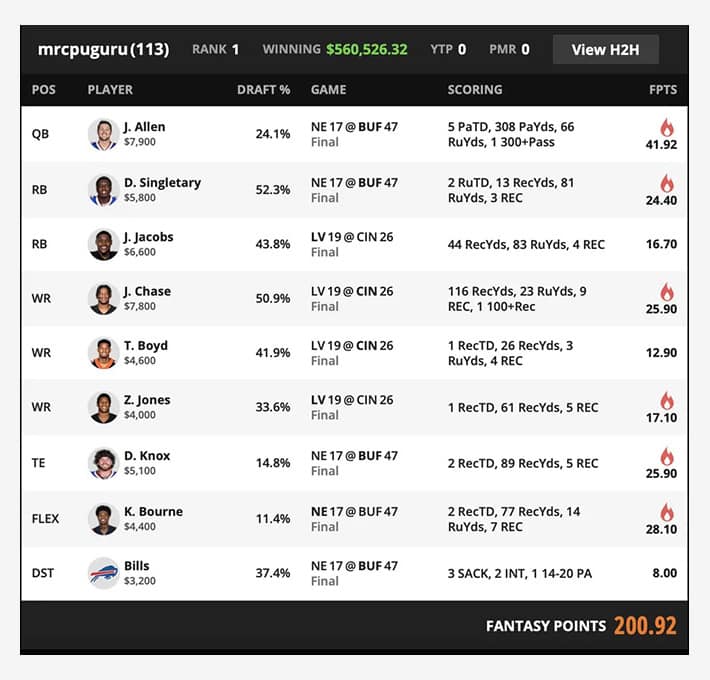 | Pos. | Player | Own % | Salary | Points |
| --- | --- | --- | --- | --- |
| QB | Josh Allen | 24.1% | $7,900 | 41.92 |
| RB | Devin Singletary | 52.3% | $5,800 | 24.4 |
| RB | Josh Jacobs | 43.8% | $6,600 | 16.7 |
| WR | Ja'Marr Chase | 50.9% | $7,800 | 25.9 |
| WR | Tyler Boyd | 41.9% | $4,600 | 12.9 |
| WR | Zay Jones | 33.6% | $4,000 | 17.1 |
| TE | Dawson Knox | 14.8% | $5,100 | 25.9 |
| FLEX | Kendrick Bourne | 11.4% | $4,400 | 28.1 |
| D/ST | Bills | 37.4% | $3,200 | 8 |
DraftKings 2021 NFL Week 18 Millionaire Winning Lineup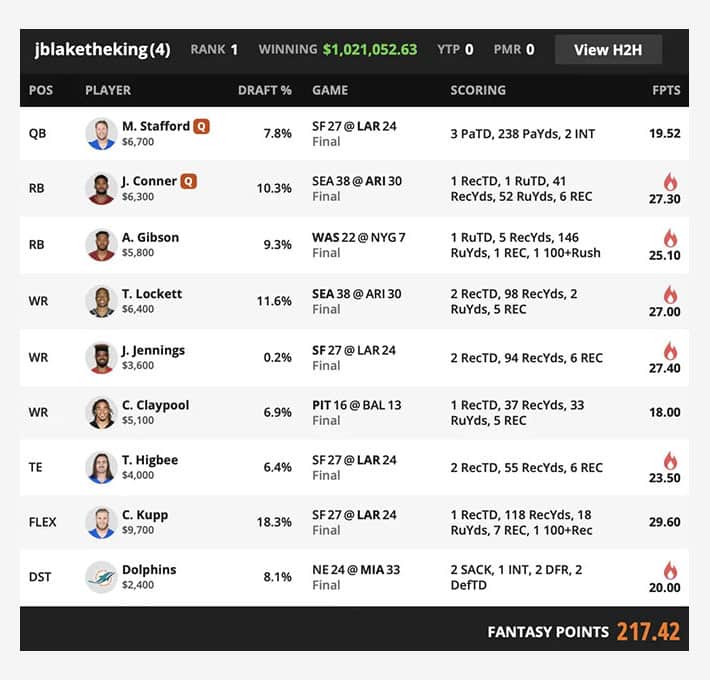 | Pos. | Player | Own % | Salary | Points |
| --- | --- | --- | --- | --- |
| QB | Matthew Stafford | 7.8% | $6,700 | 19.52 |
| RB | James Conner | 10.3% | $6,300 | 27.3 |
| RB | Antonio Gibson | 9.3% | $5,800 | 25.1 |
| WR | Tyler Lockett | 11.6% | $6,400 | 27 |
| WR | Jauan Jennings | 0.2% | $3,600 | 27.4 |
| WR | Chase Claypool | 6.9% | $5,100 | 18 |
| TE | Tyler Higbee | 6.4% | $4,000 | 23.5 |
| FLEX | Cooper Kupp | 18.3% | $9,700 | 29.6 |
| D/ST | Dolphins | 8.1% | $2,400 | 20 |
DraftKings 2021 NFL Week 17 Millionaire Winning Lineup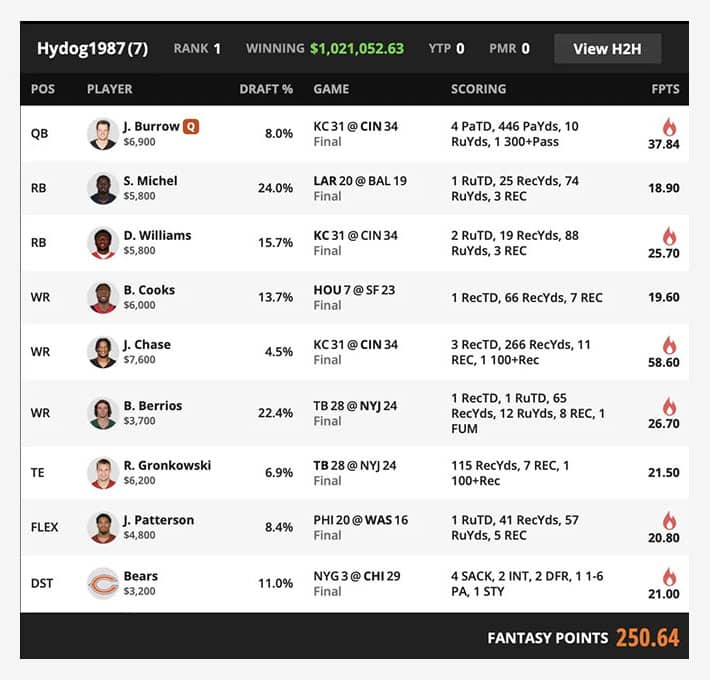 | Pos. | Player | Own % | Salary | Points |
| --- | --- | --- | --- | --- |
| QB | Joe Burrow | 8.0% | $6,900 | 37.84 |
| RB | Sony Michel | 24% | $5,800 | 18.9 |
| RB | Damien Williams | 15.7% | $5,800 | 25.7 |
| WR | Brandin Cooks | 13.7% | $6,000 | 19.6 |
| WR | Ja'Marr Chase | 4.5% | $7,600 | 58.6 |
| WR | Braxton Berrios | 22.4% | $3,700 | 26.7 |
| TE | Rob Gronkowski | 6.9% | $6,200 | 21.5 |
| FLEX | Jaret Patterson | 8.4% | $4,800 | 20.8 |
| D/ST | Bears | 11% | $3,200 | 21 |
DraftKings 2021 NFL Week 16 Millionaire Winning Lineup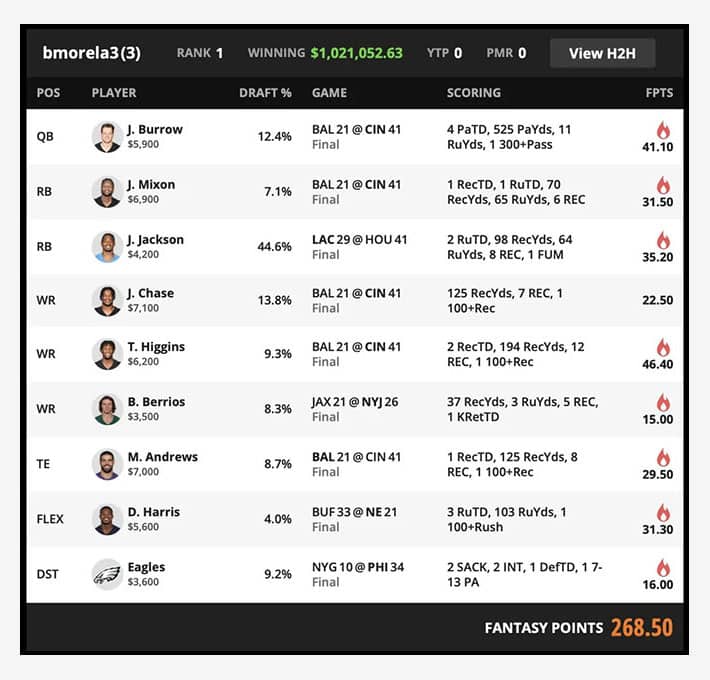 | Pos. | Player | Own % | Salary | Points |
| --- | --- | --- | --- | --- |
| QB | Joe Burrow | 12.4% | $5,900 | 41.1 |
| RB | Joe Mixon | 7.1% | $6,900 | 31.5 |
| RB | Justin Jackson | 44.6% | $4,200 | 35.2 |
| WR | Ja'Marr Chase | 13.8% | $7,100 | 22.5 |
| WR | Tee Higgins | 9.3% | $6,200 | 46.4 |
| WR | Braxton Berrios | 8.3% | $3,500 | 15 |
| TE | Marc Andrews | 6.4% | $7,000 | 29.5 |
| FLEX | Damien Harris | 4.0% | $5,600 | 31.3 |
| D/ST | Eagles | 9.2% | $3,600 | 16 |
DraftKings 2021 NFL Week 15 Millionaire Winning Lineup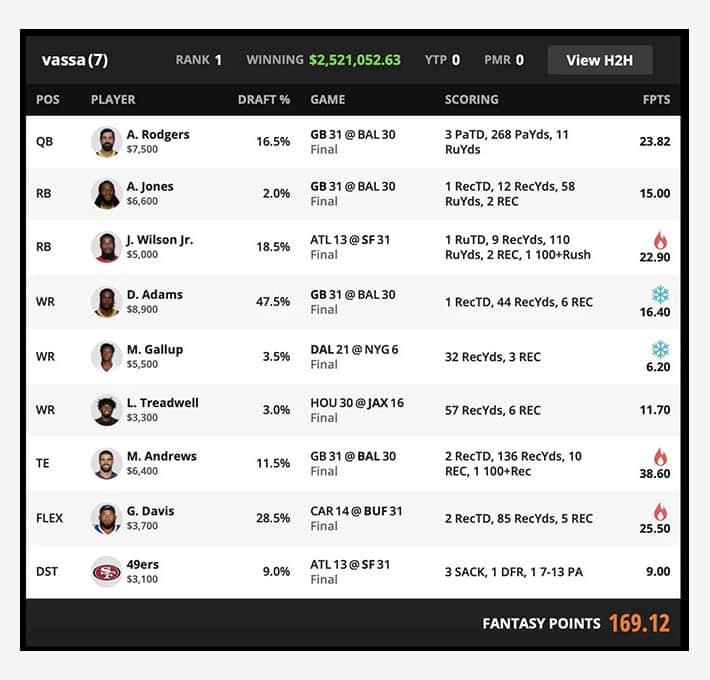 | Pos. | Player | Own % | Salary | Points |
| --- | --- | --- | --- | --- |
| QB | Aaron Rodgers | 16.5% | $7,500 | 23.82 |
| RB | Aaron Jones | 2.0% | $6,600 | 15 |
| RB | Jeff Wilson Jr. | 18.5% | $5,000 | 22.9 |
| RB | Davante Adams | 47.5% | $8,900 | 16.4 |
| WR | Michael Gallup | 3.5% | $5,500 | 6.2 |
| WR | Laquon Treadwell | 3.0% | $3,300 | 11.7 |
| TE | Marc Andrews | 11.5% | $6,400 | 38.6 |
| FLEX | Cooper Kupp | 28.5% | $3,700 | 25.5 |
| D/ST | 49ers | 9.0% | $3,100 | 9 |
DraftKings 2021 NFL Week 14 Millionaire Winning Lineup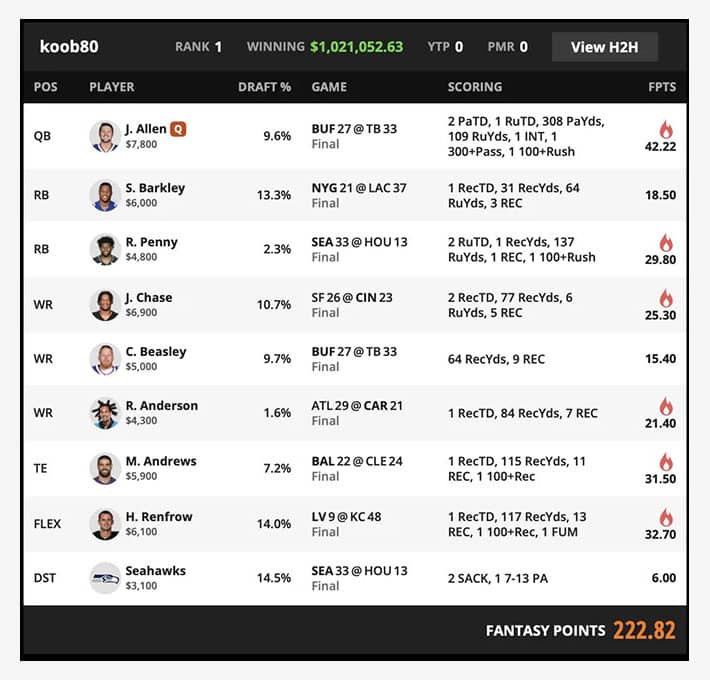 | Pos. | Player | Own % | Salary | Points |
| --- | --- | --- | --- | --- |
| QB | Josh Allen | 9.6% | $7,800 | 43.22 |
| RB | Saquon Barkley | 13.3% | $6,000 | 18.5 |
| RB | Rashaad Penny | 2.3% | $4,800 | 29.8 |
| WR | Ja'Marr Chase | 10.7% | $6,900 | 25.3 |
| WR | Cole Beasley | 9.7% | $5,000 | 15.4 |
| WR | Robbie Anderson | 1.6% | $4,300 | 21.4 |
| TE | Marc Andrews | 7.2% | $5,900 | 31.5 |
| FLEX | Hunter Renfrow | 14% | $6,100 | 32.7 |
| D/ST | Seahawks | 14.5% | $3,100 | 6 |
DraftKings 2021 NFL Week 13 Millionaire Winning Lineup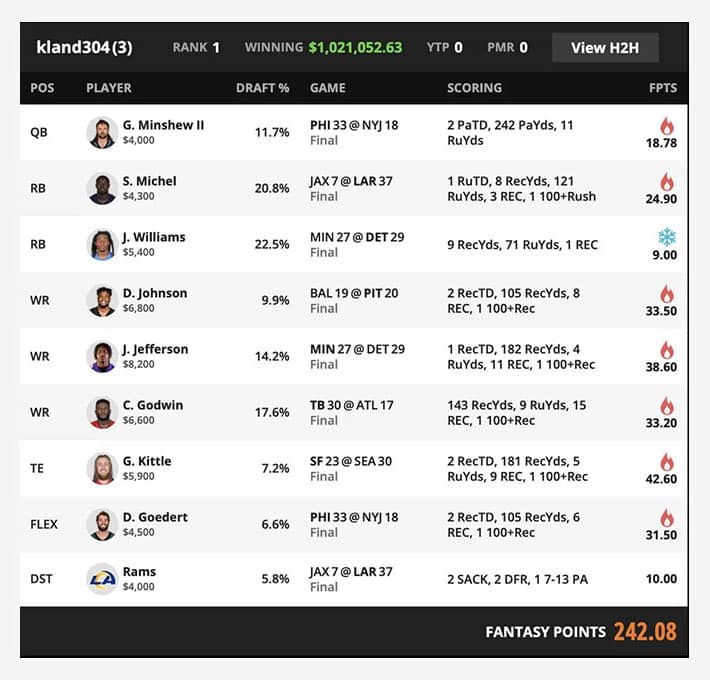 | Pos. | Player | Own % | Salary | Points |
| --- | --- | --- | --- | --- |
| QB | Gardner Minshew | 11.7% | $4,000 | 18.78 |
| RB | Sony Michel | 20.8% | $4,300 | 24.9 |
| RB | Jamaal Williams | 22.5% | $5,400 | 9 |
| WR | Diontae Johnson | 9.9% | $6,800 | 33.5 |
| WR | Justin Jefferson | 38.6% | $8,200 | 38.6 |
| WR | Chris Godwin | 17.6% | $6,600 | 33.2 |
| TE | George Kittle | 7.2% | $5,900 | 42.6 |
| FLEX | Dallas Goedert | 6.6% | $4,500 | 31.5 |
| D/ST | Rams | 5.8% | $4,000 | 10 |
DraftKings 2021 NFL Week 12 Millionaire Winning Lineup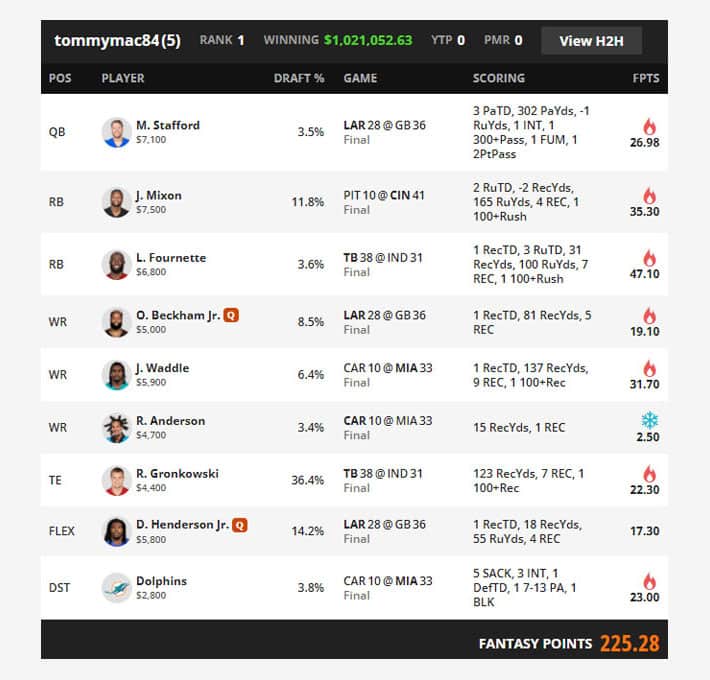 | Pos. | Player | Own % | Salary | Points |
| --- | --- | --- | --- | --- |
| QB | Matthew Stafford | 3.5% | $7,100 | 26.98 |
| RB | Joe Mixon | 11.8% | $7,500 | 35.3 |
| RB | Leonard Fournette | 3.6% | $6,800 | 47.1 |
| WR | Odell Beckham Jr. | 8.5% | $5,000 | 19.1 |
| WR | Jaylen Waddle | 6.4% | $5,900 | 31.7 |
| WR | Robbie Anderson | 3.4% | $4,700 | 2.5 |
| TE | Rob Gronkowski | 36.4% | $4,400 | 22.3 |
| FLEX | Darrell Henderson Jr | 14.2% | $5,800 | 17.3 |
| D/ST | Dolphins | 3.8% | $2,800 | 23 |
DraftKings 2021 NFL Week 11 Millionaire Winning Lineup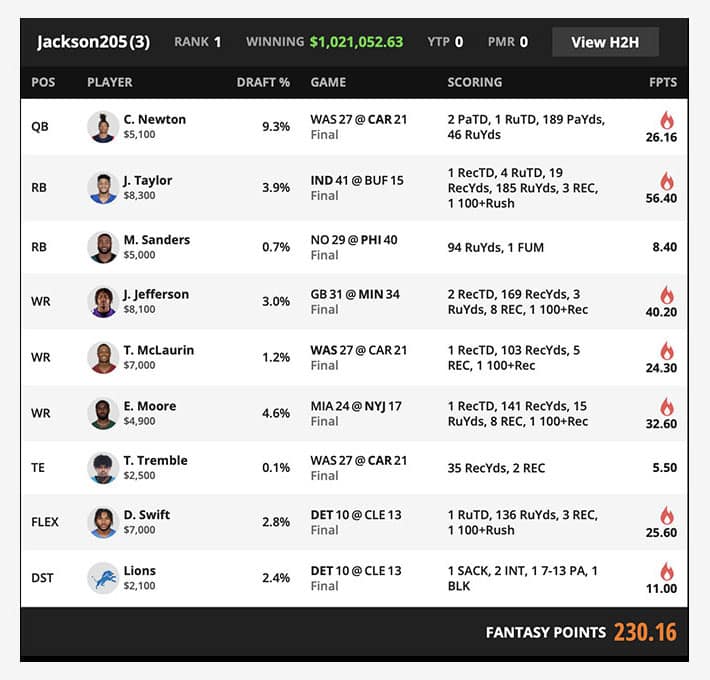 | Pos. | Player | Own % | Salary | Points |
| --- | --- | --- | --- | --- |
| QB | Cam Newton | 9.3% | $5,100 | 26.16 |
| RB | Jonathan Taylor | 3.9% | $8,300 | 56.4 |
| RB | Miles Sanders | 0.7% | $5,000 | 8.4 |
| WR | Justin Jefferson | 3.0% | $8,100 | 40.2 |
| WR | Terry McLaurin | 1.2% | $7,000 | 24.3 |
| WR | Elijah Moore | 4.6% | $4,900 | 32.6 |
| TE | Tommy Tremble | 0.1% | $2,500 | 5.5 |
| FLEX | Deandre Swift | 6.6% | $7,000 | 25.6 |
| D/ST | Lions | 2.4% | $2,100 | 11 |
DraftKings 2021 NFL Week 10 Millionaire Winning Lineup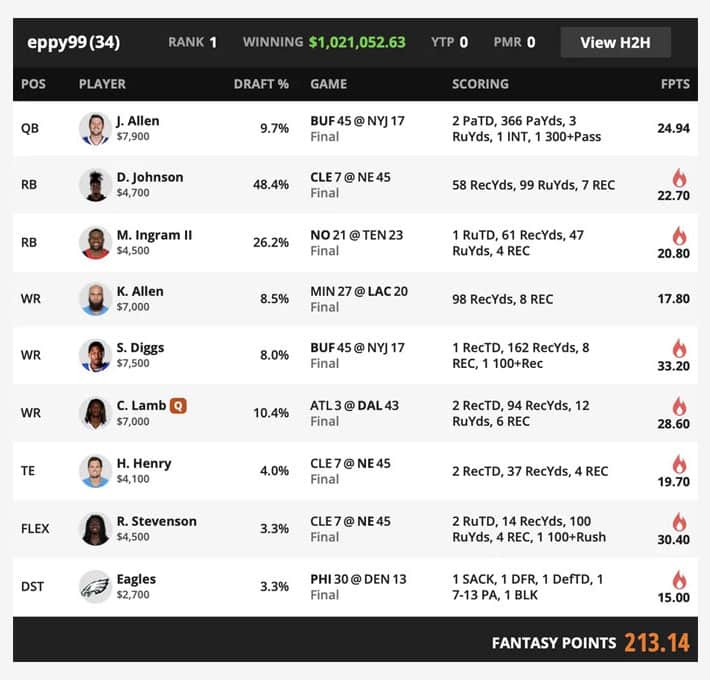 | Pos. | Player | Own % | Salary | Points |
| --- | --- | --- | --- | --- |
| QB | Josh Allen | 9.7% | $7,900 | 24.94 |
| RB | Diontae Johnson | 48.4% | $4,700 | 22.7 |
| RB | Marc Ingram | 26.2% | $4,500 | 20.8 |
| WR | Keenan Allen | 8.5% | $7,000 | 17.8 |
| WR | Stefon Diggs | 8% | $7,500 | 33.2 |
| WR | Ceedee Lamb | 10.4% | $7,000 | 28.6 |
| TE | Hunter Henry | 4.0% | $4,100 | 19.7 |
| FLEX | Rhamondre Stevenson | 3.3% | $4,500 | 30.4 |
| D/ST | Eagles | 3.3% | $2,700 | 15 |
DraftKings 2021 NFL Week 9 Millionaire Winning Lineup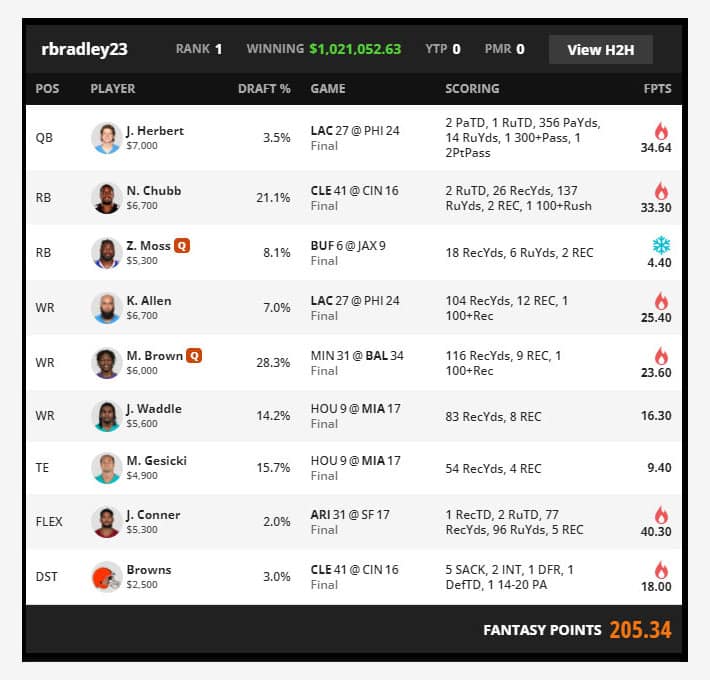 | Pos. | Player | Own % | Salary | Points |
| --- | --- | --- | --- | --- |
| QB | Justin Herbert | 3.5% | $7,000 | 34.64 |
| RB | Nick Chubb | 21.1% | $6,700 | 33..3 |
| RB | Zack Moss | 8.1% | $5,300 | 4.4 |
| WR | Keenan Allen | 7.0% | $6,700 | 25.4 |
| WR | Marquise Brown | 28.3% | $6,000 | 23.6 |
| WR | Jaylen Waddle | 16.3% | $5,600 | 16.3 |
| TE | Mike Gesicki | 15.7% | $4,900 | 9.4 |
| FLEX | James Conner | 2.0% | $5,300 | 40.3 |
| D/ST | Browns | 3.0% | $2,500 | 18 |
DraftKings 2021 NFL Week 8 Millionaire Winning Lineup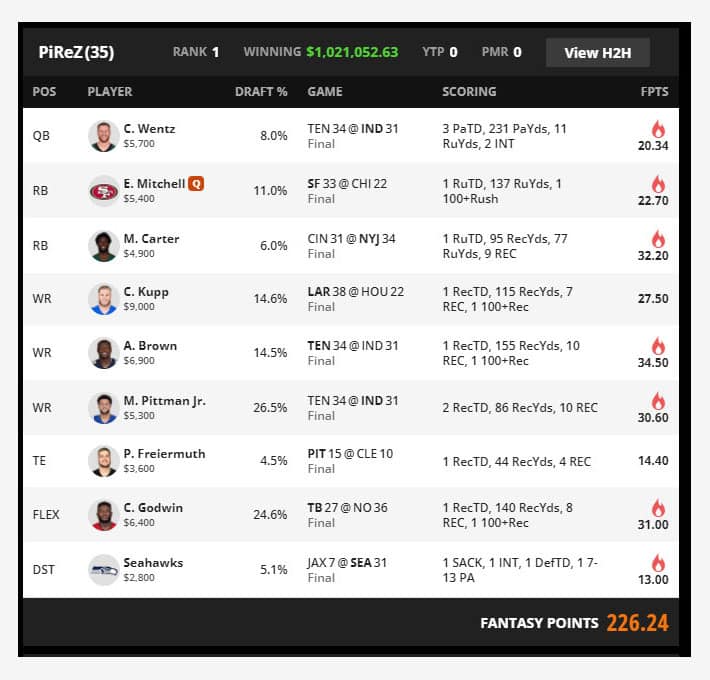 | Pos. | Player | Own % | Salary | Points |
| --- | --- | --- | --- | --- |
| QB | Carson Wentz | 8.0% | $5,700 | 20.34 |
| RB | Elijah Mitchell | 11% | $5,400 | 22.7 |
| RB | Michael Carter | 6.0% | $4,900 | 32.2 |
| WR | Cooper Kupp | 14.6% | $9,000 | 27.5 |
| WR | Antonio Brown | 14.5% | $6,900 | 34.5 |
| WR | Michael Pittman | 26.5% | $5,300 | 30.6 |
| TE | Pat Freiermuth | 4.5% | $3,600 | 14.4 |
| FLEX | Chris Godwin | 24.6% | $6,400 | 31 |
| D/ST | Seahawks | 5.1% | $2,800 | 13 |
DraftKings 2021 NFL Week 7 Millionaire Winning Lineup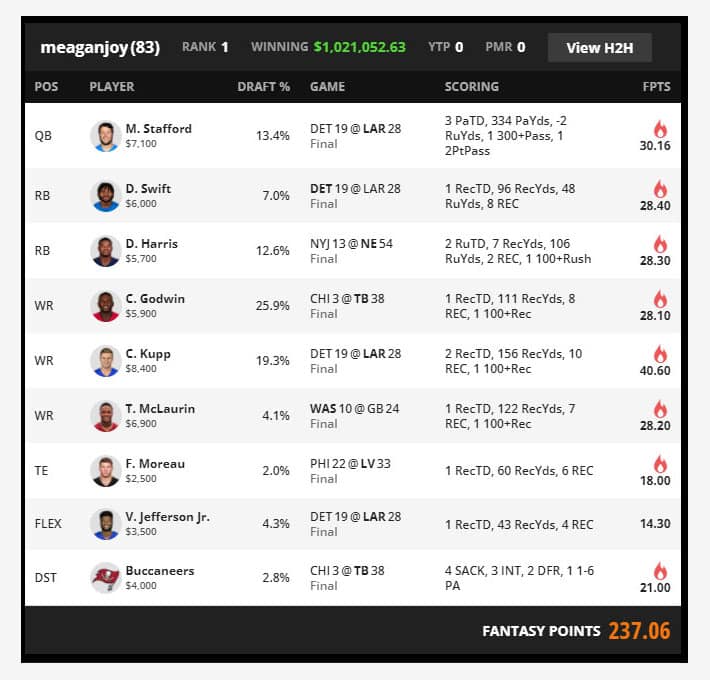 | Pos. | Player | Own % | Salary | Points |
| --- | --- | --- | --- | --- |
| QB | Matthew Stafford | 13.4% | $7,100 | 30.16 |
| RB | Deandre Swift | 7.0% | $6,000 | 28.4 |
| RB | Damien Harris | 12.6% | $5,700 | 28.3 |
| WR | Chris Godwin | 25.9% | $5,900 | 28.1 |
| WR | Cooper Kupp | 19.3% | $8,400 | 40.6 |
| WR | Terry McLaurin | 4.1% | $6,900 | 28.2 |
| TE | Foster Moreau | 2.0% | $2,500 | 18 |
| FLEX | Chris Godwin | 24.6% | $6,400 | 31 |
| D/ST | Buccaneers | 2.8% | $4,000 | 21 |
DraftKings 2021 NFL Week 6 Millionaire Winning Lineup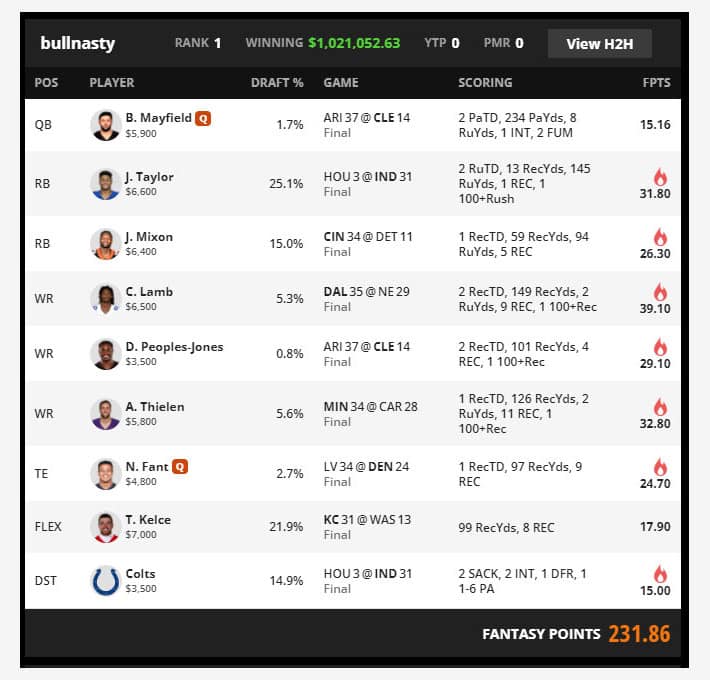 | Pos. | Player | Own % | Salary | Points |
| --- | --- | --- | --- | --- |
| QB | Baker Mayfield | 1.7% | $5,900 | 15.16 |
| RB | Jonathan Taylor | 25.1% | $6,600 | 31.8 |
| RB | Joe Mixon | 15.0% | $6,400 | 26.3 |
| WR | Ceedee Lamb | 5.3% | $6,500 | 39.1 |
| WR | Donovan Peoples-Jones | 0.8% | $3,500 | 29.1 |
| WR | Adam Thielen | 5.6% | $5,800 | 32.8 |
| TE | Noah Fant | 2.7% | $4,800 | 24.7 |
| FLEX | Travis Kelce | 21.9% | $7,000 | 17.9 |
| D/ST | Colts | 14.9% | $3,500 | 15 |
DraftKings 2021 NFL Week 5 Millionaire Winning Lineup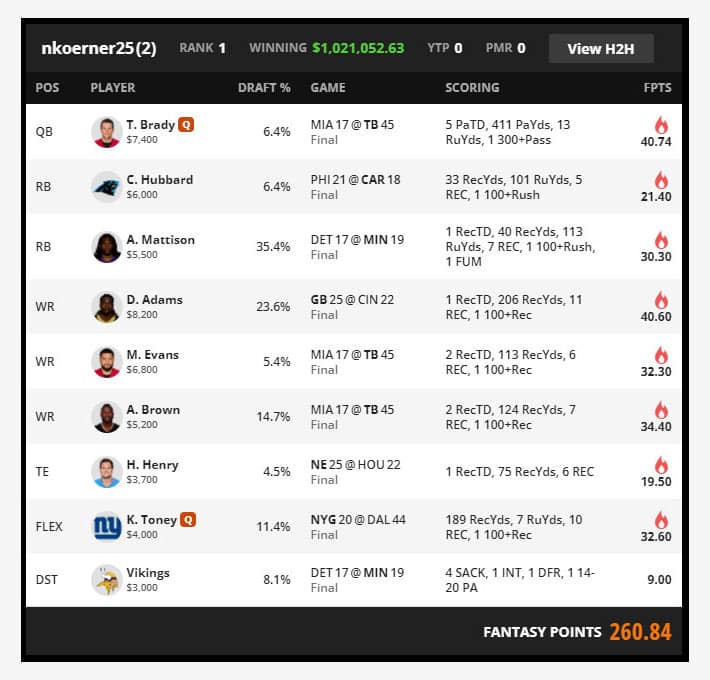 | Pos. | Player | Own % | Salary | Points |
| --- | --- | --- | --- | --- |
| QB | Tom Brady | 6.4% | $7,400 | 40.74 |
| RB | Chuba Hubbard | 6.4% | $6,000 | 21.4 |
| RB | Alexander Mattison | 35.4% | $5,500 | 30.3 |
| WR | Davante Adams | 23.6% | $8,200 | 40.6 |
| WR | Mike Evans | 5.4% | $6,800 | 32.3 |
| WR | Antonio Brown | 14.7% | $5,200 | 34.4 |
| TE | Hunter Henry | 4.5% | $3,700 | 19.5 |
| FLEX | Kadarius Toney | 11.4% | $4,000 | 32.6 |
| D/ST | Vikings | 8.1% | $3,000 | 9 |
DraftKings 2021 NFL Week 4 Millionaire Winning Lineup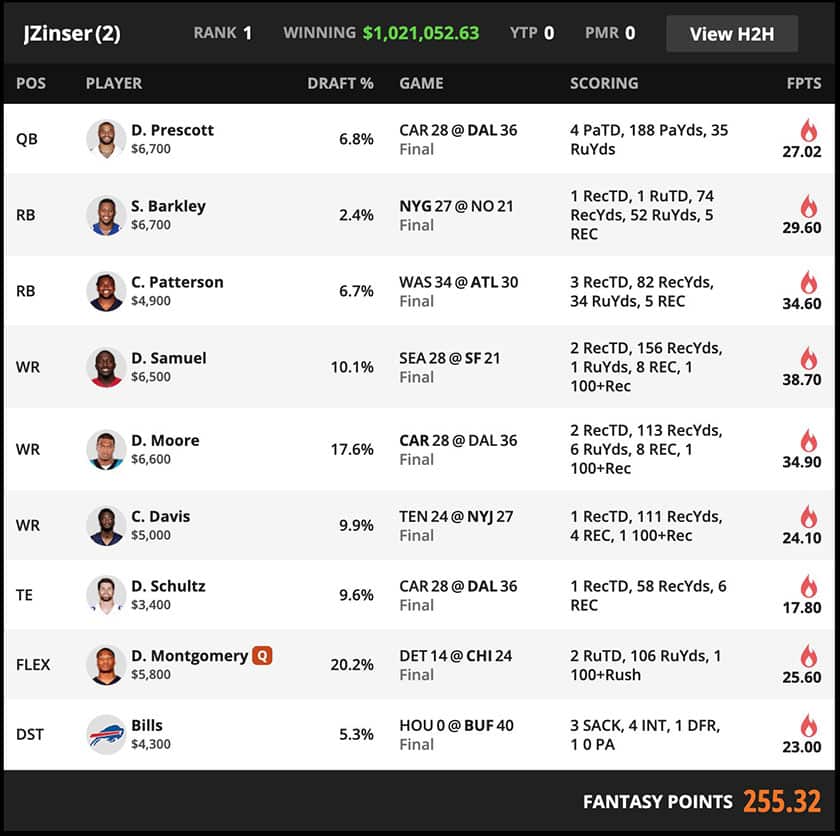 | Pos. | Player | Own % | Salary | Points |
| --- | --- | --- | --- | --- |
| QB | Dak Prescott | 6.8% | $6,700 | 27.02 |
| RB | Saquon Barkley | 2.4% | $6,700 | 29.6 |
| RB | Cordarrelle Patterson | 6.7% | $4,900 | 34.6 |
| WR | Deebo Samuel | 10.1% | $6,500 | 10.1 |
| WR | DJ Moore | 17.6% | $6,600 | 34.9 |
| WR | Corey Davis | 9.9% | $5,000 | 24.1 |
| TE | Dalton Schultz | 9.6% | $3,400 | 17.8 |
| FLEX | David Montgomery | 20.2% | $5,800 | 25.6 |
| D/ST | Bills | 5.3% | $4,300 | 23 |
DraftKings 2021 NFL Week 3 Millionaire Maker Winning Lineup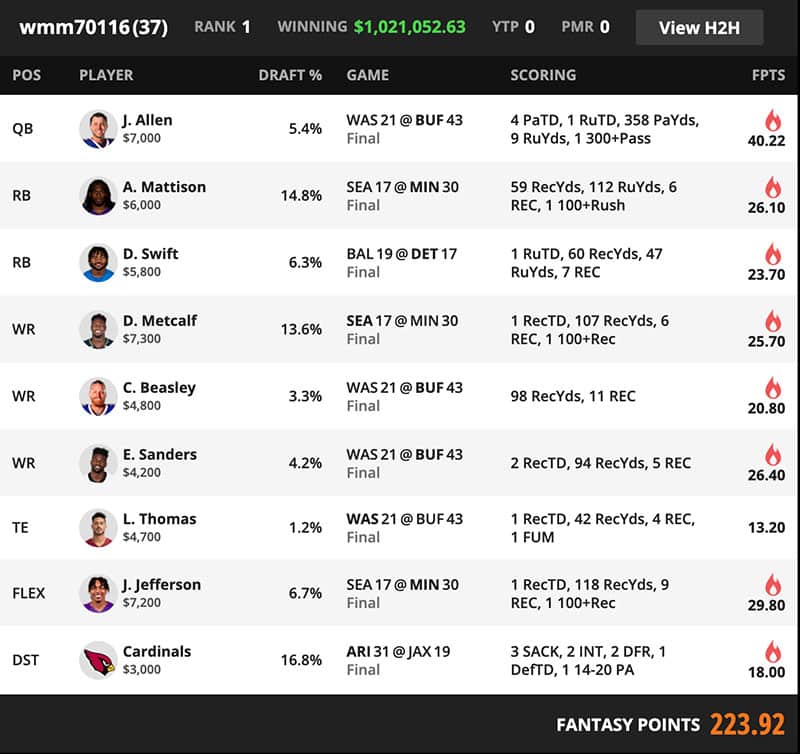 | Pos. | Player | Own % | Salary | Points |
| --- | --- | --- | --- | --- |
| QB | Josh Allen | 5.4% | $7,000 | 40.22 |
| RB | Alexander Mattison | 14.8% | $6,000 | 26.1 |
| RB | DeAndre Swift | 6.3% | $5,800 | 23.7 |
| WR | DK Metcalf | 13.6% | $7,300 | 25.7 |
| WR | Cole Beasley | 3.3% | $4,800 | 20.8 |
| WR | Emmanuel Sanders | 4.2% | $4,200 | 26.4 |
| TE | Logan Thomas | 1.2% | $4,700 | 13.2 |
| FLEX | Justin Jefferson | 6.7% | $7,200 | 29.8 |
| D/ST | Cardinals | 16.8% | $3,000 | 18 |
---
DraftKings 2021 NFL Week 2 Millionaire Maker Winning Lineup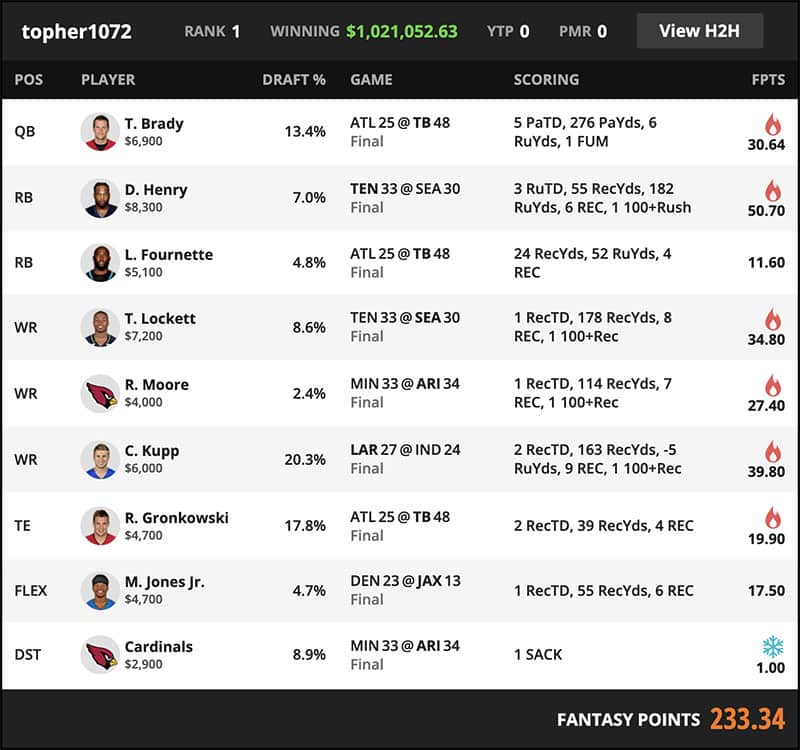 | Pos. | Player | Own % | Salary | Points |
| --- | --- | --- | --- | --- |
| QB | Tom Brady | 13.4% | $6,900 | 30.64 |
| RB | Derrick Henry | 7.0% | $8,300 | 50.7 |
| RB | Leonard Fournette | 4.8% | $5,100 | 11.6 |
| WR | Tyler Lockett | 8.6% | $7,200 | 34.8 |
| WR | Rondale Moore | 2.4% | $4,000 | 27.4 |
| WR | Cooper Kupp | 20.3% | $6,000 | 39.8 |
| TE | Rob Gronkowski | 17.8% | $4,700 | 19.9 |
| FLEX | Marvin Jones Jr. | 4.7% | $4,700 | 17.5 |
| D/ST | Cardinals | 8.9% | $2,900 | 1 |
---
DraftKings 2021 NFL Week 1 Millionaire Maker Winning Lineup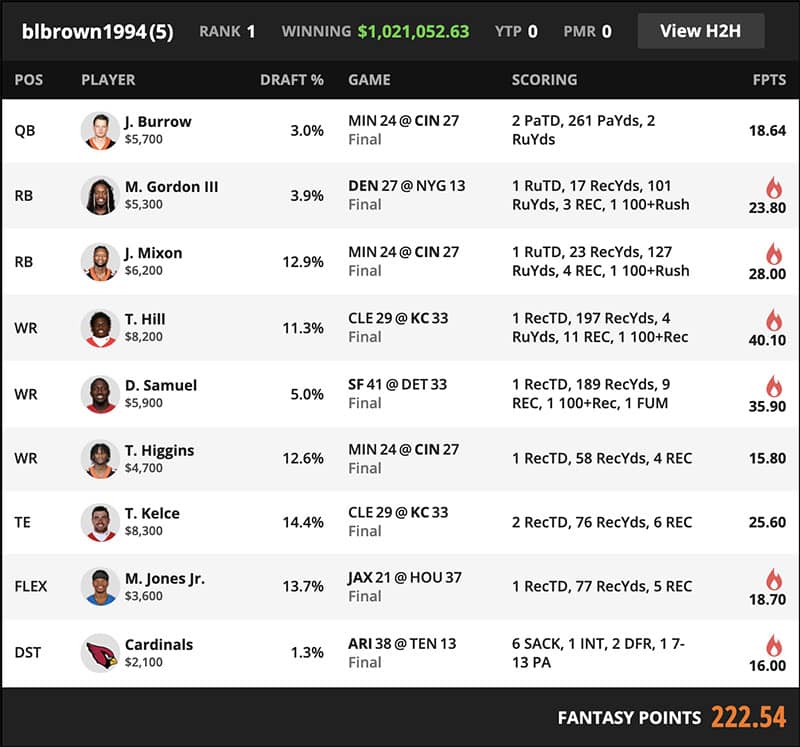 | Pos. | Player | Own % | Salary | Points |
| --- | --- | --- | --- | --- |
| QB | Joe Burrow | 3.0% | $5,700 | 18.64 |
| RB | Melvin Gordon III | 23.8% | $5,900 | 23.8 |
| RB | Joe Mixon | 12.9% | $6,200 | 28 |
| WR | Tyreek Hill | 11.3% | $8,200 | 40.1 |
| WR | Deebo Samuel | 5.0% | $5,900 | 35.9 |
| WR | Tee Higgins | 12.6% | $4,700 | 15.8 |
| TE | Travis Kelce | 8,3% | $8,300 | 25.6 |
| FLEX | Marvin Jones Jr. | 13.7% | $3,600 | 18.7 |
| D/ST | Cardinals | 1.3% | $2,100 | 16 |