We tracked every DraftKings Millionaire winning lineup throught the 2021-22 NFL season, including the playoffs. Not only will you find the DraftKings winners from 2021-22 in this post, but we provide some key takeaways from analyzing the winning lineups.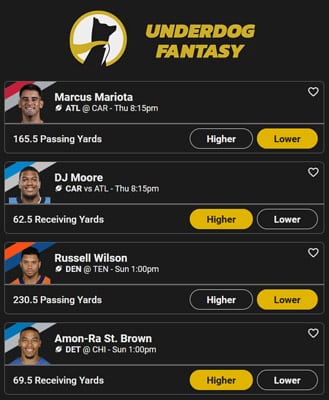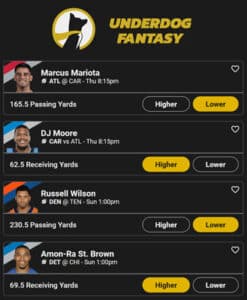 Looking for An Easier Way to Win? Try Player Prop Contests at Underdog Fantasy
Underdog pick'em contests are the easiest way to win money in DFS. Pick over/under for popular stat categories to multiply your entry as you would a parlay at a sportsbook. Use promo code ROOKIE to get the best available Underdog bonus, a 100% deposit bonus, up to $100!
Tips From Winners: Our Key Takeaways from Last Season's Winning Lineups
While we have historically given breakdowns on a week-by-week basis, to prep for the upcoming 2022-23 NFL season, we thought we would share some insights from what we learned from last seasons winners.
Knowing that our subscribers are likely prepping for the 2022 NFL regular season, we are going to focus on the data we have from the 2021 regular season. If you don't care about our takeaways, find every winning DraftKings Millionaire lineup for the 2021 season below these takes.
If You Don't See the DraftKings Fire Symbol, You Don't Have a Shot
The DraftKings fire symbol indicates your player finished at 4x value or better for the week. Winning DraftKings Millionaire lineups hit the 'fire' mark on 79.6% of their picks.
While we expected this number to be high, it's surprisingly high. Keep in mind, this does not account for players that go well above 4x, and includes week 15, which was historically bad (the winning lineup would struggle to finish in the money any other week). There are plays on this list that are 10x+, but those owners are stacking that value with another 7 guys that reach 4x value.
Pay Up at the Tight End Position
For this one we looked specifically at the winning lineups from the second-half of the 2021 regular season. There is exactly one lineup in that group that cashed with a tight end priced under $4,000, and almost every winning lineup used Marc Andrews, Rob Gronkowski, or George Kittle.
Pay Down on Defense
There were only three lineups that won the Millionaire starting a defense priced at $3,500 or higher for the entire season. While you typically don't want to tank the position (keep in mind we need at least 4x value), paying up at defense rarely pays off if you want to take down a DK Millionaire.
Stack, Stack, and Counter-Stack
It should come as no surprise that stacking remains key to winning a DraftKings Millionaire. All 18 winners stacked a QB with at least 1 teammate, and 8 stacked with at least 2.
Additionally, 8 out of the 18 regular season Millionaire lineups also started an opposing receiver, tight end, or pass-catching running back. Basically pick a game where you want to bet the over, and stack like crazy.
How much stacking is too much? The highest scoring lineup from last season stacked Joe Burrow with Joe Mixon, Ja'Marr Chase, Tee Higgins, and opposing tight end Marc Andrews. That group racked up an insane 268.5 points (5.4x) value for the week.
Ownership Percentage Matters
Nearly 65% of the players in winning DraftKings Millionaire lineups had an owership under 10%. Beyond that, 88% of the players had an ownership level under 20%. If you want to take home the $1 million top prize, you're going to have to think outside of the box.
This is why playing more than one lineup is also a near-must. Only 4 of the 18 regular season winners were single-entry players.
DraftKings 2022 NFL Week 14 Millionaire Winning Lineup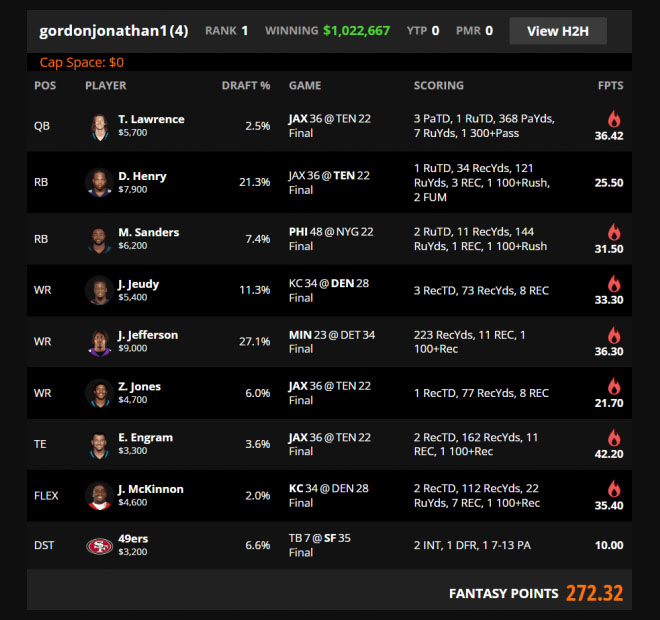 | Pos. | Player | Own % | Salary | Points |
| --- | --- | --- | --- | --- |
| QB | Trevor Lawrence | 2.5% | $5,700 | 36.42 |
| RB | Derrick Henry | 21.3% | $7,900 | 25.50 |
| RB | Miles Standers | 7.4% | $6,200 | 31.50 |
| WR | Jerry Jeudy | 11.3% | $5,400 | 33.30 |
| WR | Justin Jefferson | 27.1% | $9,000 | 36.30 |
| WR | Zay Jones | 6.0% | $4,700 | 21.70 |
| TE | Evan Engram | 3.6% | $3,300 | 42.20 |
| FLEX | Justin McKinnon | 2.0% | $4,600 | 35.40 |
| D/ST | 49ers | 6.6% | $3,200 | 10.00 |
DraftKings 2022 NFL Week 13 Millionaire Winning Lineup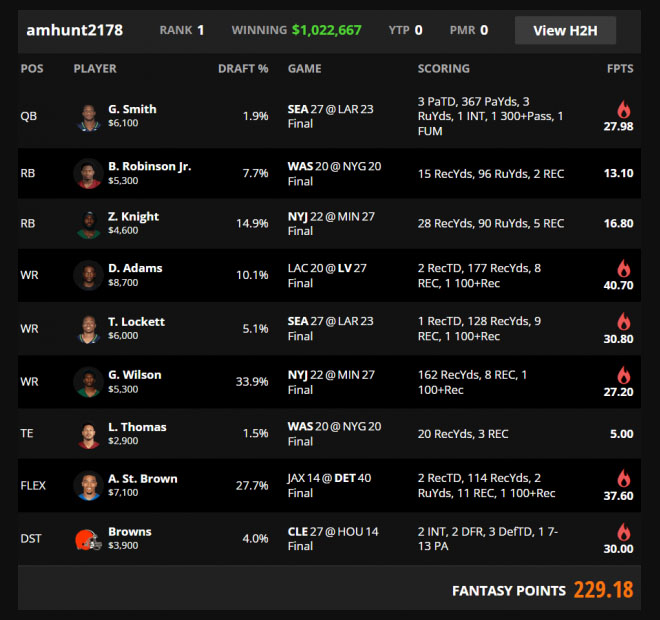 | Pos. | Player | Own % | Salary | Points |
| --- | --- | --- | --- | --- |
| QB | Trevor Lawrence | 2.5% | $5,700 | 36.42 |
| RB | Derrick Henry | 21.3% | $7,900 | 25.50 |
| RB | Miles Standers | 7.4% | $6,200 | 31.50 |
| WR | Jerry Jeudy | 11.3% | $5,400 | 33.30 |
| WR | Justin Jefferson | 27.1% | $9,000 | 36.30 |
| WR | Zay Jones | 6.0% | $4,700 | 21.70 |
| TE | Evan Engram | 3.6% | $3,300 | 42.20 |
| FLEX | Justin McKinnon | 2.0% | $4,600 | 35.40 |
| D/ST | 49ers | 6.6% | $3,200 | 10.00 |
DraftKings 2022 NFL Week 12 Millionaire Winning Lineup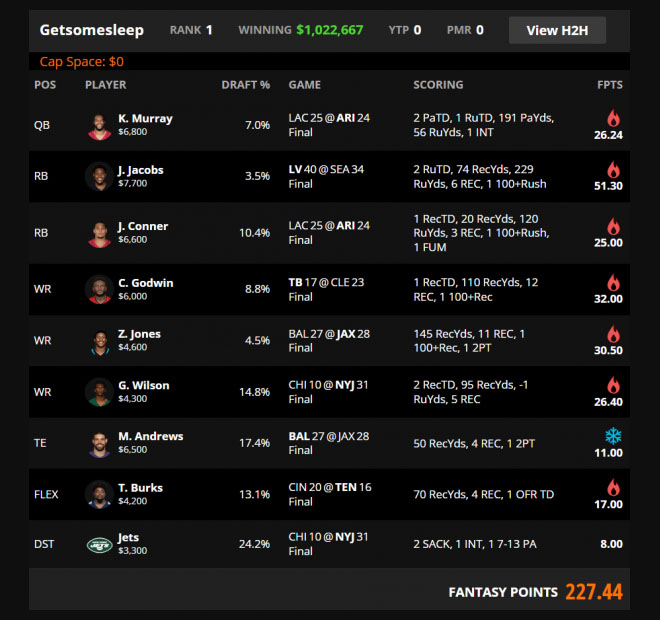 | Pos. | Player | Own % | Salary | Points |
| --- | --- | --- | --- | --- |
| QB | Kyler Murray | 7.0% | $6,800 | 26.24 |
| RB | Josh Jacobs | 3.5% | $7,700 | 51.30 |
| RB | James Conner | 10.4% | $6,600 | 25.00 |
| WR | Chris Godwin | 8.8% | $6,000 | 32.00 |
| WR | Zay Jones | 4.5% | $4,600 | 30.50 |
| WR | Garrett Wilson | 4.5% | $4,300 | 26.40 |
| TE | Mark Andrews | 17.4% | $6,500 | 11.00 |
| FLEX | Treylon Burks | 13.1% | $6,500 | 17.00 |
| D/ST | Jets | 24.2% | $4,200 | 8.00 |
DraftKings 2022 NFL Week 11 Millionaire Winning Lineup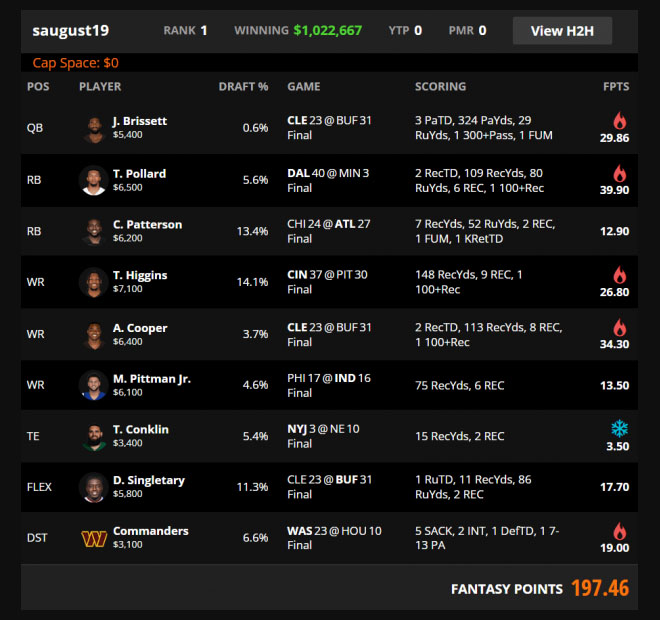 | Pos. | Player | Own % | Salary | Points |
| --- | --- | --- | --- | --- |
| QB | Jacoby Brissett | 0.6% | $5,400 | 29.86 |
| RB | Tony Pollard | 5.6% | $6,500 | 39.90 |
| RB | Cordarrelle Patterson | 13.4% | $6,200 | 12.90 |
| WR | Tee Higgins | 14.1% | $7,100 | 26.80 |
| WR | Amari Cooper | 3.7% | $6,400 | 34.30 |
| WR | Michael Pittman Jr | 4.6% | $6,100 | 13.50 |
| TE | Tyler Conklin | 5.4% | $3,400 | 3.5 |
| FLEX | Devin Singletary | 11.3% | $5,800 | 17.70 |
| D/ST | Commanders | 6.6% | $3,100 | 19.00 |
DraftKings 2022 NFL Week 10 Millionaire Winning Lineup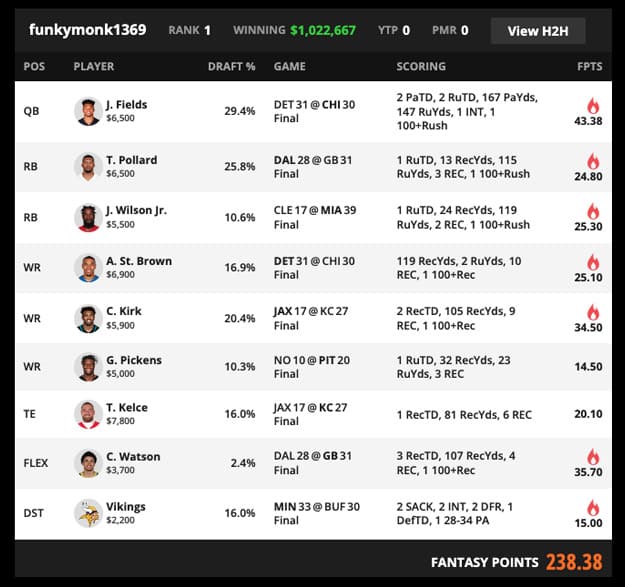 | Pos. | Player | Own % | Salary | Points |
| --- | --- | --- | --- | --- |
| QB | Justin Fields | 29.4% | $6,500 | 43.38 |
| RB | Tony Pollard | 25.8% | $6,500 | 24.80 |
| RB | Jeff Wilson Jr | 10.6% | $5,500 | 25.30 |
| WR | Amon-Ra St. Brown | 16.91% | $6,900 | 25.10 |
| WR | Christian Kirk | 20.4% | $5,900 | 34.50 |
| WR | Darnell Mooney | 10.3% | $5,000 | 14.50 |
| TE | Travis Kelce | 16.0% | $7,800 | 20.10 |
| FLEX | Christian Watson | 2.4% | $3,700 | 35.70 |
| D/ST | Vikings | 16.0% | $2,200 | 15.00 |
DraftKings 2022 NFL Week 9 Millionaire Winning Lineup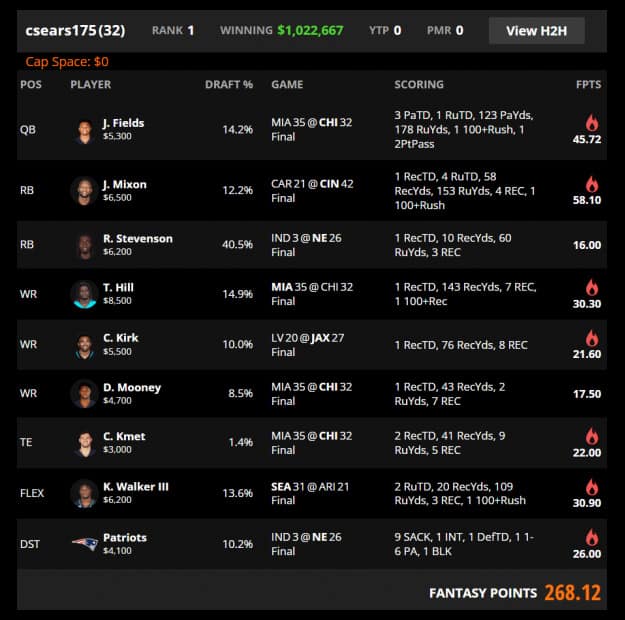 | Pos. | Player | Own % | Salary | Points |
| --- | --- | --- | --- | --- |
| QB | Justin Fields | 14.2% | $5,300 | 45.72 |
| RB | Joe Mixon | 12.2% | $6,500 | 58.10 |
| RB | Rhamondre Stevenson | 40.5% | $6,200 | 16 |
| WR | Tyreek Hill | 8.0% | $8,500 | 30.30 |
| WR | Christian Kirk | 10% | $5,500 | 21.60 |
| WR | Darnell Mooney | 8.5% | $4,700 | 17.50 |
| TE | Cole Kmet | 22.0% | $3,000 | 22.00 |
| FLEX | Kenneth Walker III | 13.6% | $6,200 | 30.90 |
| D/ST | Patirots | 10.2% | $4,100 | 26.00 |
DraftKings 2022 NFL Week 8 Millionaire Winning Lineup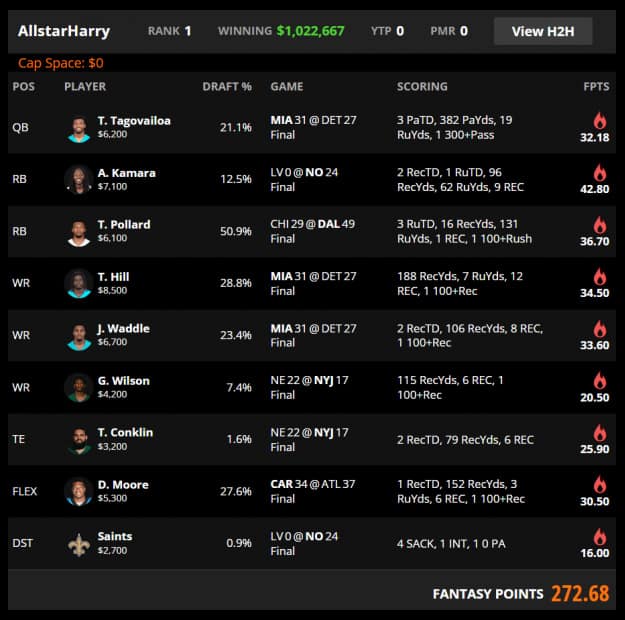 | Pos. | Player | Own % | Salary | Points |
| --- | --- | --- | --- | --- |
| QB | Tua Tagovailoa | 21.1% | $6,200 | 32.18 |
| RB | Alvin Kamara | 12.5% | $7,100 | 42.80 |
| RB | Tony Pollard | 50.9% | $6,100 | 36.70 |
| WR | Tyreek Hill | 28.8% | $8,500 | 34.50 |
| WR | Jaylen Waddle | 23.4% | $6,700 | 33.60 |
| WR | Garrett Wilson | 7.4% | $4,200 | 40.50 |
| TE | Tyler Conklin | 1.6% | $3,200 | 25.90 |
| FLEX | D.J. Moore | 27.6% | $5,300 | 30.50 |
| D/ST | Saints | 0.9% | $2,700 | 16.00 |
DraftKings 2022 NFL Week 7 Millionaire Winning Lineup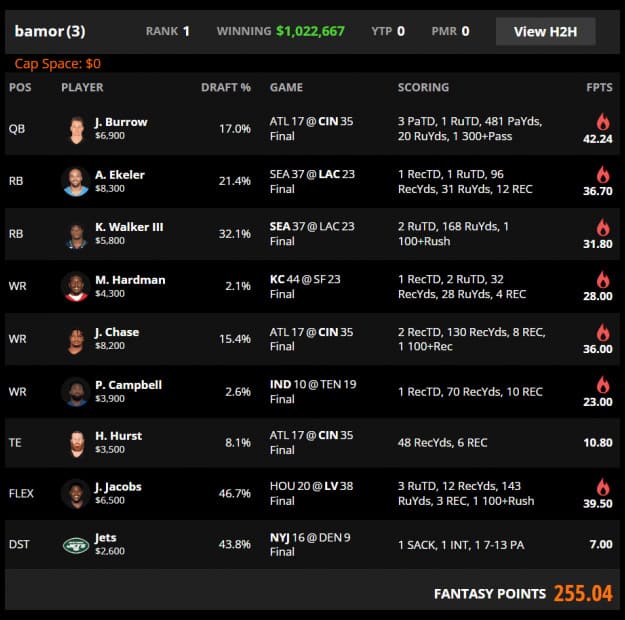 | Pos. | Player | Own % | Salary | Points |
| --- | --- | --- | --- | --- |
| QB | Joe Burrow | 17.0% | $6,900 | 42.24 |
| RB | Austin Ekeler | 21.4% | $8,300 | 36.70 |
| RB | Kenneth Walker III | 32.1% | $5,800 | 31.80 |
| WR | Mecole Hardman | 2.1% | $4,300 | 28.00 |
| WR | Ja'Marr Chase | 15.4% | $8,200 | 36.00 |
| WR | Parris Campbell | 2.6% | $3,900 | 23.00 |
| TE | Hayden Hurst | 8.1% | $3,500 | 10.80 |
| FLEX | Josh Jacobs | 46.7% | $6,500 | 39.50 |
| D/ST | Jets | 43.8% | $2,600 | 7.00 |
DraftKings 2022 NFL Week 6 Millionaire Winning Lineup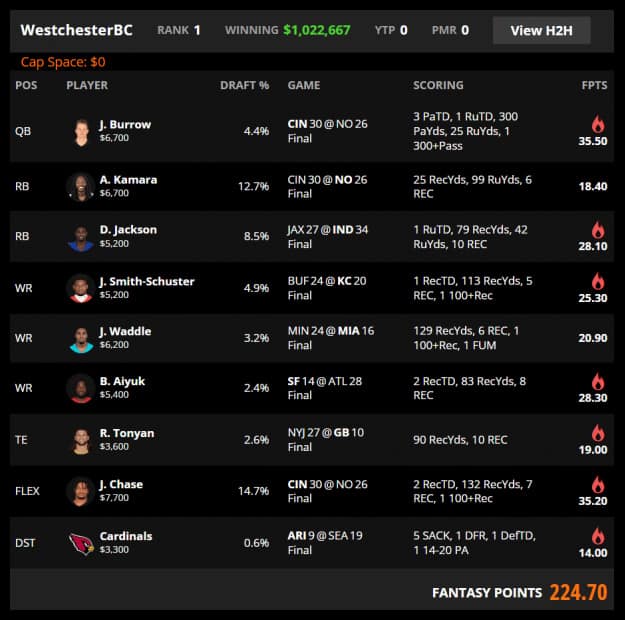 | Pos. | Player | Own % | Salary | Points |
| --- | --- | --- | --- | --- |
| QB | Joe Burrow | 4.4% | $6,700 | 35.5 |
| RB | Alvin Kamara | 12.7% | $6,700 | 18.4 |
| RB | Deon Jackson | 8.5% | $5,200 | 28.1 |
| WR | JuJu Smith-Schuster | 4.9% | $5,200 | 25.3 |
| WR | Jaylen Waddle | 3.2% | $6,200 | 20.9 |
| WR | Brandon Aiyuk | 2.4% | $5,400 | 28.3 |
| TE | Robert Tonyan | 2.6% | $3,600 | 29.1 |
| FLEX | Justin Jefferson | 12.5% | $7,800 | 19.0 |
| D/ST | Cardinals | 3% | $2,400 | 26 |
DraftKings 2022 NFL Week 5 Millionaire Winning Lineup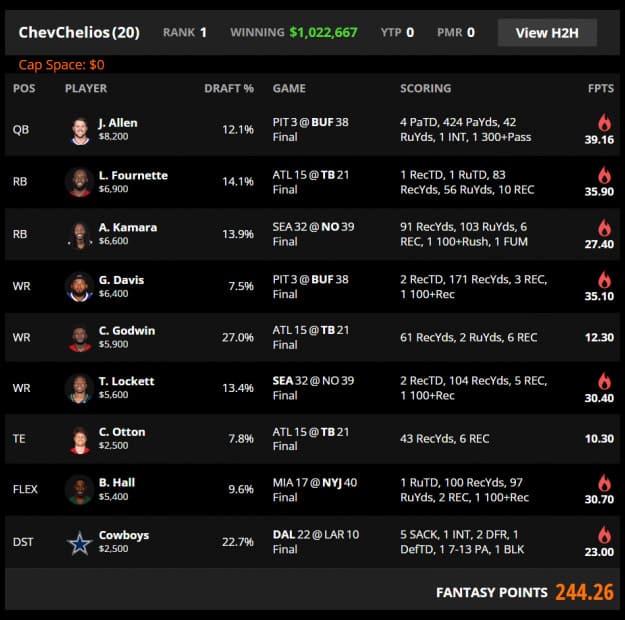 | Pos. | Player | Own % | Salary | Points |
| --- | --- | --- | --- | --- |
| QB | Josh Allen | 12.1% | $8,200 | 39.16 |
| RB | Leonard Fournette | 14.1% | $6,900 | 35.9 |
| RB | Alvin Kamara | 13.9% | $6,600 | 27.40 |
| WR | Gabe Davis | 7.5% | $6,400 | 35.10 |
| WR | Chris Godwin | 27.0% | $5,900 | 12.30 |
| WR | Tyler Lockett | 13.4% | $5,500 | 30.40 |
| TE | Cade Otton | 7.8% | $2,500 | 10.30 |
| FLEX | Breece Hall | 9.6% | $5,400 | 30.70 |
| D/ST | Cowboys | 22.7% | $2,500 | 23.0 |
DraftKings 2022 NFL Week 4 Millionaire Winning Lineup
| Pos. | Player | Own % | Salary | Points |
| --- | --- | --- | --- | --- |
| QB | Geno Smith | 6.8% | $5,400 | 34.70 |
| RB | Austin Ekeler | 15.2% | $7,700 | 34.9 |
| RB | Jamaal Williams | 38% | $6,100 | 26.90 |
| WR | DK Metcalf | 5.7% | $6,800 | 24.9 |
| WR | Tyler Lockett | 15.4% | $5,900 | 14.10 |
| WR | Josh Reynolds | 11.4% | $4,600 | 21.10 |
| TE | TJ Hockenson | 19.8% | $4,100 | 42.90 |
| FLEX | Josh Jacobs | 6.1% | $5,500 | 37.50 |
| D/ST | Eagles | 3.3% | $3,800 | 15.00 |
DraftKings 2022 NFL Week 3 Millionaire Winning Lineup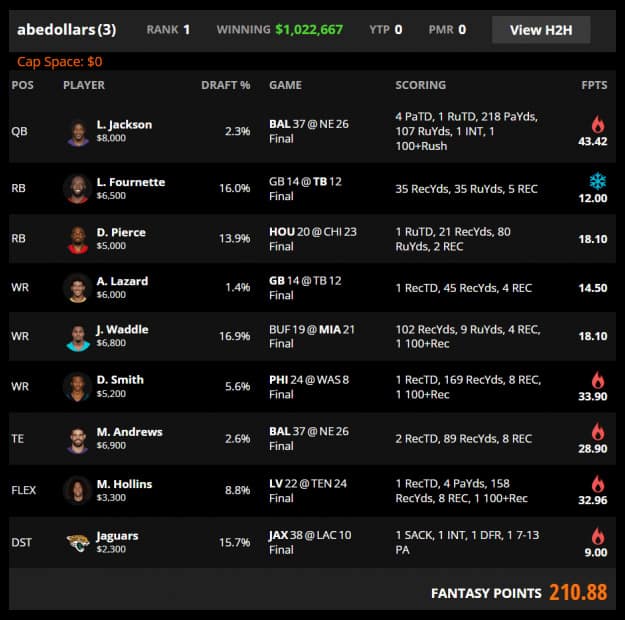 | Pos. | Player | Own % | Salary | Points |
| --- | --- | --- | --- | --- |
| QB | Lamaar Jackson | 2.3% | $7,700 | 37.9 |
| RB | Leonard Fournette | 16.0% | $6,500 | 12.00 |
| RB | Dameon Pierce | 13.9% | $5,000 | 18.10 |
| WR | Allen Lazard | 1.4% | $6,000 | 14.50 |
| WR | Jaylen Waddle | 16.9% | $6,800 | 18.10 |
| WR | DeVonta Smith | 5.6% | $5,200 | 33.90 |
| TE | Mark Andrews | 2.6% | $6,900 | 28.9 |
| FLEX | Mack Hollins | 8.8% | $3,300 | 32.96 |
| D/ST | Jaguars | 15.7% | $2,900 | 9 |
DraftKings 2022 NFL Week 2 Millionaire Winning Lineup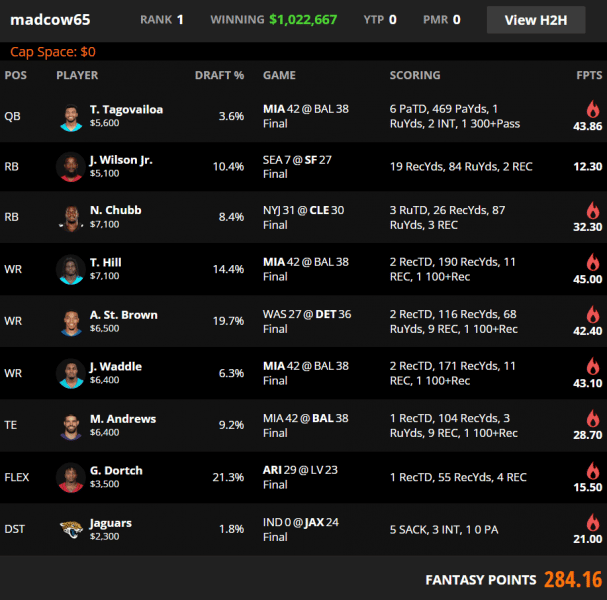 | Pos. | Player | Own % | Salary | Points |
| --- | --- | --- | --- | --- |
| QB | Tua Tagovailoa | 3.6% | $5,600 | 43.86 |
| RB | Jeff Wilson Jr. | 10.4% | $5,100 | 12.30 |
| RB | Nick Chubb | 8.4% | $7,100 | 32.30 |
| WR | Tyreek Hill | 14.4% | $7,100 | 45.00 |
| WR | Amon-Ra St. Brown | 19.7% | $6,500 | 42.40 |
| WR | Jaylen Waddle | 6.3% | $6,400 | 43.10 |
| TE | Mark Andrews | 9.2% | $6,400 | 28.70 |
| FLEX | Greg Dortch | 21.3% | $3,500 | 15.5 |
| D/ST | Jaguars | 1.8% | $2,300 | 21.00 |
DraftKings 2022 NFL Week 1 Millionaire Winning Lineup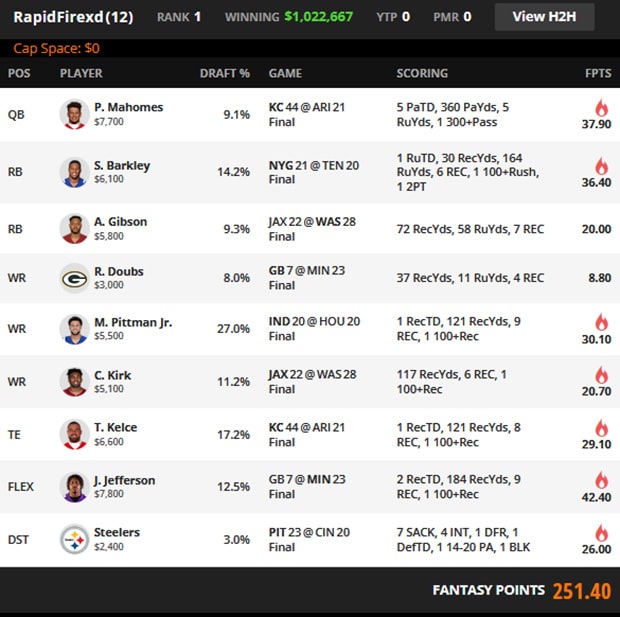 | Pos. | Player | Own % | Salary | Points |
| --- | --- | --- | --- | --- |
| QB | Patrick Mahomes | 9.1% | $7,700 | 37.9 |
| RB | Saquon Barkley | 14.2% | $6,100 | 36.4 |
| RB | Antonio Gibson | 9.3% | $5,800 | 20 |
| WR | Romeo Doubs | 8.0% | $3,000 | 8.8 |
| WR | Michael Pittman | 27% | $5,500 | 30.1 |
| WR | Christian Kirk | 11.2% | $5,100 | 20.7 |
| TE | Travis Kelce | 17.2% | $6,600 | 29.1 |
| FLEX | Justin Jefferson | 12.5% | $7,800 | 42.4 |
| D/ST | Steelers | 3% | $2,400 | 26 |
DraftKings 2021 NFL Conference Championship Round Millionaire Winning Lineup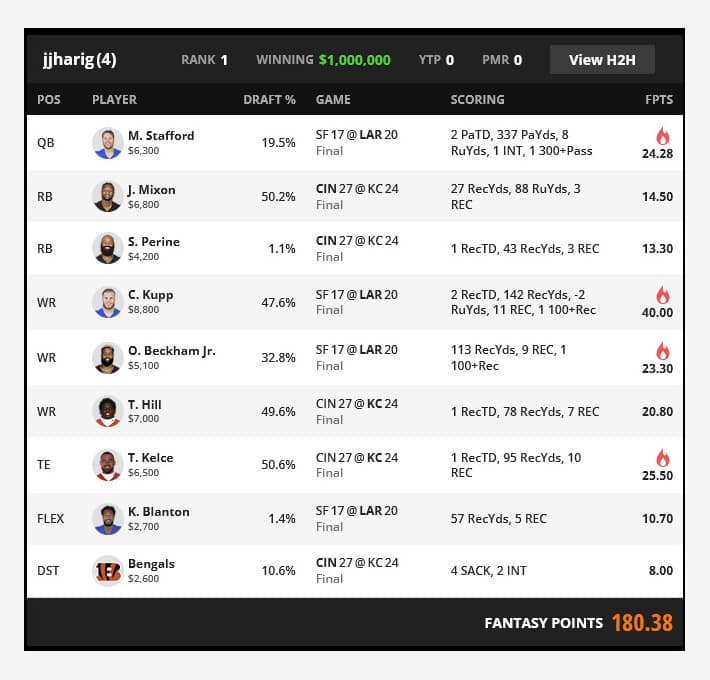 | Pos. | Player | Own % | Salary | Points |
| --- | --- | --- | --- | --- |
| QB | Tom Brady | 6.4% | $7,400 | 40.74 |
| RB | Chuba Hubbard | 6.4% | $6,000 | 21.4 |
| RB | Alexander Mattison | 35.4% | $5,500 | 40.6 |
| WR | Davante Adams | 23.6% | $8,200 | 40.6 |
| WR | Mike Evans | 5.4% | $6,800 | 32.3 |
| WR | Antonio Brown | 14.7% | $5,200 | 34.4 |
| TE | Hunter Henry | 4.5% | $3,700 | 19.5 |
| FLEX | Kadarius Toney | 20.2% | $4,000 | 32.6 |
| D/ST | Vikings | 8.1% | $3,000 | 9 |
DraftKings 2021 NFL Divisional Round Millionaire Winning Lineup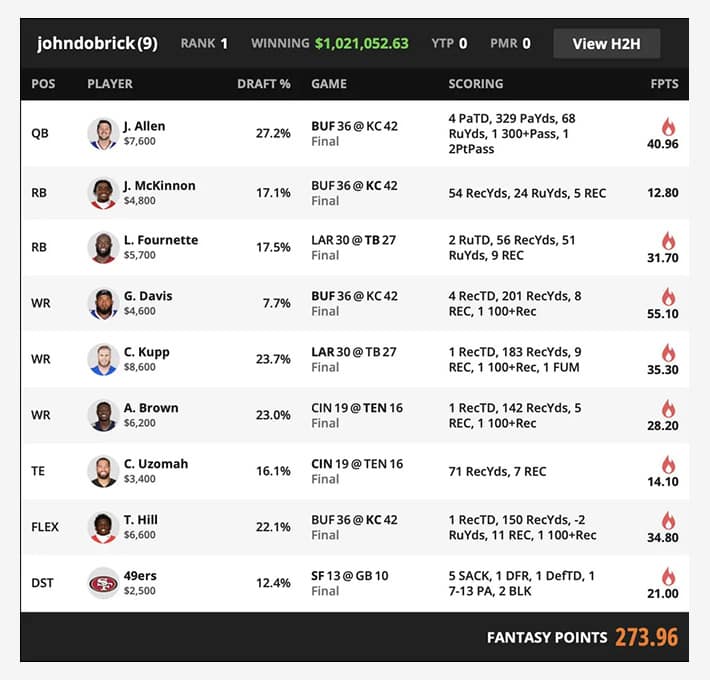 | Pos. | Player | Own % | Salary | Points |
| --- | --- | --- | --- | --- |
| QB | Josh Allen | 27.2% | $7,600 | 40.96 |
| RB | Jerrick McKinnon | 17.1% | $4,800 | 12.8 |
| RB | Leonard Fournette | 17.5% | $5,700 | 31.7 |
| WR | Gabriel Davis | 7.7% | $4,600 | 55.1 |
| WR | Cooper Kupp | 23.7% | $8,600 | 35.3 |
| WR | Antonio Brown | 23% | $6,200 | 28.2 |
| TE | CJ Uzomah | 16.1% | $3,400 | 14.1 |
| FLEX | Kadarius Toney | 20.2% | $4,000 | 32.6 |
| D/ST | 49ers | 12.4% | $2,500 | 21 |
DraftKings 2021 NFL Wildcard Round Millionaire Winning Lineup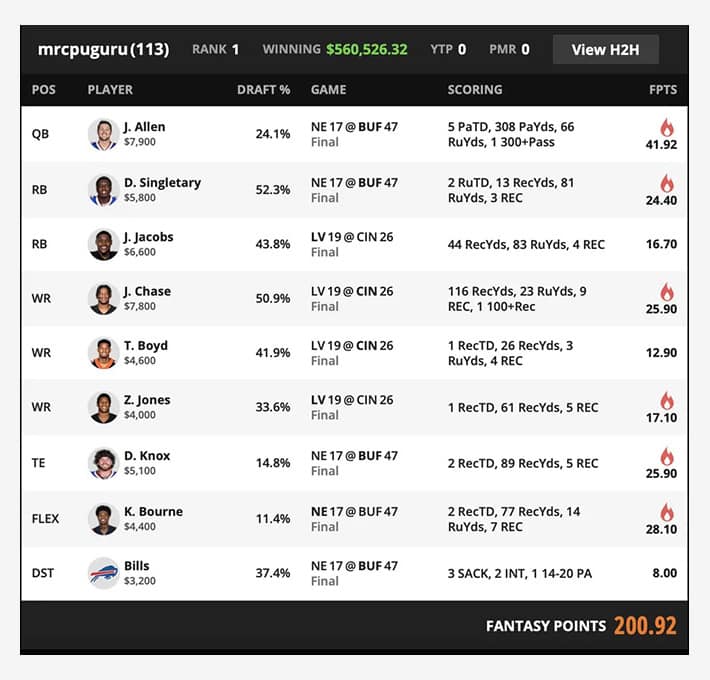 | Pos. | Player | Own % | Salary | Points |
| --- | --- | --- | --- | --- |
| QB | Josh Allen | 24.1% | $7,900 | 41.92 |
| RB | Devin Singletary | 52.3% | $5,800 | 24.4 |
| RB | Josh Jacobs | 43.8% | $6,600 | 16.7 |
| WR | Ja'Marr Chase | 50.9% | $7,800 | 25.9 |
| WR | Tyler Boyd | 41.9% | $4,600 | 12.9 |
| WR | Zay Jones | 33.6% | $4,000 | 17.1 |
| TE | Dawson Knox | 14.8% | $5,100 | 25.9 |
| FLEX | Kendrick Bourne | 11.4% | $4,400 | 28.1 |
| D/ST | Bills | 37.4% | $3,200 | 8 |
DraftKings 2021 NFL Week 18 Millionaire Winning Lineup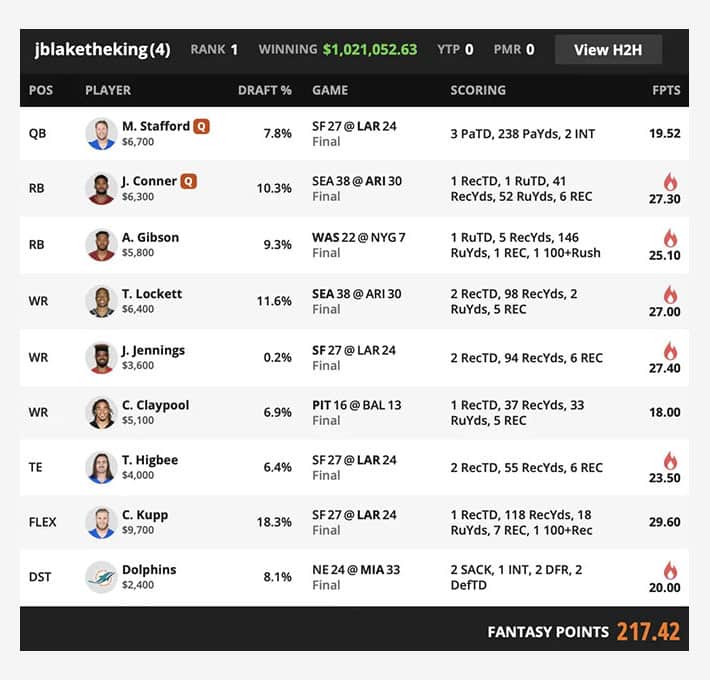 | Pos. | Player | Own % | Salary | Points |
| --- | --- | --- | --- | --- |
| QB | Matthew Stafford | 7.8% | $6,700 | 19.52 |
| RB | James Conner | 10.3% | $6,300 | 27.3 |
| RB | Antonio Gibson | 9.3% | $5,800 | 25.1 |
| WR | Tyler Lockett | 11.6% | $6,400 | 27 |
| WR | Jauan Jennings | 0.2% | $3,600 | 27.4 |
| WR | Chase Claypool | 6.9% | $5,100 | 18 |
| TE | Tyler Higbee | 6.4% | $4,000 | 23.5 |
| FLEX | Cooper Kupp | 18.3% | $9,700 | 29.6 |
| D/ST | Dolphins | 8.1% | $2,400 | 20 |
DraftKings 2021 NFL Week 17 Millionaire Winning Lineup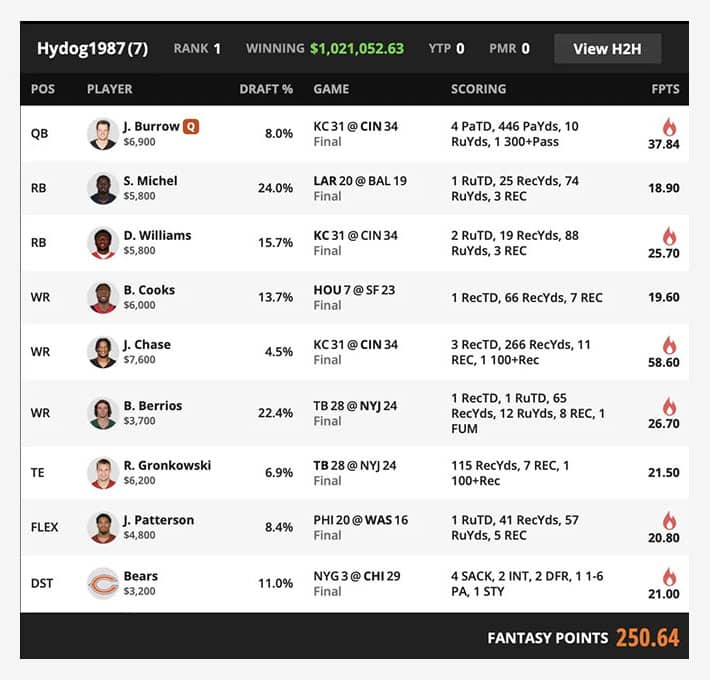 | Pos. | Player | Own % | Salary | Points |
| --- | --- | --- | --- | --- |
| QB | Joe Burrow | 8.0% | $6,900 | 37.84 |
| RB | Sony Michel | 24% | $5,800 | 18.9 |
| RB | Damien Williams | 15.7% | $5,800 | 25.7 |
| WR | Brandin Cooks | 13.7% | $6,000 | 19.6 |
| WR | Ja'Marr Chase | 4.5% | $7,600 | 58.6 |
| WR | Braxton Berrios | 22.4% | $3,700 | 26.7 |
| TE | Rob Gronkowski | 6.9% | $6,200 | 21.5 |
| FLEX | Jaret Patterson | 8.4% | $4,800 | 20.8 |
| D/ST | Bears | 11% | $3,200 | 21 |
DraftKings 2021 NFL Week 16 Millionaire Winning Lineup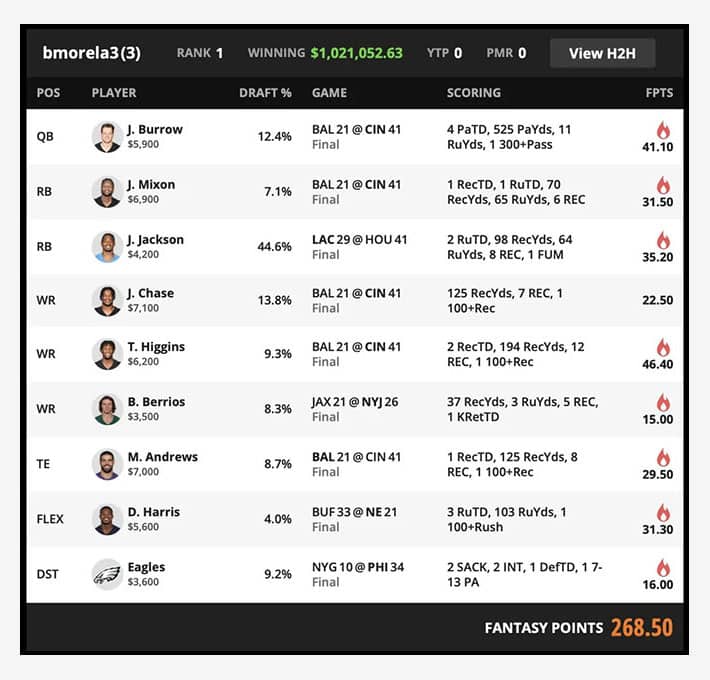 | Pos. | Player | Own % | Salary | Points |
| --- | --- | --- | --- | --- |
| QB | Joe Burrow | 12.4% | $5,900 | 41.1 |
| RB | Joe Mixon | 7.1% | $6,900 | 31.5 |
| RB | Justin Jackson | 44.6% | $4,200 | 35.2 |
| WR | Ja'Marr Chase | 13.8% | $7,100 | 22.5 |
| WR | Tee Higgins | 9.3% | $6,200 | 46.4 |
| WR | Braxton Berrios | 8.3% | $3,500 | 15 |
| TE | Marc Andrews | 6.4% | $7,000 | 29.5 |
| FLEX | Damien Harris | 4.0% | $5,600 | 31.3 |
| D/ST | Eagles | 9.2% | $3,600 | 16 |
DraftKings 2021 NFL Week 15 Millionaire Winning Lineup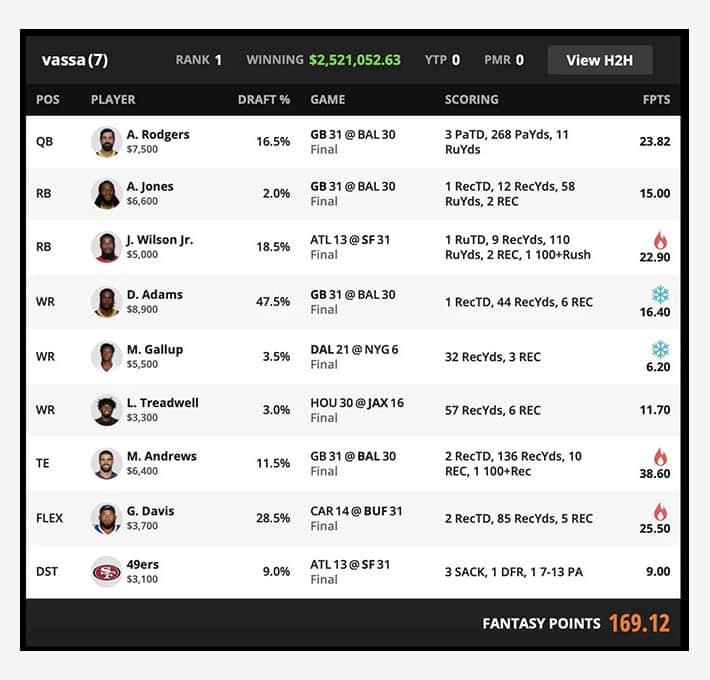 | Pos. | Player | Own % | Salary | Points |
| --- | --- | --- | --- | --- |
| QB | Aaron Rodgers | 16.5% | $7,500 | 23.82 |
| RB | Aaron Jones | 2.0% | $6,600 | 15 |
| RB | Jeff Wilson Jr. | 18.5% | $5,000 | 22.9 |
| RB | Davante Adams | 47.5% | $8,900 | 16.4 |
| WR | Michael Gallup | 3.5% | $5,500 | 6.2 |
| WR | Laquon Treadwell | 3.0% | $3,300 | 11.7 |
| TE | Marc Andrews | 11.5% | $6,400 | 38.6 |
| FLEX | Cooper Kupp | 28.5% | $3,700 | 25.5 |
| D/ST | 49ers | 9.0% | $3,100 | 9 |
DraftKings 2021 NFL Week 14 Millionaire Winning Lineup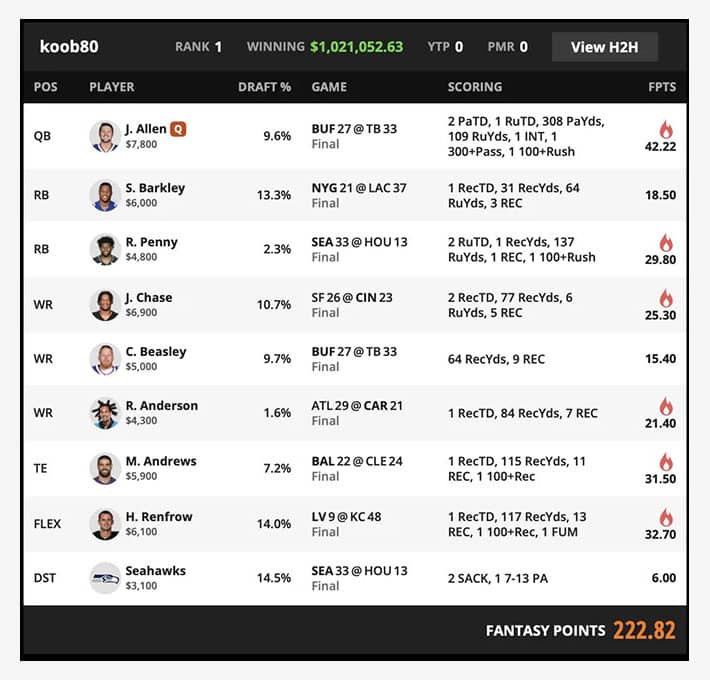 | Pos. | Player | Own % | Salary | Points |
| --- | --- | --- | --- | --- |
| QB | Josh Allen | 9.6% | $7,800 | 43.22 |
| RB | Saquon Barkley | 13.3% | $6,000 | 18.5 |
| RB | Rashaad Penny | 2.3% | $4,800 | 29.8 |
| WR | Ja'Marr Chase | 10.7% | $6,900 | 25.3 |
| WR | Cole Beasley | 9.7% | $5,000 | 15.4 |
| WR | Robbie Anderson | 1.6% | $4,300 | 21.4 |
| TE | Marc Andrews | 7.2% | $5,900 | 31.5 |
| FLEX | Hunter Renfrow | 14% | $6,100 | 32.7 |
| D/ST | Seahawks | 14.5% | $3,100 | 6 |
DraftKings 2021 NFL Week 13 Millionaire Winning Lineup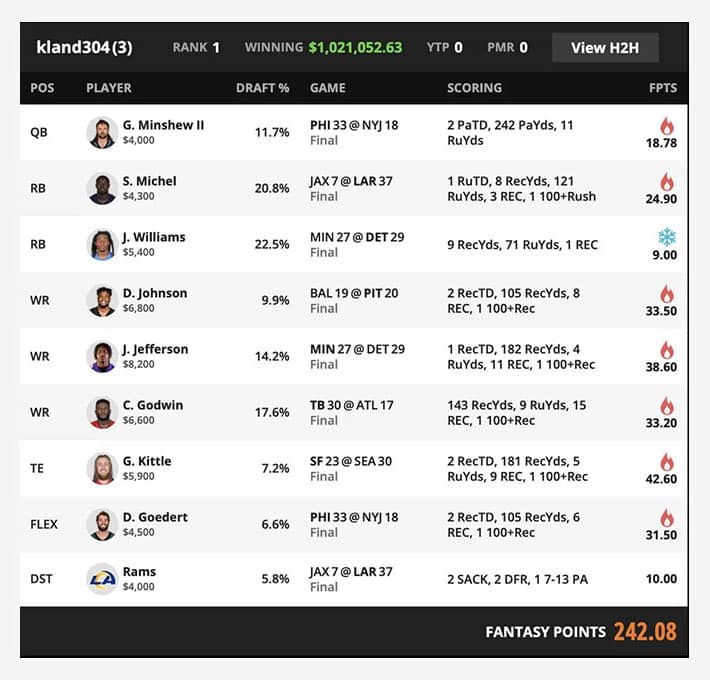 | Pos. | Player | Own % | Salary | Points |
| --- | --- | --- | --- | --- |
| QB | Gardner Minshew | 11.7% | $4,000 | 18.78 |
| RB | Sony Michel | 20.8% | $4,300 | 24.9 |
| RB | Jamaal Williams | 22.5% | $5,400 | 9 |
| WR | Diontae Johnson | 9.9% | $6,800 | 33.5 |
| WR | Justin Jefferson | 38.6% | $8,200 | 38.6 |
| WR | Chris Godwin | 17.6% | $6,600 | 33.2 |
| TE | George Kittle | 7.2% | $5,900 | 42.6 |
| FLEX | Dallas Goedert | 6.6% | $4,500 | 31.5 |
| D/ST | Rams | 5.8% | $4,000 | 10 |
DraftKings 2021 NFL Week 12 Millionaire Winning Lineup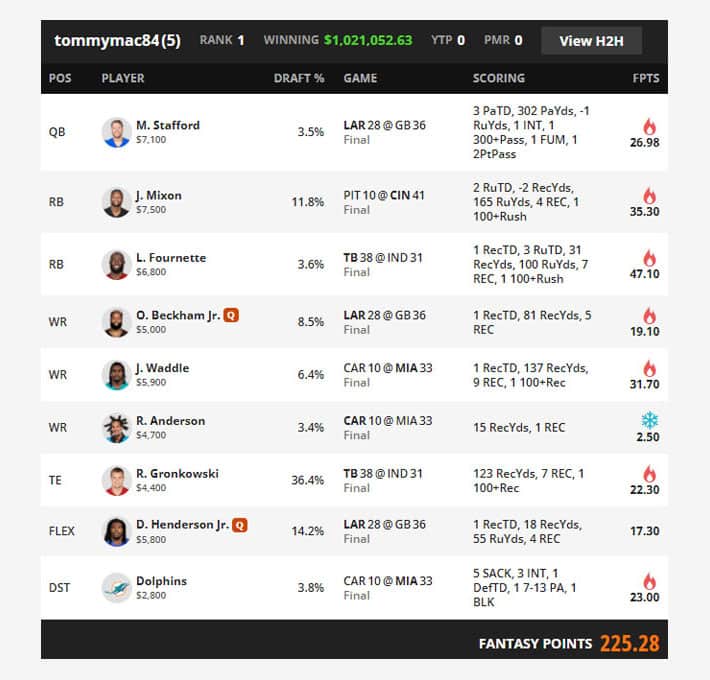 | Pos. | Player | Own % | Salary | Points |
| --- | --- | --- | --- | --- |
| QB | Matthew Stafford | 3.5% | $7,100 | 26.98 |
| RB | Joe Mixon | 11.8% | $7,500 | 35.3 |
| RB | Leonard Fournette | 3.6% | $6,800 | 47.1 |
| WR | Odell Beckham Jr. | 8.5% | $5,000 | 19.1 |
| WR | Jaylen Waddle | 6.4% | $5,900 | 31.7 |
| WR | Robbie Anderson | 3.4% | $4,700 | 2.5 |
| TE | Rob Gronkowski | 36.4% | $4,400 | 22.3 |
| FLEX | Darrell Henderson Jr | 14.2% | $5,800 | 17.3 |
| D/ST | Dolphins | 3.8% | $2,800 | 23 |
DraftKings 2021 NFL Week 11 Millionaire Winning Lineup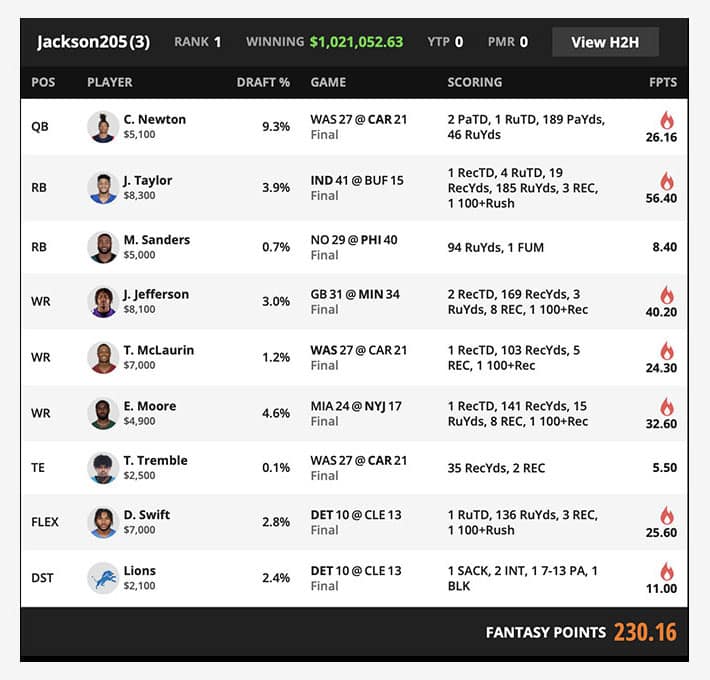 | Pos. | Player | Own % | Salary | Points |
| --- | --- | --- | --- | --- |
| QB | Cam Newton | 9.3% | $5,100 | 26.16 |
| RB | Jonathan Taylor | 3.9% | $8,300 | 56.4 |
| RB | Miles Sanders | 0.7% | $5,000 | 8.4 |
| WR | Justin Jefferson | 3.0% | $8,100 | 40.2 |
| WR | Terry McLaurin | 1.2% | $7,000 | 24.3 |
| WR | Elijah Moore | 4.6% | $4,900 | 32.6 |
| TE | Tommy Tremble | 0.1% | $2,500 | 5.5 |
| FLEX | Deandre Swift | 6.6% | $7,000 | 25.6 |
| D/ST | Lions | 2.4% | $2,100 | 11 |
DraftKings 2021 NFL Week 10 Millionaire Winning Lineup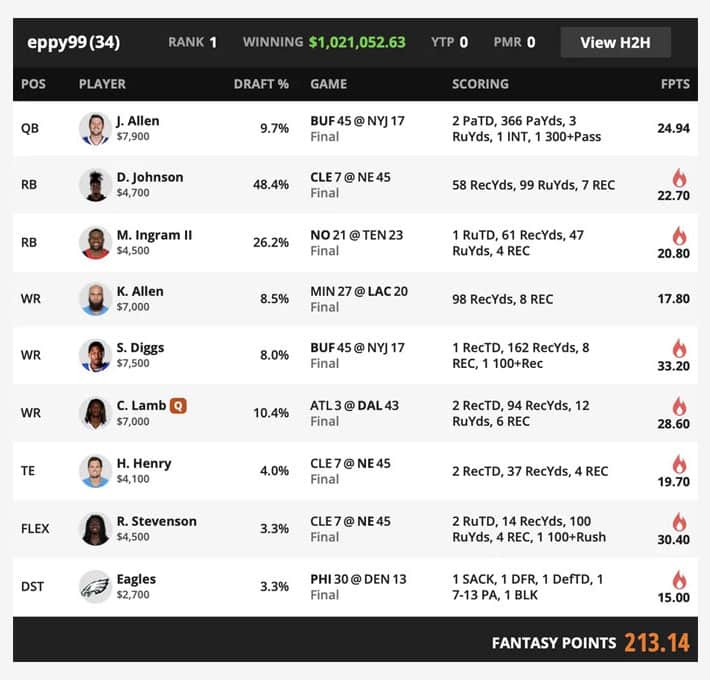 | Pos. | Player | Own % | Salary | Points |
| --- | --- | --- | --- | --- |
| QB | Josh Allen | 9.7% | $7,900 | 24.94 |
| RB | Diontae Johnson | 48.4% | $4,700 | 22.7 |
| RB | Marc Ingram | 26.2% | $4,500 | 20.8 |
| WR | Keenan Allen | 8.5% | $7,000 | 17.8 |
| WR | Stefon Diggs | 8% | $7,500 | 33.2 |
| WR | Ceedee Lamb | 10.4% | $7,000 | 28.6 |
| TE | Hunter Henry | 4.0% | $4,100 | 19.7 |
| FLEX | Rhamondre Stevenson | 3.3% | $4,500 | 30.4 |
| D/ST | Eagles | 3.3% | $2,700 | 15 |
DraftKings 2021 NFL Week 9 Millionaire Winning Lineup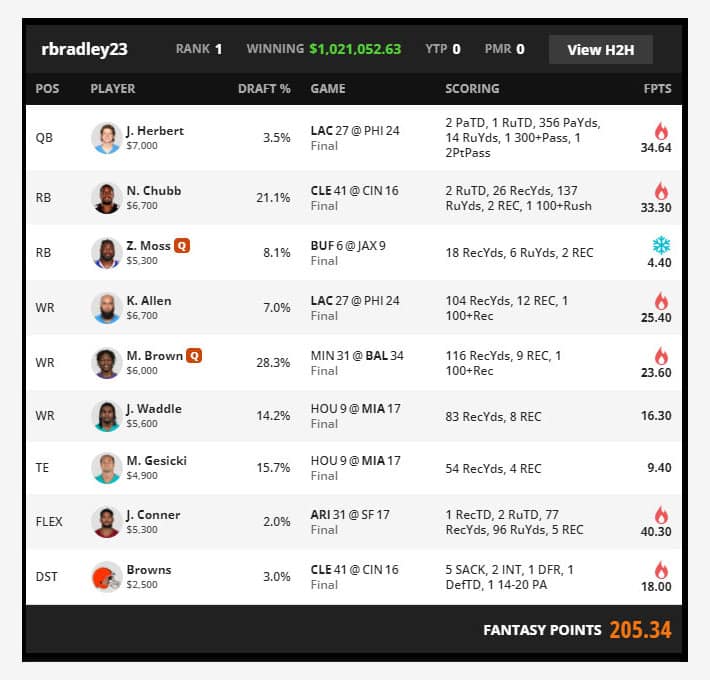 | Pos. | Player | Own % | Salary | Points |
| --- | --- | --- | --- | --- |
| QB | Justin Herbert | 3.5% | $7,000 | 34.64 |
| RB | Nick Chubb | 21.1% | $6,700 | 33..3 |
| RB | Zack Moss | 8.1% | $5,300 | 4.4 |
| WR | Keenan Allen | 7.0% | $6,700 | 25.4 |
| WR | Marquise Brown | 28.3% | $6,000 | 23.6 |
| WR | Jaylen Waddle | 16.3% | $5,600 | 16.3 |
| TE | Mike Gesicki | 15.7% | $4,900 | 9.4 |
| FLEX | James Conner | 2.0% | $5,300 | 40.3 |
| D/ST | Browns | 3.0% | $2,500 | 18 |
DraftKings 2021 NFL Week 8 Millionaire Winning Lineup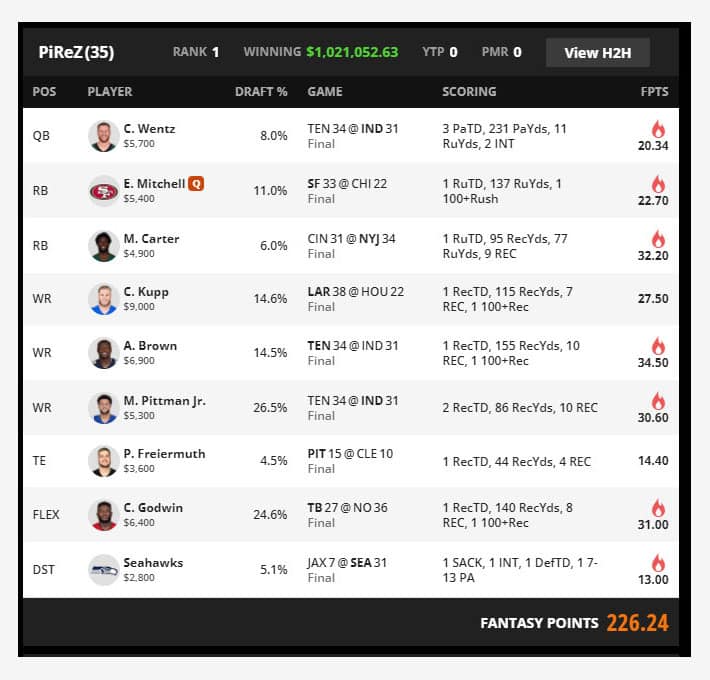 | Pos. | Player | Own % | Salary | Points |
| --- | --- | --- | --- | --- |
| QB | Carson Wentz | 8.0% | $5,700 | 20.34 |
| RB | Elijah Mitchell | 11% | $5,400 | 22.7 |
| RB | Michael Carter | 6.0% | $4,900 | 32.2 |
| WR | Cooper Kupp | 14.6% | $9,000 | 27.5 |
| WR | Antonio Brown | 14.5% | $6,900 | 34.5 |
| WR | Michael Pittman | 26.5% | $5,300 | 30.6 |
| TE | Pat Freiermuth | 4.5% | $3,600 | 14.4 |
| FLEX | Chris Godwin | 24.6% | $6,400 | 31 |
| D/ST | Seahawks | 5.1% | $2,800 | 13 |
DraftKings 2021 NFL Week 7 Millionaire Winning Lineup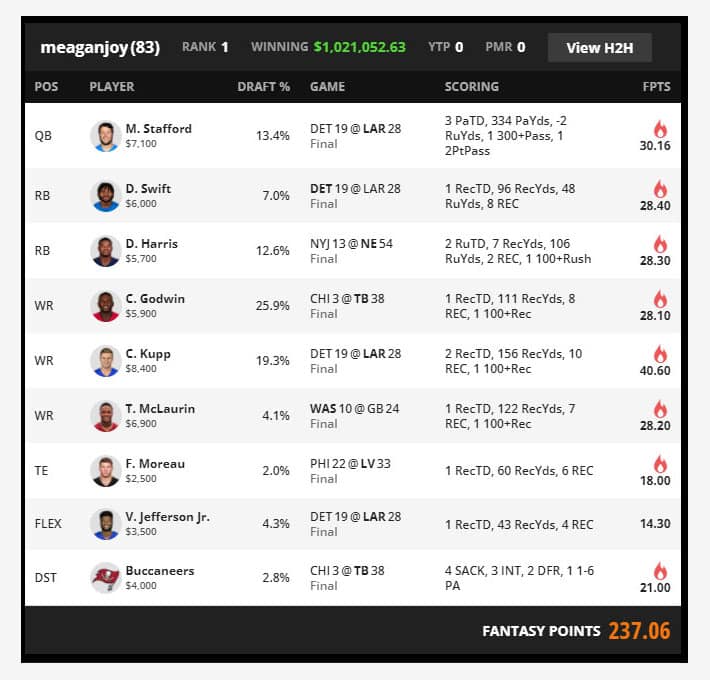 | Pos. | Player | Own % | Salary | Points |
| --- | --- | --- | --- | --- |
| QB | Matthew Stafford | 13.4% | $7,100 | 30.16 |
| RB | Deandre Swift | 7.0% | $6,000 | 28.4 |
| RB | Damien Harris | 12.6% | $5,700 | 28.3 |
| WR | Chris Godwin | 25.9% | $5,900 | 28.1 |
| WR | Cooper Kupp | 19.3% | $8,400 | 40.6 |
| WR | Terry McLaurin | 4.1% | $6,900 | 28.2 |
| TE | Foster Moreau | 2.0% | $2,500 | 18 |
| FLEX | Chris Godwin | 24.6% | $6,400 | 31 |
| D/ST | Buccaneers | 2.8% | $4,000 | 21 |
DraftKings 2021 NFL Week 6 Millionaire Winning Lineup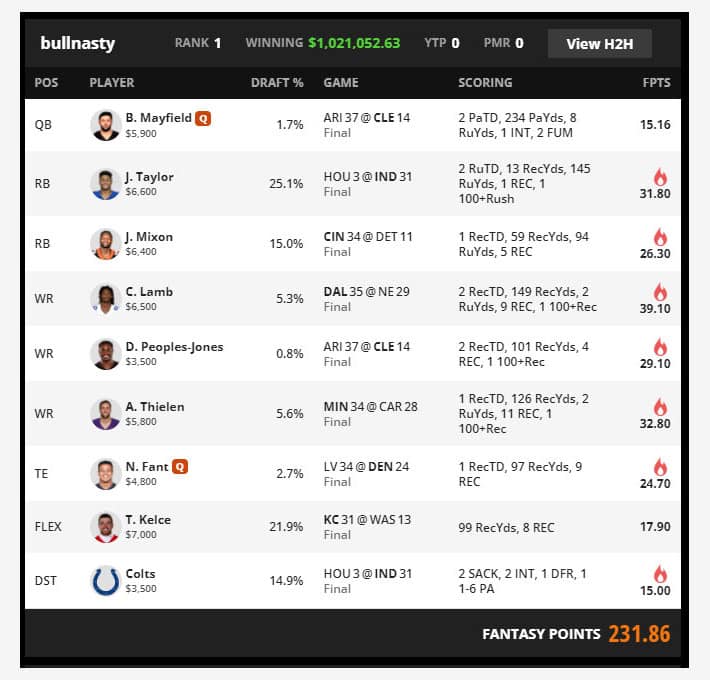 | Pos. | Player | Own % | Salary | Points |
| --- | --- | --- | --- | --- |
| QB | Baker Mayfield | 1.7% | $5,900 | 15.16 |
| RB | Jonathan Taylor | 25.1% | $6,600 | 31.8 |
| RB | Joe Mixon | 15.0% | $6,400 | 26.3 |
| WR | Ceedee Lamb | 5.3% | $6,500 | 39.1 |
| WR | Donovan Peoples-Jones | 0.8% | $3,500 | 29.1 |
| WR | Adam Thielen | 5.6% | $5,800 | 32.8 |
| TE | Noah Fant | 2.7% | $4,800 | 24.7 |
| FLEX | Travis Kelce | 21.9% | $7,000 | 17.9 |
| D/ST | Colts | 14.9% | $3,500 | 15 |
DraftKings 2021 NFL Week 5 Millionaire Winning Lineup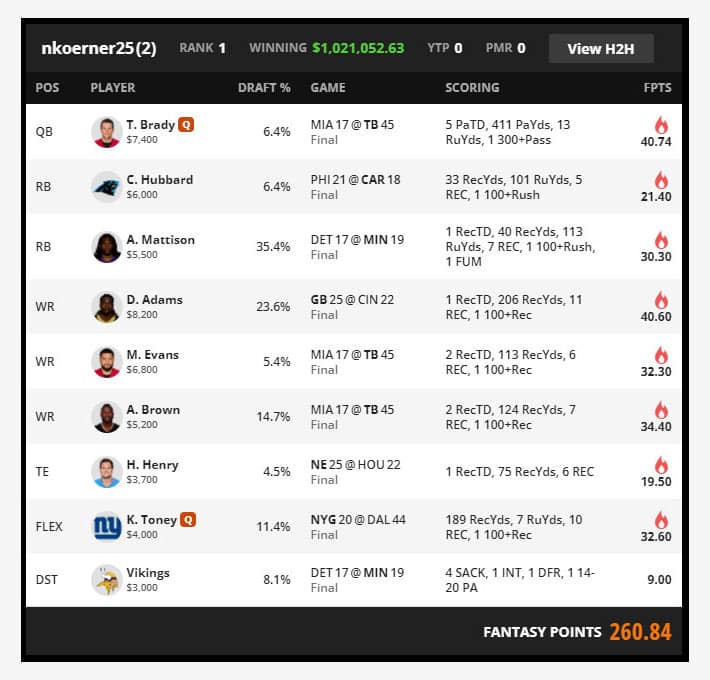 | Pos. | Player | Own % | Salary | Points |
| --- | --- | --- | --- | --- |
| QB | Tom Brady | 6.4% | $7,400 | 40.74 |
| RB | Chuba Hubbard | 6.4% | $6,000 | 21.4 |
| RB | Alexander Mattison | 35.4% | $5,500 | 30.3 |
| WR | Davante Adams | 23.6% | $8,200 | 40.6 |
| WR | Mike Evans | 5.4% | $6,800 | 32.3 |
| WR | Antonio Brown | 14.7% | $5,200 | 34.4 |
| TE | Hunter Henry | 4.5% | $3,700 | 19.5 |
| FLEX | Kadarius Toney | 11.4% | $4,000 | 32.6 |
| D/ST | Vikings | 8.1% | $3,000 | 9 |
DraftKings 2021 NFL Week 4 Millionaire Winning Lineup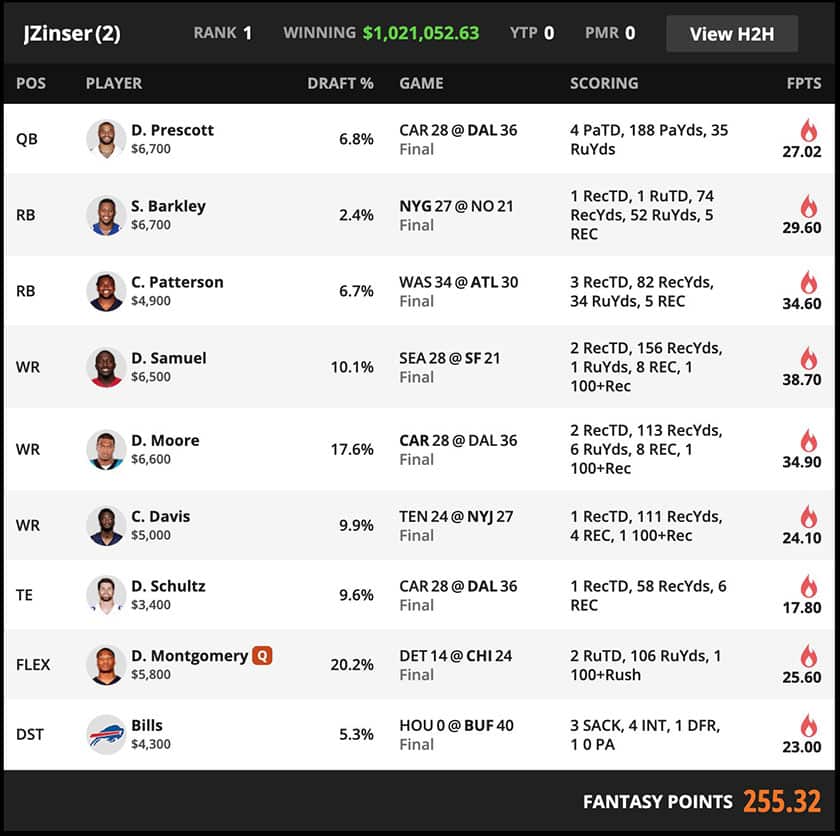 | Pos. | Player | Own % | Salary | Points |
| --- | --- | --- | --- | --- |
| QB | Dak Prescott | 6.8% | $6,700 | 27.02 |
| RB | Saquon Barkley | 2.4% | $6,700 | 29.6 |
| RB | Cordarrelle Patterson | 6.7% | $4,900 | 34.6 |
| WR | Deebo Samuel | 10.1% | $6,500 | 10.1 |
| WR | DJ Moore | 17.6% | $6,600 | 34.9 |
| WR | Corey Davis | 9.9% | $5,000 | 24.1 |
| TE | Dalton Schultz | 9.6% | $3,400 | 17.8 |
| FLEX | David Montgomery | 20.2% | $5,800 | 25.6 |
| D/ST | Bills | 5.3% | $4,300 | 23 |
DraftKings 2021 NFL Week 3 Millionaire Maker Winning Lineup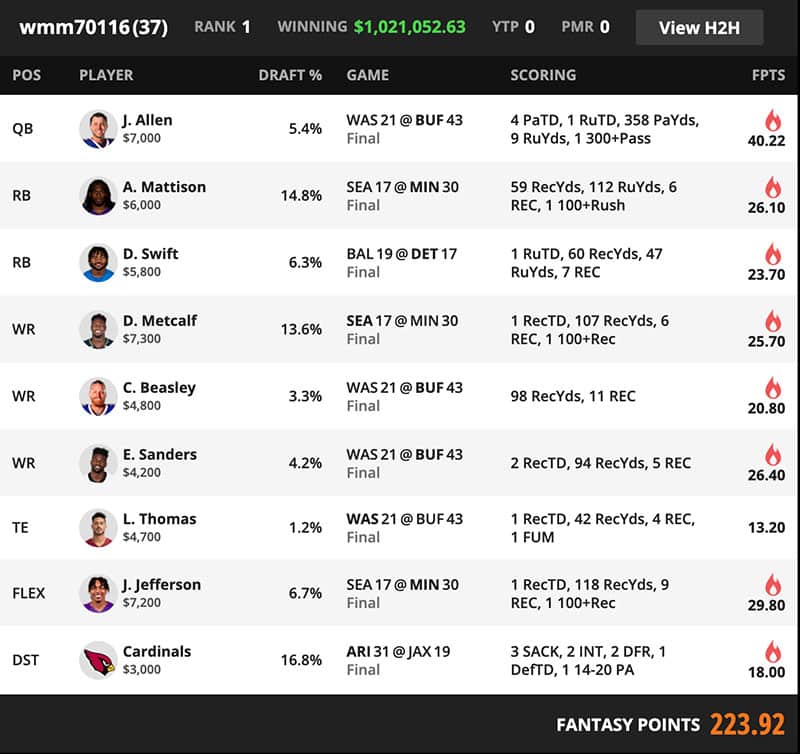 | Pos. | Player | Own % | Salary | Points |
| --- | --- | --- | --- | --- |
| QB | Josh Allen | 5.4% | $7,000 | 40.22 |
| RB | Alexander Mattison | 14.8% | $6,000 | 26.1 |
| RB | DeAndre Swift | 6.3% | $5,800 | 23.7 |
| WR | DK Metcalf | 13.6% | $7,300 | 25.7 |
| WR | Cole Beasley | 3.3% | $4,800 | 20.8 |
| WR | Emmanuel Sanders | 4.2% | $4,200 | 26.4 |
| TE | Logan Thomas | 1.2% | $4,700 | 13.2 |
| FLEX | Justin Jefferson | 6.7% | $7,200 | 29.8 |
| D/ST | Cardinals | 16.8% | $3,000 | 18 |
---
DraftKings 2021 NFL Week 2 Millionaire Maker Winning Lineup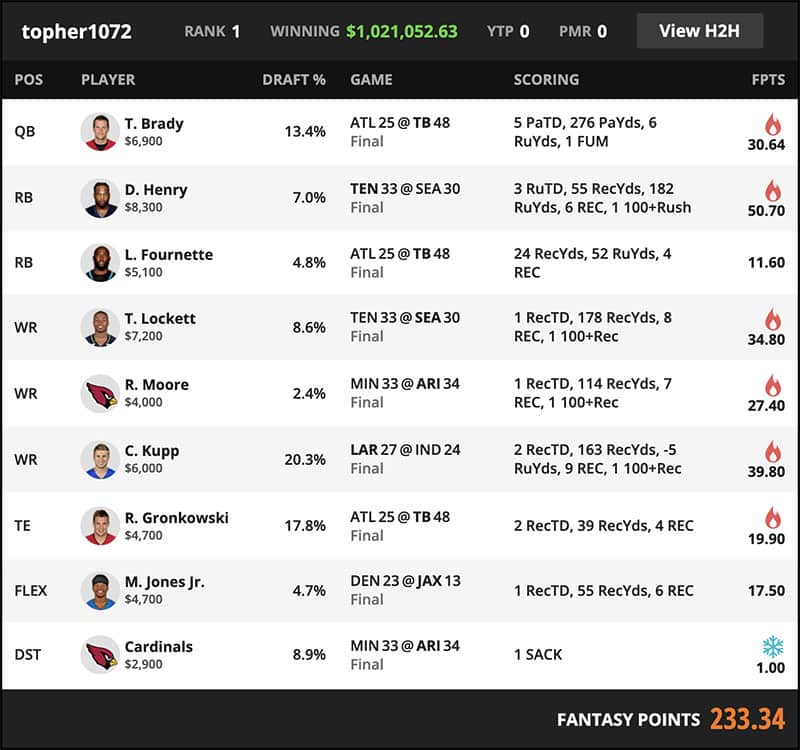 | Pos. | Player | Own % | Salary | Points |
| --- | --- | --- | --- | --- |
| QB | Tom Brady | 13.4% | $6,900 | 30.64 |
| RB | Derrick Henry | 7.0% | $8,300 | 50.7 |
| RB | Leonard Fournette | 4.8% | $5,100 | 11.6 |
| WR | Tyler Lockett | 8.6% | $7,200 | 34.8 |
| WR | Rondale Moore | 2.4% | $4,000 | 27.4 |
| WR | Cooper Kupp | 20.3% | $6,000 | 39.8 |
| TE | Rob Gronkowski | 17.8% | $4,700 | 19.9 |
| FLEX | Marvin Jones Jr. | 4.7% | $4,700 | 17.5 |
| D/ST | Cardinals | 8.9% | $2,900 | 1 |
---
DraftKings 2021 NFL Week 1 Millionaire Maker Winning Lineup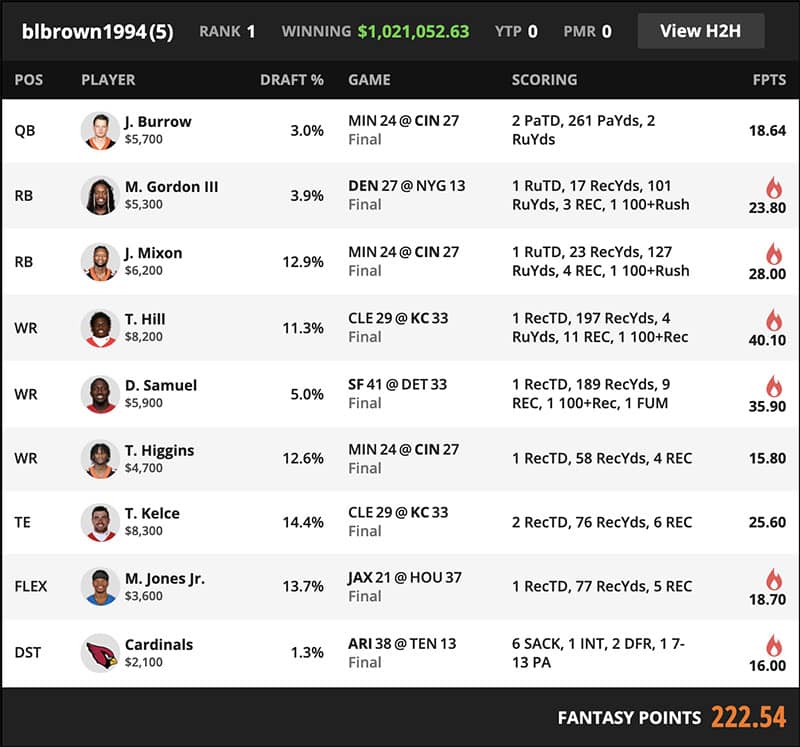 | Pos. | Player | Own % | Salary | Points |
| --- | --- | --- | --- | --- |
| QB | Joe Burrow | 3.0% | $5,700 | 18.64 |
| RB | Melvin Gordon III | 23.8% | $5,900 | 23.8 |
| RB | Joe Mixon | 12.9% | $6,200 | 28 |
| WR | Tyreek Hill | 11.3% | $8,200 | 40.1 |
| WR | Deebo Samuel | 5.0% | $5,900 | 35.9 |
| WR | Tee Higgins | 12.6% | $4,700 | 15.8 |
| TE | Travis Kelce | 8,3% | $8,300 | 25.6 |
| FLEX | Marvin Jones Jr. | 13.7% | $3,600 | 18.7 |
| D/ST | Cardinals | 1.3% | $2,100 | 16 |