2 NBA Best Bets for Opening Night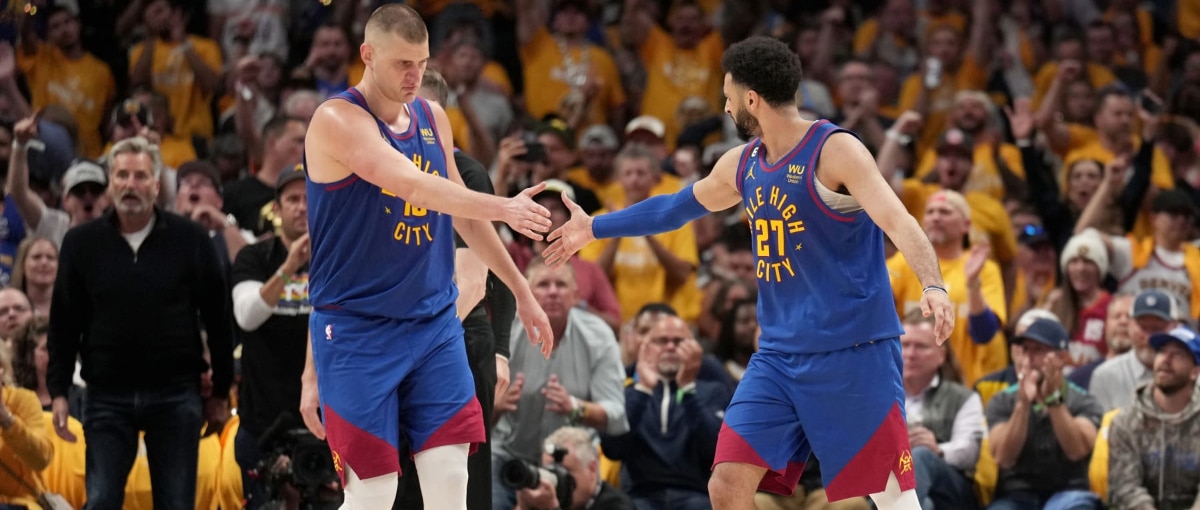 Wow! What better way to start the 2023-24 NBA season than with a rematch of the Western Conference Finals? Get our best bet for Lakers at Nuggets and Suns at Warriors below.
Both of these games should be highly entertaining and we're ready to roll. Good luck on the hardwood this season!
Nuggets -5.5 over Lakers (FanDuel)
The Lakers season ended on a tough note when they were swept by the Denver Nuggets in the Western Conference Finals. There was a lot of talk during the offseason about the status of Lebron, and if he would be coming back. He ended things by stating he would return and has more left in the tank.
The Lakers then extended AD's contract and re-signed Austin Reeves, D'Angelo Russell, and Rui Hachimura. They then went out and brought in big men Christian Wood and Jaxson Hayes along with do-it-all Taurean Prince to give them some more depth. That was all done in part with them parting ways with Dennis Schroder (signed with Raptors), Lonnie Walker IV (signed with Nets), and Malik Beasley (signed with Bucks).
Of all the changes, Christian Wood may end up being the biggest X-factor for this Lakers team. He has shown in the past he can be 15 points and 10 rebound type of player while being a strong defender. While he is slated to come off the bench, it will be interesting to see how he meshes with Lebron and AD when on the floor with them at times.
The Denver Nuggets made an improbable run to the Finals last season and got the job done over the Miami Heat, needing just 5 games to do so. Jamal Murray and Nikola Jokic led a true "team" throughout the playoffs.
Over the offseason the Nuggets lost a couple of role players in Bruce Brown (signed with the Pacers), Thomas Bryant (signed with the Heat), and Jeff Green (signed with the Rockets). However, they did sign Justin Holiday and re-signed Reggie Jackson and DeAndre Jordan.
Jokic will be looking to take back his crown as MVP after being denied a 3rd straight award when it was given to Joel Embiid last season. The rest of the starters return and there will be no better "team" than this one to start the 2023-2024 season.
Emotions will be running high for most teams on opening night the season after winning the NBA title. However, this Nuggets group seems to take on the persona of their leader Nikola Jokic, who never seems to get too excited and always remains focused.
The majority of the money (80+%) is on the Lakers as the public typically loves backing Lebron early, but we are going to tail the champions in this one at home to open the season.
Key Trends:
LAL is 2-5 ATS in their last 7 games against an opponent in the Northwest Division
LAL is 1-6 ATS in their last 7 games played in October.
Den is 14-4 ATS in their last 18 games against an opponent in the Pacific Division
Den is 5-2 ATS in their last 7 games.
Warriors -110 over Suns (Caesars)
Phoenix had their season end in game 6 of the Western Conference semi-finals at the hands of the Denver Nuggets. While they did not live up to the expectations after acquiring Kevin Durant, not many saw the type of offseason coming that the Suns had this past one.
They traded Chris Paul to the Wizards and acquired Bradley Beal, which gives them a legit #3 scoring option. Phoenix also traded Deandre Ayton to the Blazers, Cameron Payne to the Spurs, and Landry Shamet to the Wizards.
In return, they added Jusuf Nurkic, Grayson Allen, Nassir Little, and Keon Johnson from those trades. The trio of Booker, Durant, and Beal will be one of the best in the league. Nurkic will give them a veteran presence inside which they lacked with Ayton.
The Warriors survived a Game 7 in the opening round of the playoffs against the Kings last season but were unable to defeat the Lakers who finished them in 6 games. The Warriors got involved in the 3-way trade with the Suns and Wizards as they sent Jordan Poole and Patrick Baldwin Jr to Washington and brought in Chris Paul from the Suns.
Draymond Green was re-signed and Cory Joseph and Dario Saric were signed to add a little more depth to the roster. It will be interesting to see how this extremely small ball lineup will work with Curry, Paul, and Klay starting at times.
This matchup is extremely intriguing with Chris Paul facing off with his former team in this opener. It is cliché to say, but there are not many players in this league that play with a chip on their shoulder as much as CP3 does.
We believe he will be highly motivated and looking to show off what he can do with 2 of the best shooters of all time on either side of him in this one. While the trio in Pheonix looks superior on paper, it may take them a while to sync up and figure out how to get the ball in one another's hands enough to keep everyone happy.
Key Trends:
PHX is 2-5 ATS in their last 7 games.
PHX is 1-5 ATS in their last 6 games on the road.
GS is 5-1 ATS in their last 6 games when playing at home against Phoenix.
GS is 7-2-1 ATS in their last 10 games played on a Tuesday when playing at home.

Sports Betting Contributor
Bill is a high-volume sports bettor who runs his own sports investing business. He has an uncanny ability to find tons of mathematical edges on each day's sports betting card. Bill covers all sports but his bread and butter is UFC, Golf, and College Hoops. Find him on X at @LarrysLocks2