2 College Football Best Bets for Thursday, September 28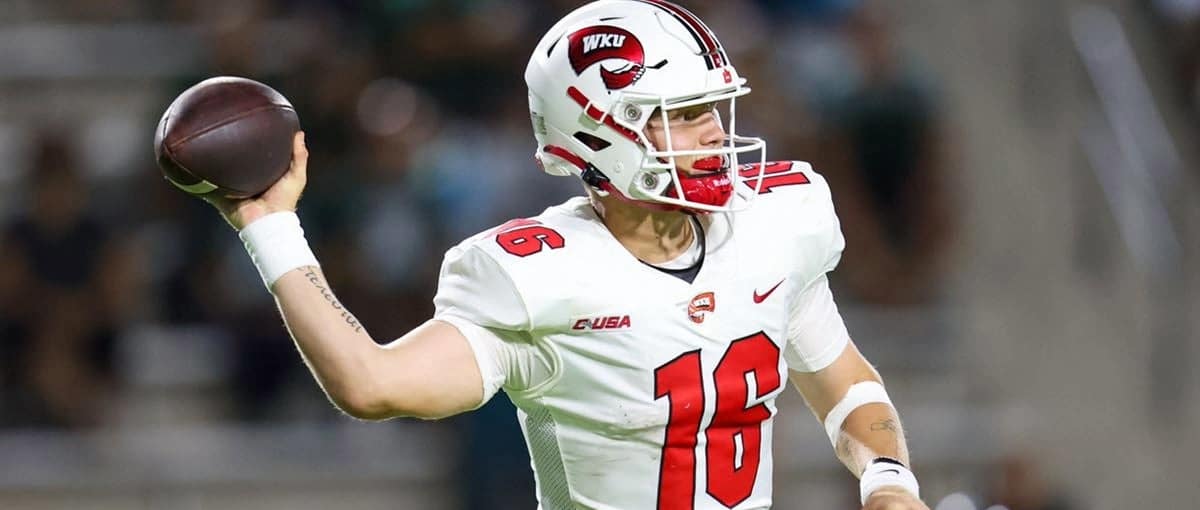 As usual, on Thursday nights, the NFL will take center stage. However, avid sports bettors shouldn't neglect the college gridiron. Since these games often feature Group of 5 teams, it's easier for investors to find some under-the-radar type of value.
Here are 2 college football best bets for Thursday, September 28. Let's reel in a couple of Ws! Good luck!
Western Kentucky -5.5 over Middle Tennessee State
The Blue Raiders have had a tough start to their 2023-2024 season starting 1-3, but they have been competitive. Despite a 56-7 shellacking by Bama, they lost by only 1 score to both Missouri and Colorado State.
Across the board, the Blue Raiders have been just a tick below average in all statistical categories, except for 3rd down efficiency where they have been a solid 42.9%. Nicholas Vattiato has looked good, completing 70% of his passes and tossing 7 touchdowns to just 2 picks.
He has done it with his legs as well, leading the team in carries and being 2nd in rushing yards. They are coming off a tough loss to Colorado State where they led by a touchdown at the break before allowing the Rams to score 3 straight touchdowns.
The 2-2 Hilltoppers have been a pass-happy offense behind Austin Reed early on this year. Reed has only thrown 1 pick while picking up 9 touchdown passes and accumulating over 1,000 yards through the air in 4 games. He has the team ranked 41st in the country in passing yards per game.
Malachi Corley and Easton Messer have been a dynamic duo for Reed as they have combined for 39 catches, 492 yards, and 4 touchdowns. The run game has been another story. In their latest loss to Troy, they were only able to accumulate 20 yards on the ground. They will need to establish some rushing attack here against the Blue Raiders.
The stats within the stats here should tell the story. The Hilltoppers are averaging almost 3 forced turnovers per game while Mid Tenn is averaging just 0.3.
They are also a very disciplined team and average 33.3 penalty yards per game while Mid Tennessee averages over double that. Austin Reed has been too good to not back here in this spot.
Key Trends:
MTST is 2-4 ATS in their last 6 games
MTST is 3-8 ATS in their last 11 games played on a Thursday.
WKY is 15-6 ATS in their last 21 games against an opponent in the Conference USA
WKY is 8-2 ATS in their last 10 games played in September.
Temple +3.5 over Tulsa
The Owls have been up and down early here in 2023. They defeated Akron before losing to Rutgers. They then beat up on Norfolk St prior to getting smacked my Miami 41-7. Ranked 70th in the country, the Owls are averaging almost 260 yards per game.
EJ Warner has 3 receivers that have double-digits in receptions but has tossed 4 picks to just 5 touchdowns. However, all those interceptions came against Rutgers and Miami.
Tulsa is also 2-2 on the year and their losses have come against 2 ranked opponents. #8 Washington and #19 Oklahoma combined to defeat Tulsa 109-27. Oddly enough, despite those monster losses where they were forced to throw early and often, Tulsa is averaging over 170 yards per game.
Anthony Watkins and Jordan Ford have led the rushing charge for the Golden Hurricane. Combined, they are averaging 114.6 yards per game.
We believe the Owls will bear down and bottle up the rushing attack of Tulsa while the offense will take advantage of an inferior pass defense of the Golden Canes.
Tulsa has been bad against the spread at home while the Owls have been solid in conference play. Those two positions are combined in this matchup and we believe that will favor Temple here.
Key Trends:
Temple is 7-1 ATS in their last 8 games played in week 5.
Temple is 5-1 ATS in their last 6 games against an opponent in the American Athletic Conference
Tulsa is 3-8 ATS in their last 11 games.
Tulsa is 3-10-1 ATS in their last 14 games at home.

Sports Betting Contributor
Bill is a high-volume sports bettor who runs his own sports investing business. He has an uncanny ability to find tons of mathematical edges on each day's sports betting card. Bill covers all sports but his bread and butter is UFC, Golf, and College Hoops. Find him on X at @LarrysLocks2