2 College Football Best Bets for Friday, September 29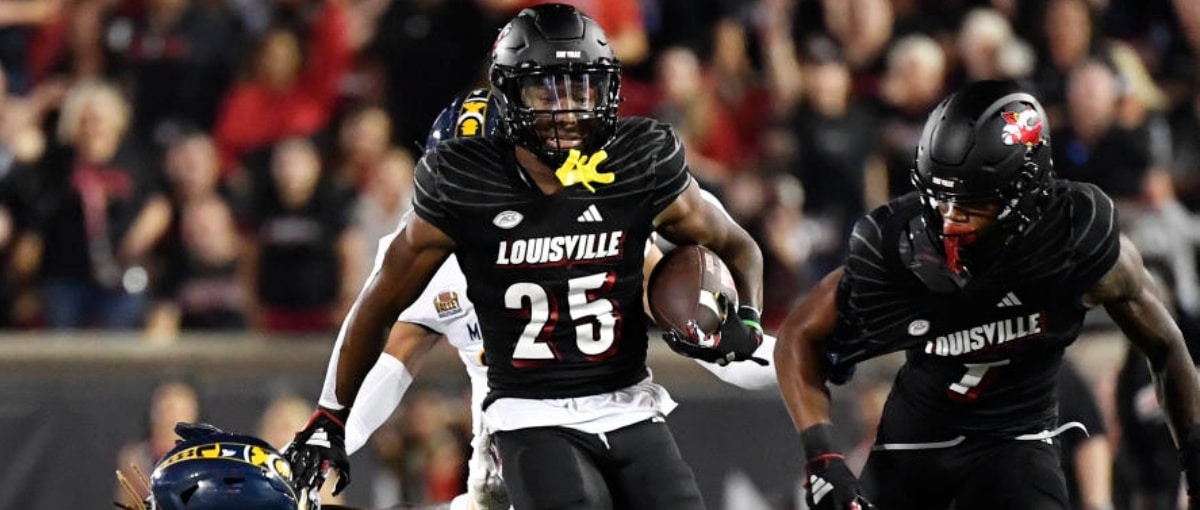 This Friday's college football slate features a couple of conference games that should make for must-see TV! We've dug into the schedule to bring you the best actionable info. Here are 2 college football best bets for September 29. Good luck!
Louisville -3 over NC State
The Cardinals are 4-0 and head to North Carolina State this week prior to their matchup with #11 Notre Dame. They are averaging 43ppg which ranks 12th in the country. They have a balanced attack averaging over 300 passing yards and 235 yards on the ground.
Jack Plummer has been carrying an almost 190 QBR. His main target, Jamari Thrash, has 19 receptions for 400 yards and 5 touchdowns. Jawhar Jordan has been touting the rock at a 120-yard-per-game clip. The defense has been solid as well, holding opponents to 19ppg.
The Wolfpack are 3-1 with their lone loss coming to then #10 Notre Dame. Last week, they snuck by Virginia 24-21. Brennan Armstrong was his gritty self in that last win and has led the team in both passing and rushing to this point. The 51.6% conversion percentage on 3rd down has put the Wolfpack in 20th in the country.
The balance that the Cardinals bring to the table on offense gives them the edge here. Against decent passers, the Cardinals are going to have trouble as they have allowed an average of over 300 yards passing per game.
However, Brennan Armstrong is just not the type of QB that is going to be able to pick a part a defense. The Cardinals get this one done on the road.
Key Trends:
Louisville is 8-4 ATS in their last 12 games.
Louisville is 5-2 ATS in their last 7 games against an opponent in the ACC.
NCST is 0-5 ATS in their last 5 games.
NCST is 2-8 ATS in their last 10 games against an opponent in the ACC.
Oregon State -3 over Utah
Utah sits at #10 in the country after starting out 4-0 and most recently defeating #22 UCLA last week. They held the Bruins to just 3 of 17 on 3rd down and just 9 rushing yards.
Nate Johnson is not putting up crazy numbers but he is doing just enough to allow the defense to be the dominant force that they are. They are allowing just over 10ppg which is 6th in the nation. The Utes have dominated time of possession and just break down defenses as the game goes on.
Oregon State is coming off a tough 38-35 loss at Washington State. DJ Uiagalelei completed just 50% of his passes while Deshaun Fenwick broke the 100-yard mark on just 11 carries and scored 3 times.
The 34.3ppg that the Beavers are averaging is good enough to rank them 25th in the nation. They must commit to the run game in order to open things up for DJ who has not looked his best over the last 2 games.
The undefeated Utes feel like they should be favored here, despite the game being on the road. However, the Beavers are the small favs here and we are going to back them in this one.
This should come down to who can win in the trenches between the Utes' defensive line and the Beaver's offensive line. This will be DJ's big chance to make a splash in Pac-12 play and we believe he is going to be able to do just enough to get the Beavers by here in a bounce-back spot.
Key Trends:
Utah is 2-8 ATS in their last 10 games played in week 5.
Utah is 4-8 ATS in their last 12 games against Oregon State.
Oregon St is 9-2 ATS in their last 11 games.
Oregon St is 6-1 ATS in their last 7 games against an opponent in the Pac-12 conference.

Sports Betting Contributor
Bill is a high-volume sports bettor who runs his own sports investing business. He has an uncanny ability to find tons of mathematical edges on each day's sports betting card. Bill covers all sports but his bread and butter is UFC, Golf, and College Hoops. Find him on X at @LarrysLocks2