2 College Football Best Bets for Friday, November 3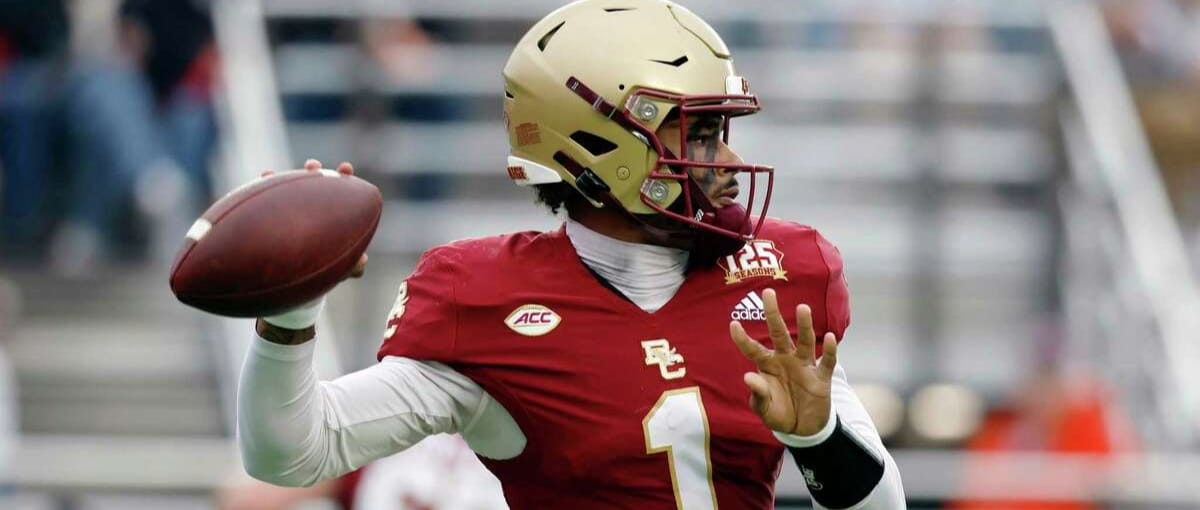 Friday's college football slate gives us a matchup from both the ACC and the Mountain West. Boston College will head to Syracuse for a 7:30 kickoff. Wyoming will host Colorado State in the 8 p.m. tilt.
Need help betting on these games? You've come to the right place! Here are 2 college football best bets for Friday, November 3. Good luck!
Best Bet: Boston College +3 (Caesars)
The Eagles have seemingly turned their season around after starting 1-3. They have since picked up 4 straight wins. One of those early losses was to #3 FSU where they lost by just 2. Dual threat QB, Thomas Castellanos leads the team in rushing with 84ypg and a total of 20 touchdowns.
His top target in the air, Lewis Bond, leads all receivers with 5 touchdown receptions. However, it has been the run game that has led the Eagles to their recent victories. They rank 22nd in the country with 214ypg on the ground and that has led to 3rd and shorts in which they have converted at a 44.4% rate (39th in country).
The Orange have seen their season go in the complete opposite direction. After a 4-0 start, they have dropped their next 4. Two of those 4 losses came to ranked opponents in #14 UNC and #4 FSU. However, they were never really in either game and lost by a combined score of 81-10.
In their latest loss, 38-10 at VT, they finished with 0 rushing yards. That is correct, not a single positive yard on the ground. The defense allowed over 525 total yards which included 318 yards on the ground. If they plan on getting off this 4-game losing streak, it will need to start with establishing some sort of run game.
We simply cannot back the Orange right now. They are in a downward spiral and they have shown no signs of coming out of it any time soon. This line originally opened as the Orange giving 9 and has since swung down to 2. BC has a stout run game that should be enough to get them this road victory.
Key Trends:
BC is 4-1 ATS in their last 5 games played on a Friday.
BC is 5-2 ATS in their last 7 games against an opponent in the ACC.
Syracuse is 0-8 ATS in their last 8 games against an opponent in the ACC.
Syracuse is 0-4-1 ATS in their last 5 games.
Best Bet: Wyoming -6.5 (Unibet)
The Rams have lost back-to-back games to UNLV and Air Force. Those losses put them at 3-5 on the season. They are the 7th best passing team in the country and average 331ypg through the air.
Brayden Fowler-Nicolosi has been completing almost 64% of his passes and has connected for 16 touchdowns to this point. The run game, on the other hand, has been nearly non-existent as they rank 260th in the country with 75ypg. And the defense, well, when you are ranked 239th in points allowed per game, it is going to make it hard to beat anyone.
Wyoming was a promising 5-1 before losing to Air Force and Boise State in their last 2 games. They need to turn things around to move out of the middle of the pack in the Mountain West Conference.
The Cowboys do not like to throw the ball much and average around 150 yards per game through the air. They prefer to grind out tight games with their rushing attack and are led by a defense that has 14 sacks on the year and allows just 26ppg.
Colorado State looks like a complete mess while the Cowboys have just played their 2 toughest opponents outside of Texas in week 3. If Wyoming can get off the losing skid, things will be promising for them down the stretch with a favorable schedule. We are backing the Cowboys here at home where they have been successful against the Rams.
Key Trends:
Col St is 2-5 ATS in their last 7 games when playing on the road against Wyoming.
Col St is 2-5 ATS in their last 7 games played on a Friday when playing on the road.
Wyoming is 5-2 ATS in their last 7 games when playing against Colorado State.
Wyoming is 8-3 ATS in their last 11 games against an opponent in the Mountain Division.

Sports Betting Contributor
Bill is a high-volume sports bettor who runs his own sports investing business. He has an uncanny ability to find tons of mathematical edges on each day's sports betting card. Bill covers all sports but his bread and butter is UFC, Golf, and College Hoops. Find him on X at @LarrysLocks2