The sportsbooks may be shut down in Vegas, Jersey, and across the rest of the United States, but there is still plenty of action to be found online. We gave out a handful of our favorite NFL Draft bets last month, and it is only fitting that we follow that post up with our favorite post-draft NFL Rookie bets available today.
This article will reference lines readily available on FanDuel's sportsbook, but every pick can be found on global books such as Bovada as well. In addition to our Rookie of the Year bets, you can bet on the yardage total for almost every rookie position player drafted last month.
Best Bets: 2020 NFL Offensive Rookie of the Year
Our Pick: Jalen Reagor (+2000)
College: TCU Horned Frogs | NFL: Philadelphia Eagles | Odds: +2000
I am nothing if not consistent. I stated early on in the NFL Draft process that I thought Jalen Reagor was not only a first-round lock but if he ended up in the right situation, he could make a Pro Bowl as a rookie.
Did he ever land in the right spot… I will assume, for the sake of conciseness, that you are aware of who Wentz's weapons were last season. I will also assume that you are aware they did nothing in free agency to add bodies to that room. Reagor will see plenty of targets this season, in a Doug Pederson offense, with an MVP-caliber QB.
Let's talk about the player. Reagor was virtually unstoppable at TCU, putting up 2,600 yards and 24 touchdowns in three seasons, despite playing in a run-heavy offense without ever having a legitimate quarterback.
My point with Reagor all along has been that if you put him in a pass-heavy college football offense, with an NFL QB, he is likely the first WR off the board. This graphic from the Made for Philly podcast perfectly sums up just how impressive Reagor's production at TCU was: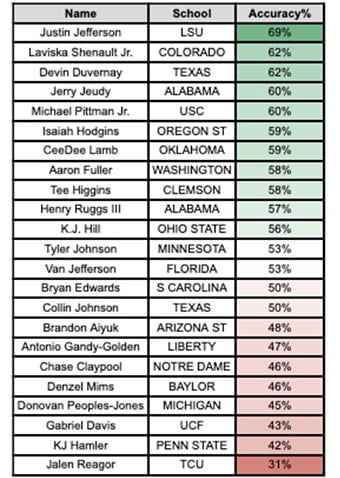 The best thing that ever happened for Philly's 2020 draft was Reagor's 4.47 40 time. He came in as a guy that had been clocked in the 4.2's (ran 4.22 at his pro day) but was over 4.4 at the combine.
It takes about 30 seconds of watching his film to tell he is next-level fast, and in fact, was dubbed by PFF as the best deep threat in the 2020 draft. He is going to have a monster year in Philly.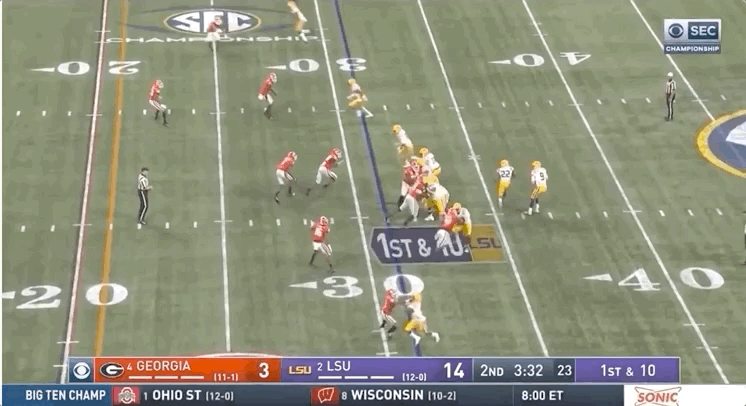 The Favorite: Joe Burrow
College: LSU Tigers | NFL: Cincinatti Bengals | Odds: +220
While I don't think Burrow at +220 is a particularly interesting bet, you have to like his odds to win the award this year. Despite the fact that a quarterback has only won this award twice in the past seven seasons, I think Burrow has a shot at it in Cinci this year.
We know about the weapons: the team will return a fully healthy AJ Green, drafted Tee Higgins, and still have Tyler Boyd, Auden Tate, and John Ross on the roster. But the offensive line will be improved this year as well, with the entire group returning (including Jonah Williams) and new additions at guard with Xavier Su'a-Filo, John Jerry, and Hakeem Adeniji.

I think Zac Taylor will be much-improved in year 2 as well. We saw his team finally compete down the stretch, winning 2 of their last 5 after losing 11 straight to start the season. The question is if the team is ready to take another step forward, which would certainly be necessary for Burrow to win a ROTY award this season.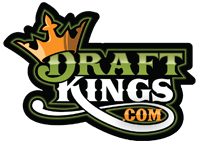 Get a Free Bet on DraftKings
DraftKings just announced a new promotion that affects existing and new Sportsbook users! Get a free $5 bet just for logging in and using their website or app this week. Learn more by checking out the details for all current DraftKings promotions.
Best Bets: 2020 NFL Defensive Rookie of the Year
Our Pick: Terrell Lewis
College: Alabama Crimson Tide | NFL: LA Rams | Odds: +3500
I absolutely love this bet. I thought the Rams getting Terrell Lewis in the third round was arguably the steal of the draft. In fact, I think the second (Terrell Lewis) and third (Julian Okwara) best edge rushers in the draft went in the third round.
Lewis missed most (10 games) of 2017 with an upper arm injury, but returned for the CFB playoff and recorded 7 tackles and a sack in Alabama's National Championship win. He then tore his ACL just before the start of the 2018 season and was forced to miss the entire season. He played 10 games for Alabama last season, recording 11.5 tackles for loss and 6 sacks.
While we didn't get a 40 time out of Lewis, he did measure (6'5″ 265 lbs) and test off the charts at the combine. He beat opponents with speed, power, and technique at Alabama and finds himself in the perfect situation playing alongside Aaron Donald.
We have seen DE's thrive next to Donald for years including both Dante Fowler and Robert Quinn. If the Rams are a playoff team again in 2020 and Lewis can find a way to get to double-digit sacks, he may cash in on those +3500 odds.
The Favorite: Chase Young (+350)
College: Ohio State Buckeyes | NFL: Washington Redskins | Odds: +350
I think this bet is much safer than Burrow at +220 for OROY. I'm not sure fellow rookie favorites Simmons, Queen, or Okudah will be able to put up enough stats to win the award.
Young should be a lock to put up sacks for the Redskins in 2020. Not only is he a physical freak, who absolutely dominated at the college level, but he lands in a spot where he gets to play under a proven NFL defensive mind in Jack Del-Rio.
Del-Rio coached Von Miller for some of the best statistical years of his career, and over those years, the Broncos were 1st, 13th, and 9th in the NFL in QB sacks.
Unlike Lewis, Young will not get a ton of help from the group around him. Jonathan Allen and Da'Ron Payne leave plenty to be desired inside, and it's hard to imagine the Redskins and Dwayne Haskins playing from ahead, forcing teams to throw, too often this season.
Young will have to be a one-man wrecking crew to win the award, but this is one guy I would not want to bet against.