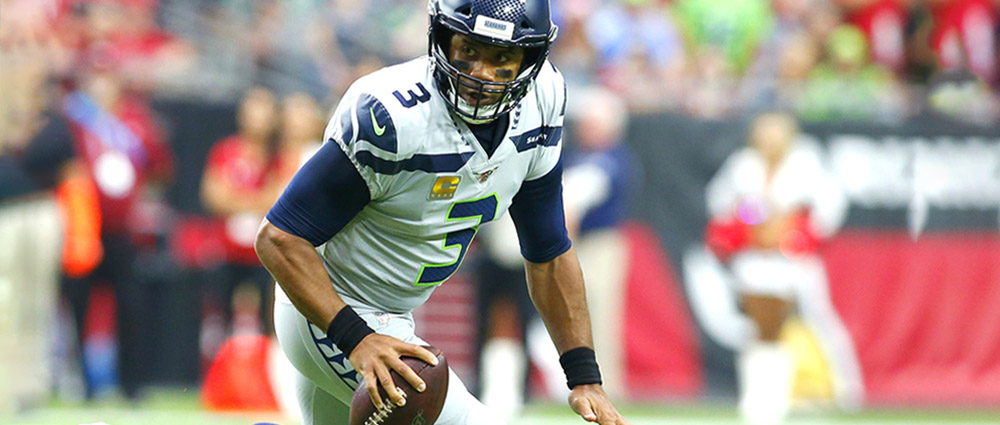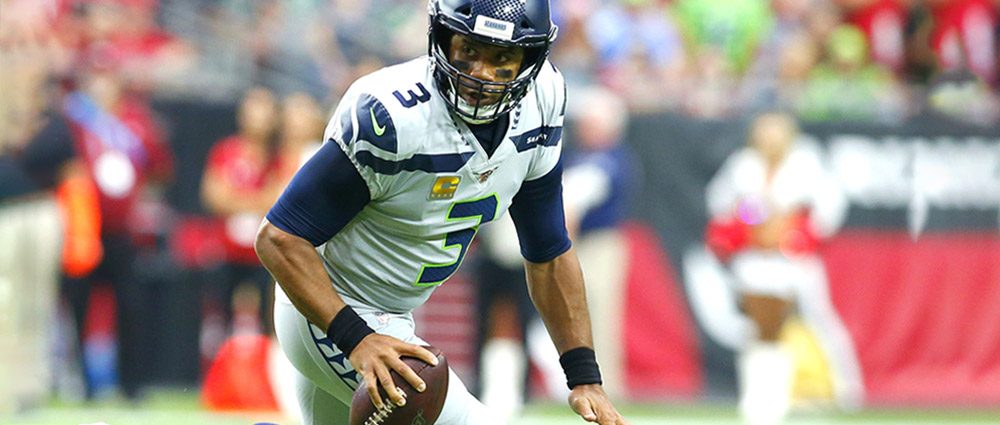 NFL Week 9 DFS Targets, Stacks, and Lineups
NFL Week 9 DFS Targets, Stacks, and Lineups
Have you started your Week 9 DFS prep work yet? Worry not slacker, we got you covered with some can't miss picks, stacks, and bargain plays you have to use in your week 9 FanDuel and DraftKings lineups. Before we jump into our picks, take our poll and let us know what players jumped out to you after a first glance at this week 9 DFS slate:
The Week 9 NFL main slate on FanDuel and DraftKings features a 10 games, with the Saints, Falcons, Rams, and Bengals all on byes. The Yahoo main slate includes the New England/Baltimore Sunday night game.
Top NFL Week 9 DFS Stacks
Any great DFS lineup starts with a great stack. Last week we were on Stafford/Golladay and Tannehill/Smith. Here are our top stacks for the NFL Week 9 slate on FanDuel, DraftKings, and Yahoo:
| Player | DraftKings Salary | FanDuel Salary | Yahoo Salary |
| --- | --- | --- | --- |
| Russell Wilson | $7,100 | $8,600 | $38 |
| Tyler Lockett | $7,500 | $7,500 | $28 |
| D.K. Metcalf | $5,700 | $6,700 | $18 |
| Player | DraftKings Salary | FanDuel Salary | Yahoo Salary |
| --- | --- | --- | --- |
| Sam Darnold | $5,900 | $7,300 | $26 |
| Robby Anderson | $5,500 | $6,200 | $17 |
| Chris Herndon | $4,000 | $5,400 | $16 |
| Player | DraftKings Salary | FanDuel Salary | Yahoo Salary |
| --- | --- | --- | --- |
| Derek Carr | $5,500 | $7,300 | $27 |
| Tyrell Williams | $5,900 | $6,300 | $20 |
| Darren Waller | $6,300 | $6,800 | $21 |
Our Favorite Overall Plays for NFL Week 9
QB – Russell Wilson
DraftKings Salary – $7,100 | FanDuel Salary – $8,600
Wilson is our top rated QB play for week 9, and it really isn't close. He has flashed a high ceiling already this season, and we think this a game where he could put up his highest total of the season.
The Bucs have the league's top run defense but are 31st against the pass. They force you to pass the ball, then let you throw it all over them. I think Jameis and co will be able to keep the game competitive long enough for Wilson to put up 30 fantasy points here.
QB – Sam Darnold
DraftKings Salary – $5,900 | FanDuel Salary – $7,300
At his current $5,900 salary, we are all over Darnold and his week 9 matchup with the Dolphins. Not only does Miami have arguably the worst secondary in football, but they will be without two of their corners, most notably, Xavien Howard.
While I think he is a must-start on DraftKings, I think you are better off paying up at the QB position on FanDuel this week. If looking to get away from Wilson, I would look to either Matthew Stafford, Jameis Winston, or Derrick Carr here.
RB – Nick Chubb
DraftKings Salary – $7,300 | FanDuel Salary – $8,100
As we mentioned in this week's Hello Rookie podcast, despite looking tough on paper, a road matchup with the Broncos is actually an upgrade for Chubb. Having faced the Patriots, Seahawks, 49ers, and Ravens over the past month, a matchup with a middle-of-the-pack Broncos run defense looks appealing right now.
Despite the rough schedule, Chubb came out of that stretch averaging 26 DraftKings PPG. He is who we thought he was… one of the better pure runners in the league, giving you very little in the passing game, and Kareem Hunt is almost back. Enjoy it while you can, this may be the last time we use Chubb in 2019.
RB – Derrick Henry
DraftKings Salary – $5,700 | FanDuel Salary – $6,800
Henry was one of the first RB's we even considered for this slate. When you have a big play, high volume running back facing a defense that gives up the second most YPC and the second most big-play runs in the league, you get that man in your lineups.
We all saw what Tevin Coleman and the 49ers did to this defense last week, but their struggles against the run started long ago. This team is now giving up over 5 YPC, has allowed a league-high 12 rushing touchdowns, and is getting dominated in terms of time of possession. With an improved passing game giving him improved numbers in the box, Henry should have one of his best weeks of the season.
RB – Jaylen Samuels
DraftKings Salary – $4,000 | FanDuel Salary – $5,000
When we ranked James Conner as our 6th overall fantasy player this preseason, we did so because of the Steelers offensive line. After a slow start, this unit has once again looked dominant over the past month or so.
If Conner can't go this week Samuels should be a lock to reach value on both FanDuel and DraftKings and is our top value play for the slate.
WR – Tyler Lockett
DraftKings Salary – $7,500 | FanDuel Salary – $7,500
Last season it was all big plays and no volume, this season has been the exact opposite. Lockett has seen his targets take a big jump up, but the big plays seem to have disappeared.
We think that changes this week and he hits a couple of long touchdowns en route to his best game of the season. Given Lockett and Metcalf are dominating the targets in this offense, I would not be afraid to stack Wilson with both WR's and know you are going to get close to 200 yards and 3 touchdowns out of them here.
WR – Robby Anderson
DraftKings Salary – $4,300 | FanDuel Salary – $5,600
As we mentioned in our blurb on Darnold above, Miami's bad secondary turned putrid in their Monday night loss to the Steelers. Xavien Howard, arguably the only serviceable player in the Dolphins secondary, went down with a knee injury and ended up on IR.
Anderson is now facing a group of corners that is allowing a combined QB rating of nearly 120! This is a major get-right game for the Jets' passing attack, Sam Darnold, Robby Anderson, and maybe even Chris Herndon if active.
WR – Tyrell Williams
DraftKings Salary – $5,900 | FanDuel Salary – $6,300
This is another player that seemed to pop up repeatedly in this week's podcast. Tyrell Williams should be able to pick on the corners from Detroit, which have managed to shift from the strength of this defense to the weakness with Darius Slay likely to miss again this week.
Williams has now scored in all of his starts this season, and on FanDuel in particular, touchdowns are king. We think he looks like a lock for 100 yards and another touchdown in a game that looks to favor a ton of points and passing production for both teams.
TE – TJ Hockenson
DraftKings Salary – $3,700 | FanDuel Salary – $5,000
I'm not even giving you guys another option at tight end. It's Hockenson or bust for us this week, learn to live with it.