Week 6 Monday Night DFS Primer
Week 6 Monday Night DFS Primer
Monday night strategy, analysis, and poll for FanDuel and DraftKings slate.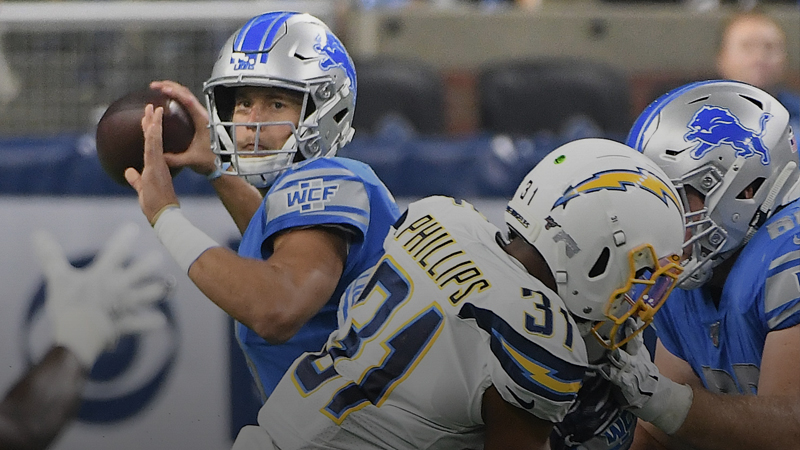 The Matchup
This game has been a shootout over the past few seasons. Prior to the Lions 31-0 shutout at the end of last season, this game went over 46 points in six straight games. So we must be expecting bunches of points in this one, right? Not so fast…
When the Packers have the ball:
We have said it every week this season, but this Detroit may just be the best in football. I know NE has looked good, but against who? They haven't played anyone. The Detroit secondary has allowed a completion percentage of just 55.4% with only 4 passing touchdowns despite facing Kyler Murray, Philip Rivers, Carson Wentz, and Patrick Mahomes over their first four games. Without Davante Adams, I think this could be a struggle for Rodgers tonight.
The Packers should, however, be able to run the ball against Detroit. Green Bay's run offense has improved every week under Lafleur, and Aaron Jones put together one of the best RB performances of 2019 in Week 5. The problem is Jamaal Williams took 61% of the snaps the last time he was healthy, so how crazy can we go with Jones in our DFS lineups?
When the Lions have the ball:
Like the Lions, this Packers secondary has looked dramatically improved this season. Jaire Alexander looks like a legitimate number one corner, and Darnell Savage was unbelievably good in coverage when he was healthy. Without Savage, there are two obvious spots the Lions can target: Josh Jackson a converted corner playing safety, and Tramon Williams, a 36-year-old nickel corner giving up a QB rating of 105.
Detroit played either Marvin Jones or Kenny Golladay on 26 out of 38 snaps, so Williams will likely spend most of the game on one of the two big receivers for Detroit.
That being said, the passing game is not where we are looking to target the Packers. It's all about Kerryon Johnson tonight. KJ has back-to-back 70%+ snap count games for the first time in his career, and looks like he is ready to breakout in this Lions offense. Two goalline fumbles (one KJ and one Stafford) cost him what would have been a monster week 4 performance against the Chiefs. Look for another big game here as Green Bay give up over 138 rushing YPG on 5.2 YPC.