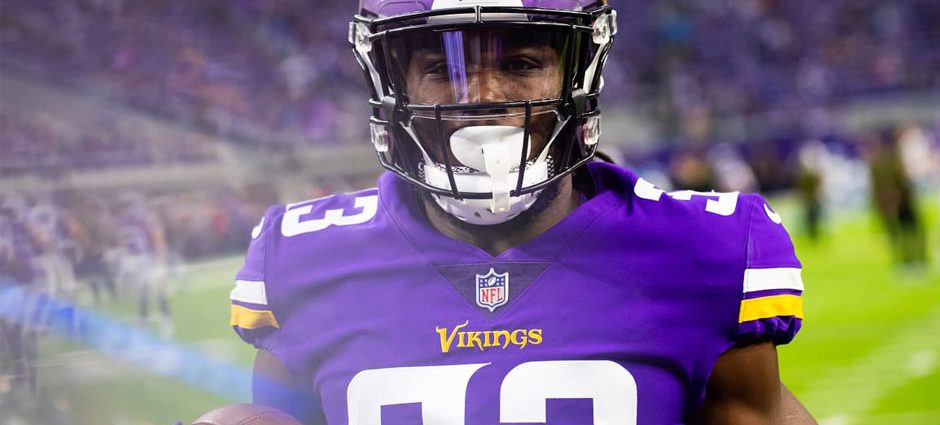 Redskins at Vikings NFL Thursday Night Football on DraftKings
Redskins at Vikings NFL Thursday Night Football on DraftKings
A 1 – 6 banged up Washington Redskins squad with a recent head coaching swap is heading to Minnesota for Thursday Night Football. The Vikings have only lost 2 close games thus far this season, 1 to the NFC North leading Packers and 1 to The Monsters of The Midway, in the Chicago Bears. Delvin Cook and Kirk Cousins are in phenomenal form and this one's likely to get ugly early.
Thursday Night Football Showdown Captain Position
Perhaps contrary to popular opinion, there's no 1 cut and dry strategy in choosing whether to pay up at the captain slot or shoot for value in DraftKing's Showdown game format.
Rather, we've found that while the Captain position is the most significant factor in winning Showdown contests, winners can emerge utilizing either strategy. In the most basic form of a Showdown strategy, users will create at least 1 lineup by paying up at the Captain position and 1 lineup implementing pure value.
The undeniable all-star Captain contenders in the Redskins at Vikings matchup are Delvin Cook, Kirk Cousins and Stefon Diggs.
Typical or regular value Captain contenders for Thursday night's slate in our opinion are Vikings DST, Adrian Peterson, Case Keenum and Paul Richardson Jr.
Vikings Key Injuries
One of the most significant fantasy factors in Thursday Night's matchup is Adam Thielan's hamstring. He' likely out for Thursday Night for a number of reasons, but primarily because the Vikings can easily get the win without him. His injury raises the stock value of Stefon Diggs, Irv Smith Jr., Kyle Rudolph and Olabisi Johnson.
Redskins Key Injuries
The Redskins are in trouble, there's no getting around it. Not only can they not throw the ball, their top two running backs in Adrian Peterson and Chris Thompson are dealing with injuries. Chris Thompson is dealing with a toe and won't be playing on Thursday Night. Adrian Peterson has a high ankle sprain, though the word on the street is that he sees the field.