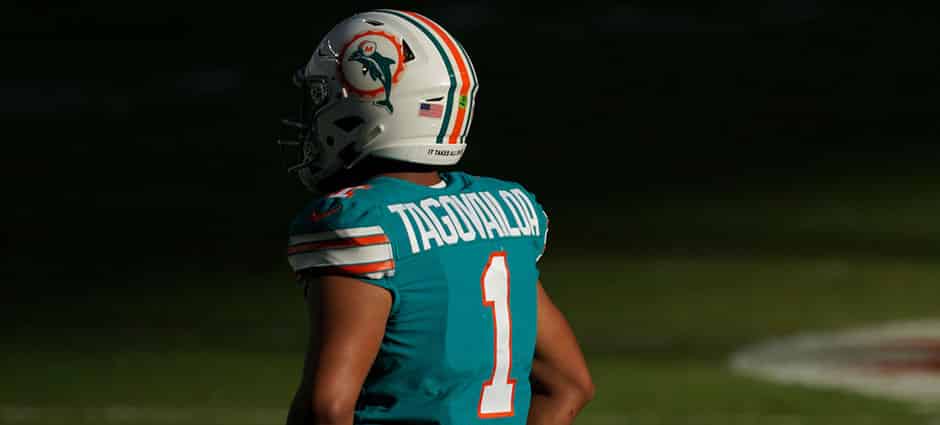 QB Sleepers for 2021
QB Sleepers for 2021
When it comes to picking fantasy sleepers, the quarterback position is typically the hardest to find late-round value. Looking at last season's fantasy numbers, Justin Herbert, Aaron Rodgers, and Kyler Murray were new to the top 10 fantasy quarterbacks. That being said, Murray was QB6 in last season's ADP and Rodgers was QB11. Really, Herbert was the only real sleeper that finished the season as a top 10 fantasy QB.
Sorry Jalen Hurts believers, he is no longer a sleeper at his current QB8 ADP. We still love his fantasy upside this season, but as an early 7th round draft pick, he is no longer a sleeper.
We consider a fantasy sleeper QB to be a guy drafted outside of the top 12 that could finish as a top 10 player at the position. What we are looking for is quarterbacks going late in fantasy drafts that owners can play in favorable matchups in a two-QB fantasy sytem and finish in the top 10 most weeks.
What this allows you to do is wait until rounds 9-14 to pick two quarterbacks, meaning you have a combination of 8 RB/WR/TE in the first 8 rounds, but still have a QB1 in your lineup most weeks.
This draft strategy does not come without risk. If you miss on your sleeper QB pick, you could be left playing the waiver wire and matchups throughout the 2021 fantasy season. Worry not, we have you covered with five quarterbacks that are currently being drafted outside of the top 12 but have top 10 position upside.

Underdog Fantasy: Real Money Best Ball Leagues
Can't wait for your 2021 season long draft? Register at Underdog and hone your skills in a best ball draft that pays out real cash. Use promo code ROOKIE to receive a $25 bonus this July!
| Sleeper | TE Rank | Current ADP |
| --- | --- | --- |
| Trevor Lawrence | 14 | 118 |
| Tua Tagovailoa | 18 | 140 |
| Carson Wentz | 22 | 153 |
| Sam Darnold | 24 | 172 |
| Zach Wilson | 25 | 175 |
Trevor Lawrence
QB Rank – 14   |   Current ADP – 118
We could go on and on about the talent. Anyone that denies that Lawrence is one of the best QB prospects in football history is blind. Moreover, if you go back in league history and look at QB's that were consensus #1 players in the country, played to that level in college, and were then drafted #1 overall, they are bulletproof picks. If someone is arguing Lawrence is not one of the best QB prospects in history they are arguing that every scout that has ever watched him, in an era of unlimited film and data, is wrong. Simply not possible.
While Lawrence's arm may be one of the best to ever enter the league, he will get his fantasy upside from his legs. Lawrence ran for 943 yards and 18 touchdowns in three seasons with Clemson. He had 17 rushing touchdowns in his final 25 games for the Tigers. Clearly, he will not be nearly as active as a runner for the Jags, but we think a modest projection for him this season would be around 480 yards and 6 touchdowns. Over 17 games, that would be a 5 FPPG boost.
Beyond the talent, there is a lot to love about the situation Lawrence finds himself in with the Jaguars. The offensive line is solid, particularly the middle of the offensive line. While Cam Robinson and Jawaan Taylor aren't great at the tackle spots, Robinson at least had a solid pass-blocking season at LT last season. Additionally, the team did add Walker Little in the 2021 NFL draft.
At receiver, the combination of Chark and Shenault with the addition of Marvin Jones Jr gives Jacksonville lethal 11-personnel weapons. Both James Robinson and Travis Ettiene are great pass-catching backs, and then of course there is the great Tim Tebow.
Perhaps the biggest asset at Lawrence's disposal is the combination of Urban Meyer, Darrell Bevell, and Brian Schottenheimer. This offensive coaching staff, entering year one, is already one of the best in the NFL. We don't have to worry about whether Meyer's offensive success will carry over into the NFL because the combination of Bevell (offensive coordinator) and Schottenheimer (QB Coach/Passing Game Coordinator) have had a top 10 offense in the league each of the past 10 seasons.
---
Tua Tagovailoa
QB Rank – 18   |   Current ADP – 140
We can't lie here, we reworked our projections the second Tua's trainer said he thought he was playing at 60% last season. Clearly, Tua's 2020 rookie campaign was a disappointment. Particularly so considering the hype he entered the NFL with and just how good Justin Herbert was in year one.
That being said, I think his play, at least from a fantasy perspective, is being ridiculed a little too much at this point. He really had three outlier games, his first career start, Denver in week 11, and Vegas in week 16. Even if you only take out his first start he gets to 17 FPPG, which is where Burrow finished the season (on 11+ more attempts per game).
Beyond that, if we look at the Raiders game, Tua was benched after going 17/22 with no turnovers. His starting receivers that week? Jakeem Grant, Isaiah Ford, and Mack Hollins. His 11 personnel receivers entering 2021? Will Fuller, Jaylen Waddle, and DeVonte Parker, with Preston Williams adding depth.
Tua not only returns for his sophomore season healthy, without having to compete with the living legend that is Ryan Fitzpatrick, and with a healthy receiving corps, but he gets a top 12 fantasy schedule. Combine that with Myles Gaskin returning as the lead back, it seems unlikely the Dolphins go run-heavy in 2021. We are buying Tua as a fantasy sleeper at his current ADP, which drops him into the 12 round of 12 man fantasy leagues.
---
Carson Wentz
QB Rank – 22   |   Current ADP – 153
One of the arguments we made in our wide receiver sleepers article from earlier this offseason was that if you are looking for a sleeper capable of cracking the top 10 at his position, a good place to start is with guys that have already done it. We see it every year at the QB position, including Aaron Rodgers in 2020, Jameis Winston and Matthew Stafford in 2019, Matt Ryan and Andrew Luck in 2018… Our pick to make the jump in 2021 has to be Carson Wentz.
While Wentz was miserable in 2021, his 17.5 FPPG in games started only dropped him to QB15. He finished 2019 at QB10, 2018 at QB17, and 2017 at QB2. That is two top 10 finishes in his last four years, and that QB2 season? That was Frank Reich's last year in Philadelphia.
While the receiving corps of TY Hilton, Michael Pittman, Zach Pascal, and Parris Hilton are far from the best in the league, let's keep in mind the Eagles' leading receiver last season was Travis Fulgham and for the previous three seasons, it was Zach Ertz.
Beyond just an upgrade at receiver, Wentz moves from an offensive line that shuffled players in and out every week allowing QB pressure at one of the highest rates in the league to a Colts line that has finished as the league's #7 unit in what was viewed as a down year.
Playing behind a great offensive line, with a massive upgrade in talent around him, reunited with his former offensive coordinator, Wentz is poised for a massive bounce-back year here in Indianapolis. For those interested, he currently has +900 odds for comeback player of the year at the DraftKings sportsbook.
---
Sam Darnold
QB Rank – 24   |   Current ADP – 172
While we are on the topic of potential bounce-back seasons, Sam Darnold's move from the Jets to the Panthers is an almost identical situation to what we just discussed with Wentz. Darnold played behind arguably the worst offensive line in the league, with no running game whatsoever, and his leading receiver was a veteran slot receiver who has never had more than 850 yards in a season.
The Panthers had three receivers go over 850 yards last season, and that didn't include Christian McCaffrey who had gone over 850 in each of his previous two seasons. Not only were the Panthers playing without Christian McCaffrey, but it was year one as an NFL coordinator for Joe Brady. We expect even more production out of Brady's offense here in year two, which is a great sign for Darnold.
For us, the question regarding Darnold's fantasy production in 2021 really comes down to touchdown production. Bridgewater was actually seventh in the NFL in yards per game, but with only 15 passing touchdowns on the season, finished the year as QB24. If Darnold can move that number to even 22 passing touchdowns it would move him up to QB12.
22 passing touchdowns is not a crazy ask, 17 quarterbacks hit that number last season. Drafting Darnold in the final round of your fantasy draft comes with zero risk and with a very clear path to QB1 upside, it is a risk we are ready to take.
---
Zach Wilson
QB Rank – 25   |   Current ADP – 175
There is no member of the media we respect more when it comes to the NFL Draft than Chris Simms. You can essentially put TV analysts into one of a handful of bags. Guys that talk with essentially no knowledge, guys that are consistently wrong, and guys that just recite whatever Pro Football Focus says. Simms is the rare breed that studies film, assigns his own rankings, and is consistently right. Go back and look at the players he rated considerably higher than PFF, they were all drafted early, indicating he was in line with what pro scouts were seeing.
Simms had Zach Wilson ranked ahead of Trevor Lawrence in his final 2021 NFL Draft rankings.
Now, that is ridiculous, and we think he will, over time, be proven wrong, but it gives you an idea of just how talented Wilson is. He has the most fluid arm motion of all of this year's rookie QB's, has arguably the strongest arm of the group, and just so happened to run the fast 40 since RGIII.
After trashing the Jets when assessing Darnold, we have to give them praise for this past offseason. Adding weapons like Corey Davis and Elijah Moore will take pressure off Jamison Crowder, Denzel Mims, and Chris Herndon. Adding Alijah Vera-Tucker, arguably the best guard in the 2021 NFL Draft addresses the interior offensive line, a major weak spot on this roster last season.
The only question for Wilson will be durability. At 6'2″ and 210 lbs, can he run as he did at BYU (10 rushing TD's last year) and hold up for the entire fantasy season? If he does there is no questioning his fantasy upside given his potential as a runner.