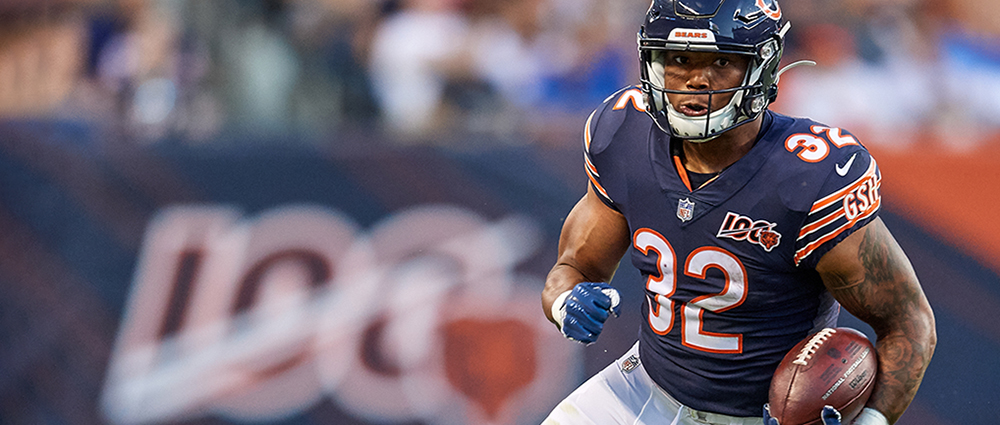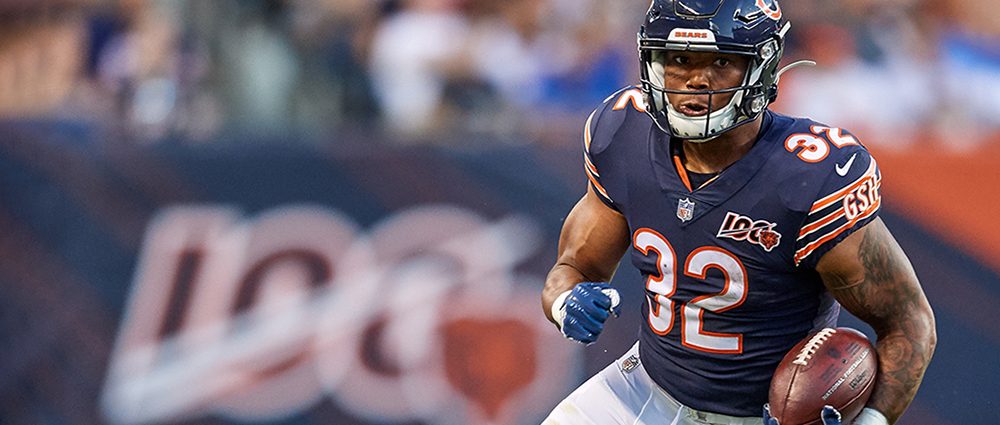 NFL Week 10 DFS Strategy – DraftKings and FanDuel Optimal Lineups
NFL Week 10 DFS Strategy – DraftKings and FanDuel Optimal Lineups
With 6 teams on bye and no London game, this is our second straight 10-game main slate on both FanDuel and DraftKings. Word on the street is that it is the toughest slate to date in the 2019 NFL season. We have some locks that should help you build your week 10 lineups, but before we jump into our picks let us know who your favorite plays are this week:
NFL Week 10 DFS Primer
Before we jump right into week 10, let's quickly recap our week 9 picks. As most of our subscribers know, I aim to be 100% transparent with my weekly articles, give out a small group of core players, then let you know exactly how I did the following week.
Week 9 was a mixed bag. I finished up about 10% on DraftKings, just under doubled-up on FanDuel, and went over 3x my total entries on FantasyDraft. I generally play 90%+ cash games, and one or two lineups, depending on the slate.
While at first glance it may seem like the reduced juice on FantasyDraft put more lineups in the money, that was not it. I ended up playing three lineups on FanDuel and DraftKings, and just my primary lineup on FantasyDraft.
This ended up killing my week because my primary lineup for the week was a Wilson/Lockett/Metcalf stack with Derrick Henry and Jaylen Samuels (thank god for each of those 13 receptions).
Week 9 is officially over, and we are all in on this week 10 slate. Here is a look at the top team implied totals, compared to the weekly scoring averages of each of the teams. As you can see from the table, only the Saints and Colts have a significantly higher implied total than their current scoring average.
| Team | Opponent | Implied Total | Avg PPG |
| --- | --- | --- | --- |
| Saints | Falcons | 32 | 24 |
| Colts | Dolphins | 30 | 23 |
| Buccaneers | Cardinals | 29 | 29 |
| Ravens | Bengals | 28 | 31 |
| Packers | Panthers | 27 | 25 |
| Chiefs | Titans | 26 | 28 |
| LA Rams | Steelers | 25 | 27 |
Top NFL Week 10 DFS Stacks
The QB spot is going to be tricky for Week 10. There are 5 guys that I would legitimately label as 'chalk', which means there probably won't be one pure chalk play at the position this week. That group is Lamar, Jameis, Brees, Kyler, and Ryan (35 DraftKings PPG vs Saints in 2018). As usual, I think you will have another 10-20% chasing value plays in favorable matchups with guys like Darnold, Jones, and maybe even Trubisky, and your typical 10% always-on-Mahomes owners.
Here are our favorite week 10 DFS stacks:
| Player | DraftKings Salary | FanDuel Salary | Yahoo Salary |
| --- | --- | --- | --- |
| Lamar Jackson | $7,300 | $8,600 | $40 |
| Marquise Brown | $5,100 | $5,300 | $20 |
| Player | DraftKings Salary | FanDuel Salary | Yahoo Salary |
| --- | --- | --- | --- |
| Kyler Murray | $6,500 | $7,700 | $28 |
| Christian Kirk | $5,200 | $5,700 | $16 |
| Player | DraftKings Salary | FanDuel Salary | Yahoo Salary |
| --- | --- | --- | --- |
| Jameis Winston | $6,800 | $7,900 | $31 |
| Chris Godwin | $7,400 | $8,200 | $29 |
| OJ Howard | $3,300 | $5,000 | $13 |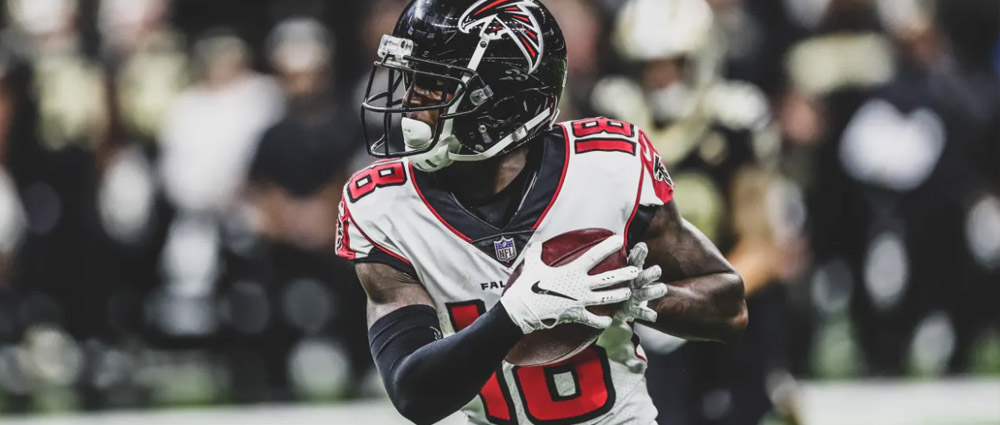 Our Optimal Lineup Targets for NFL Week 10 DFS Contests
QB – Lamar Jackson
DraftKings Salary – $7,300 | FanDuel Salary – $8,600
It seems like we write this every week in our college football lineup articles… if you think scoring could be tight, roster the best players in the slate. Clearly Jackson has become the most consistent quarterback in fantasy football. As we broke down earlier, there are so many good QB plays that he shouldn't be too heavily owned here. While Cinci is worse vs the run than the pass, they have given up big passing numbers over the past month and Lamar is getting an equal number of carries to Mark Ingram in this offense right now.
---
QB – Jameis Winston
DraftKings Salary – $6,800 | FanDuel Salary – $7,900
A week after targeting Wilson vs the Bucs defense, we are going to roll with the Tampa side of the ball in this one. While I think both QB's are solid plays, the price difference between Winston and Murray is minimal, and Winston has displayed a much higher floor this season. I think this Cardinals secondary is actually underrated right now, but the Bucs passing attack looks virtually impossible to stop.
---
RB – Christian McCaffrey
DraftKings Salary – $10,500 | FanDuel Salary – $10,500
As we mentioned in the Lamar breakdown, get the best players in this slate if you can. I think you 100% can pay up for McCaffrey in this favorable matchup because there are an absolute ton of cheap options at WR this week. In fact, we are not giving out a WR play priced over $5,400 on DraftKings this week. CMac has already hit 5x his current salary this season and has averaged over 3.5x over his last six despite playing the Titans, 49ers, Bucs, and Jags over that stretch. The Green Bay defense is in a tailspin right now, and the offense's time of possession is also tanking… the combination of those two could spell disaster for Pack this weekend.
---
RB – Derrick Henry
DraftKings Salary – $6,400 | FanDuel Salary – $7,000
Watching Henry put up 25 DraftKings points against the Panthers last week was about as frustrating as any solid game I have ever watched. Despite an offseason filled with Tennessee promising that Henry would be the focal point of the offense, Dion Lewis got 47% of the snaps and the majority of those came in the first half. Vrabel and Henry were both visibly pissed and the team came out and fed Henry (who had virtually zero yards) the ball to start the second half. My guess is Arthur Smith got the point, and I think we could see a season-high workload for Henry against a highly suspect Chiefs run defense.
---
RB – David Montgomery
DraftKings Salary – $5,400 | FanDuel Salary – $6,400
Montgomery was our must-buy player following his 2-carry performance against the Saints, and this is exactly why. His rest-of-season schedule is a joke, and the fantasy production we saw over the past two weeks (25 DraftKings PPG) is here to stay. The Lions should be one of the better run defenses in the league. Hand and Harrison are top 5 run-stopping DT's, Jarrad Davis was a top 20 selection as an ILB, and Matt Patricia is a supposed defensive genius. It just hasn't come together, and Detroit's run defense look horrible last week against the Raiders, who seemed to run the ball on nearly 100% of their 1st and 2nd down plays.
---
WR – Calvin Ridley
DraftKings Salary – $5,400 | FanDuel Salary – $5,300
In his first start post-Sanu, Ridley was Ridley… 4 catches for 70 yards. We think that changes this weekend against the Saints. For the second straight season, New Orleans is a complete pass-funnel defense. The Saints have one of the best (if not the best) run defenses in the NFL, but allow the 9th most production to opposing WR's. Ridley has averaged nearly 33 DraftKings PPG in his two career appearances against New Orleans. I do think we need Ryan to be healthy to pull the string here, but expect the Falcons to be playing from behind and throwing a ton in this game.

WR – Christian Kirk
DraftKings Salary – $5,200 | FanDuel Salary – $5,700
It has not translated to a ton of fantasy success yet this season, but Christian Kirk is a target-gobbling-monster in Kingsbury's offense. We think those targets translate into fantasy success against the Bucs secondary, which at this point is only maybe better than the Dolphins' disastrous unit. The beautiful thing about this matchup for the Cards passing attack is that the Bucs run defense is so good it will force Kyler to throw it a ton to keep pace with Winston.
---
RB – Marquise Brown
DraftKings Salary – $5,100 | FanDuel Salary – $5,300
The Ravens almost seem like they are padding Jackon and Brown's stats in bad matchups, but we know they wouldn't do that. That being said, for whatever reason, they pass all over bad defenses and hide the passing game against good defenses. I expect them to let Hollywood hit a couple of big plays here if for no reason other than to continue to let us know they were right to draft a QB that can't throw, then draft a WR that only runs deep routes to pair with the QB that was historically bad throwing the deep ball last season. The Bengals secondary is trending in the wrong direction. After a decent start to the season, they have fallen to 31st in yards per pass attempt (big plays) and 25th in passing yards per game over the past month.
---
WR – Robby Anderson
DraftKings Salary – $4,700 | FanDuel Salary – $5,900
I know, I know… again? Just don't use him, you don't have to, but the analysis is not wrong here. Anderson's analytics do not merely look good… they look top-5-elite. His combination of air yards, separation, target share, air yards share, etc… put him in a class with guys like Michael Thomas, Stefon Diggs, Mike Evans, Julio Jones, Courtland Sutton, DJ Chark… In fact, if you just look at those numbers, you would likely guess he is the head of that class. Sam Darnold is just bad. But he does not, and has not, always looked bad. There have been flashes. Cause for hope… and if he can even play decent this week against the Giants Anderson could finally have that breakout game I have been calling for the past month.
---
WR – Chester Rogers
DraftKings Salary – $4,100 | FanDuel Salary – $5,200
While I think you can sub Pascal in here just as easily, I had to mention Rogers. The last time he made a Hello Rookie article he put up a season-high 14 DraftKings points. The Dolphins slot coverage has been insanely bad and is only getting worse. In fact, the combination of Chris Lammons and Nik Needham has allowed a perfect QB rating when targeted out of the slot over the past three games. Rogers could feast in this matchup with both Hilton and Campbell out.
---
WR – Russell Gage
DraftKings Salary – $3,400 | FanDuel Salary – $4,700
Gage is an interesting guy to keep an eye on here in Atlanta. Obviously you have to love 7 receptions on 9 targets in his first career start, but we need to see a few more weeks. This is a guy that had more career carries than receptions at LSU, but the Falcons still liked him enough as a prospect to take him in the 6th round. Seattle's secondary is a mess and he should get a much tougher test out of Chancey Gardner-Johnson this week.
---
TE – Austin Hooper
DraftKings Salary – $5,500 | FanDuel Salary – $6,600
This matchup may not look great on paper, but the Saints have not faced a pass-catching tight end since their week 3 matchup with the Seahawks (Dissly 6/62/1). With Lattimore likely to shadow Julio, and the possibility that Apple shadows Ridley (not that we should be overly concerned with that), I think Hooper could be extremely busy this week. He's scored in three straight games and has been, by far, the best TE in fantasy football this season. Thank you Dirk Koetter.
---
TE – OJ Howard
DraftKings Salary – $3,700 | FanDuel Salary – $5,000
So we were insanely high on OJ Howard heading into this season (ranked him TE3 in our draft guide) but we did also mention a caveat that Bruce Arians has never utilized the tight end position. That being said, I think we saw actual growth from Arians in week 9. We actually saw targets to a group of pass-catchers not named Evans or Godwin. Chances are we will need to see that again this week because Patrick Peterson and Byron Murphy can lock you down and may very well force the Bucs to throw the ball elsewhere. I think Godwin and his 70% of snaps out of the slot can hide from the pair, but Evans may have a rough day, and we know how vulnerable this defense is to opposing tight ends.
---