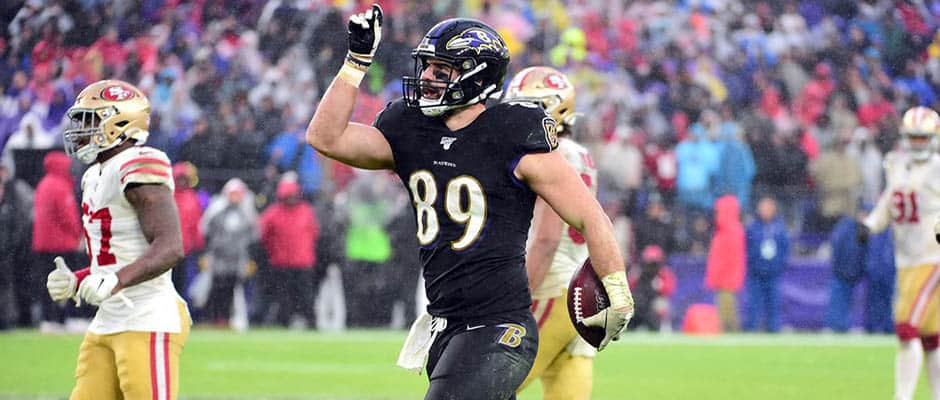 NFL Divisional Round DraftKings Picks and Lineups
NFL Divisional Round DraftKings Picks and Lineups
As exciting as the divisional round of the NFL Playoffs is, it also represents the second-to-last salary cap slate of the season.
We want to help you close out the year on a bang, but before we jump into our picks for this slate let us know what your thoughts are by taking our Divisional Round poll. Who do you like in this slate? Jump to our picks.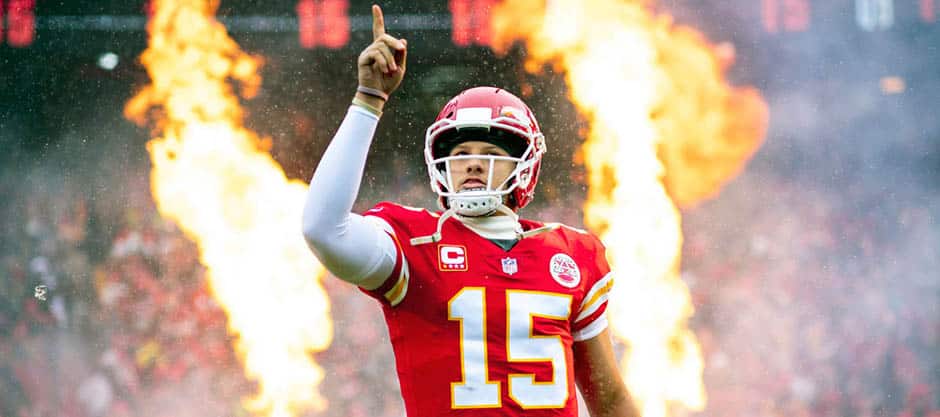 Our NFL Divisional Round DFS Targets
As was the case last week, we are seeing another dip in team implied totals for the Divisional Round of the NFL playoffs. Of the teams active this weekend, only the Packers and Texans have higher implied totals than their season scoring averages.
Weather does not appear to be a major factor in any of the games. As you might expect, the weather should be almost ideal (slightly windy) for the 49ers game, it will be unseasonably warm for a January night game in Baltimore, freezing cold but dry with little wind in Green Bay, and cold but dry for the game in Kansas City.
Aside from Mark Ingram, who we should get an update for on Thursday, there are no significant injuries to any of the main players in this slate.
Before we jump right into our picks, here is a look at the implied totals for each team in this slate, and how those numbers stack up to their season scoring averages:
| Team | Opponent | Implied Total | Avg PPG |
| --- | --- | --- | --- |
| Chiefs | Texans | 28 | 28 |
| Ravens | Titans | 29 | 33 |
| 49ers | Vikings | 27 | 30 |
| Packers | Seahawks | 25 | 23 |
| Texans | Chiefs | 24 | 23 |
| Seahawks | Packers | 23 | 25 |
| Titans | Ravens | 22 | 25 |
| Vikings | 49ers | 21 | 25 |

Our FanDuel and DraftKings Targets
Patrick Mahomes
DraftKings Salary – $7,500 | FanDuel Salary – $8,600
It looks like Mahomes and Jackson will be the chalk QB plays in this slate, but I am not fading the Pro Bowl QB in what is clearly the best matchup of the Divisional Round. It's worth noting that Mahomes did somewhat struggle against the Texans earlier this season, throwing for 275 yards and 3 touchdowns while only completing 54% of his passes and turning the ball over twice. That being said, Houston's secondary allowed the 8th highest opponent QB rating this season and were 26th in the league in sacks. I think the Chiefs will have a game plan ready and are going to hang 30 against the Texans.
---
Aaron Jones
DraftKings Salary – $7,400 | FanDuel Salary – $8,200
with all due respect to Aaron Rodgers, Jones is the best offensive player on the Packers roster right now. He closed out the regular season averaging over 110 rushing yards with 5 rushing touchdowns over his last four games. Seattle's run defense was top 10 in the NFL over the first month of the regular season but finished the year giving up 4.8 YPC, including 5.5 YPC over the second half of the season and just under 6 YPC in the last month of the regular season. Jones should see 30 touches in this one, which should result in 150 total yards and at least one touchdown.
---
Damien Williams
DraftKings Salary – $6,000 | FanDuel Salary – $6,900
We saw the Chiefs lean heavily on Williams in the 2019 playoffs, with the RB racking up 250 total yards and 4 touchdowns in two games. After fighting injury seemingly all season, he finished the regular season on a similar tear with 246 yards and 3 touchdowns in the final two weeks of the regular season. Clearly the Texans are the weakest remaining run defense, having allowed 4.9 YPC on the season and 5.8 YPC over the last month.

Tyreek Hill
DraftKings Salary – $7,600 | FanDuel Salary – $7,900
We will be stacking Hill with Mahomes in our DFS lineups this week. In addition to the league's 8th highest QB rating allowed and getting no pressure on opposing QB's (31 sacks on the season), the Texans also allowed the 7th most big plays to opposing wide receivers. While most experts have Hill rated as the #1 WR for this week, this play does not come without risk. Hill has one career playoff touchdown (a rushing TD) and has averaged just 57 receiving YPG in four career playoff games. It has to be said that those games came against much tougher opponents and Alex Smith was the QB for two of the games. This matchup represents a chance for Hill to get the playoff monkey off his back.
---
Deebo Samuel
DraftKings Salary – $5,200 | FanDuel Salary – $6,100
We think all three 49ers WR's are solid targets this week. The Vikings are strong against the run and the best defense in the league against opposing tight ends. Anthony Barr and Anthony Harris are arguably the best cover men at their positions. This puts the 49ers WR's in the spotlight this week and I think all three could produce value in daily fantasy. Bourne is our favorite value play on DraftKings, and Samuel is arguably the most underpriced WR on DraftKings. Given his growing role in the red zone (4 of his 6 touchdowns came in the last 6 weeks of the regular season) I think Samuel has both a higher floor and ceiling than Emmanuel Sanders and is priced cheaper than him on DraftKings.
---
Kendrick Bourne
DraftKings Salary – $3,700 | FanDuel Salary – $5,000
As we just mentioned with Samuel, the 49ers receivers are going to have to play an increased role this week, and if San Francisco hits their implied total of 27 points, all three will likely produce from a fantasy perspective. Bourne is intriguing because he is the cheapest rosterable WR on both FanDuel and DraftKings, has a role as the clear third WR here, and also has big-play upside. If you find yourself rostering Hollywood Brown too much this week, Bourne is a nice, cheaper, alternative.
---
Mark Andrews
DraftKings Salary – $5,600 | FanDuel Salary – $6,800
We have attacked TE's in matchups with the Titans all season, and it continues to pay off. If you pull up their game log you will see just about every fantasy-relevant tight end had a big game against them this season including Hunter Henry, Jack Doyle, Eric Ebron, Jared Cook, Austin Hooper, and Travis Kelce. I think Andrews is in line for a huge day if he is in fact active for the Division Round.
Only Three Weeks Remain for the DraftKings Deposit Bonus Offer!
If you haven't already heard, DraftKings has announced a new promotion to close out the 2019-2020 NFL Season. This offer will expire after the Super Bowl, so if you are considering trying out their platform now is the time! Create an account this January and DraftKings will not only give you a 100% deposit bonus of up to $500, but will give you a free entry into their Divisional Round Millionaire Maker! Check out the full details for this DraftKings promo code and get in the game.