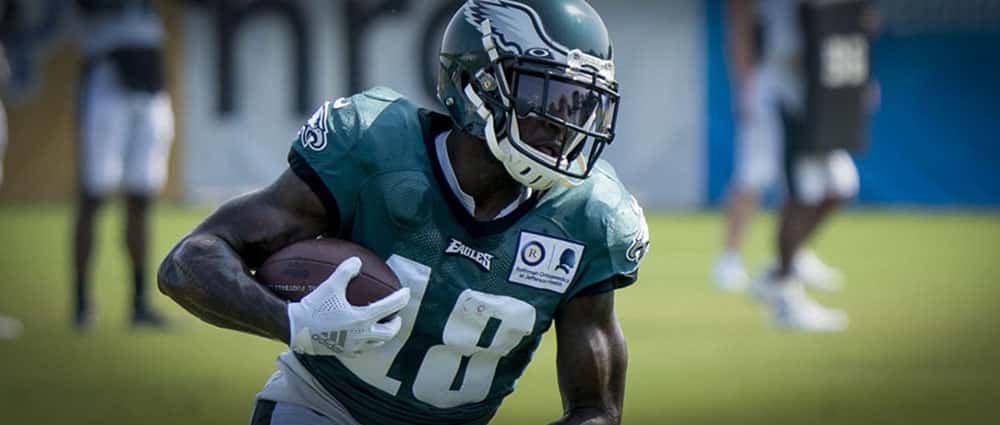 2021 Fantasy WR Sleepers
2021 Fantasy WR Sleepers
Last week we shared our initial 2021 sleeper running back picks, today we shift our attention to the wide receiver position. Wide receiver sleepers are every bit as important as RB sleepers, however for completely different reasons.
There is no debating that position scarcity exists at the running back and tight end positions. There are only a handful of consistent fantasy tight ends, and once they are gone you are left patchworking the position all season. At running back, if you don't get one or two guys from the top 15, you are left with playing one guy every week that is in a timeshare or perhaps is just a third-down back.
What this means is that we have to dedicate two of our first three picks to running back, and really need to have a tight end by the end of round seven at the latest. Typically, the top eight QB's come off the board by the end of round seven as well, meaning you could end round seven with only two wide receivers and likely have to start at least three in your league.
With that in mind, here are ten sleeper wide receivers available in round 8 or later (given their current ADP in Underdog best ball drafts) that we believe will drastically outplay where they are being drafted. As with all of our sleeper articles, we are using a half-point PPR scoring format.
As a side note, beyond just fantasy, many of these players have props available on William Hill and BetMGM already. Take a look at some futures for them to see if you can find any value!

Real Money, Season Long Fantasy
Forget mock drafts! Hone your drafting skills by entering a real-money season long league on Underdog. Compete in a live snake draft for as little as $1, with payouts that top $1 million! Get $25 to draft for free today by using the promo code ROOKIE!
1. Odell Beckham Jr. – WR 34
It's hard to believe Odell has dropped to WR 34 already, but it's also hard to argue his current ADP. After being a mainstay as a top 6 fantasy wide receiver through the 2018 season, Beckham has finished outside of the top 25 each of the past two seasons. While we feel comfortable blaming Freddie Kitchens for his lack of production in 2019, the fact that Mayfield's production went way up when OBJ left the lineup last season is troubling.
That being said, perhaps Mayfield's development should be seen as a positive for Beckham rather than a negative. What would Beckham's numbers have been if he were active over that stretch? Will the development of DPJ help alleviate the bracket coverage he constantly saw in 2019-2020?
Then there is the injury. All signs coming out of Cleveland are that Beckham is ahead of the 12-month timeline and could suit up for week one. Keep in mind, we saw Cooper Kupp tear his ACL in week 8 of the 2018 season and return to play all 16 games and have the best season of his career in 2019.
The reality here is that if you are looking for a high-end WR2 borderline WR1 in round 8 or later there is little more you can ask for than a 28-year-old WR that has finished in the top 10 in FPPG in six of his eight seasons.
2. Jalen Reagor – WR 54
Devonta Smith will get plenty of headlines this offseason, but it's Jalen Reagor at WR 54 that we have our eyes on heading into 2021. Reagor was massively disappointing in 2020, but to be fair, the entire Eagles organization was a dumpster fire, he missed five games with injury and was never fully healthy after week two.
If there is one player on this roster that can stand to most benefit from the stability and offensive mindset that Nick Sirianni and Shane Steichen bring to the Eagles, it's Jalen Reagor.
Beyond just injuries, the drama of having an HC that wanted out, and whatever was happening in the QB room, Reagor was matched up on opposing number one CB's throughout the second half of the regular season. Adding Smith and getting Ertz back adds additional weapons opposing defenses have to pay attention to.
Reagor has the physical tools to be a monster in the NFL. He has elite ball skills and 4.2 speed. Breakout second-year receivers are a fairly common phenomenon in the NFL. Keep in mind DeAndre Hopkins averaged only 5 FPPG in his rookie season (Reagor averaged 4.6). If Sirianni and Steichen can coach Hurts up, they will find a way to get Reagor involved and we are betting on a monster sophomore season.
3. Amon-Ra St. Brown – WR 56
The first of two fantasy rookies to make this list, St. Brown will clearly have a role in the Lions offense in 2021, but how big will his role be and can we trust this Lions passing game?
You can make the argument that, with the addition of Penei Sewell, the Lions have a top 10 offensive line heading into 2021. Taylor Decker was phenomenal at LT last season, and adding Sewell at RT almost guarantees clean pockets for Jared Goff.
Speaking of Goff, this is a guy that played in a Super Bowl just three seasons ago, is a former number one pick, and is still only 26. He's a downgrade from Stafford but is far from a disaster for the Lions' receiving corps.
Back to St. Brown, this is a guy that is far from the elite athlete we thought he was coming out of high school where he was the number two WR (ahead of Waddle and Chase). That being said, he is an extremely polished route runner, makes every contested catch, and can play all three WR positions. It's that position flexibility that makes him attractive to us. He will beat up nickel corners, but has the size, speed, and route-running to beat outside corners.
We have him projected for 120 targets in 2021 (roughly 7 per game). No wide receiver with 120 targets or more finished outside of the top 32 at the position last season.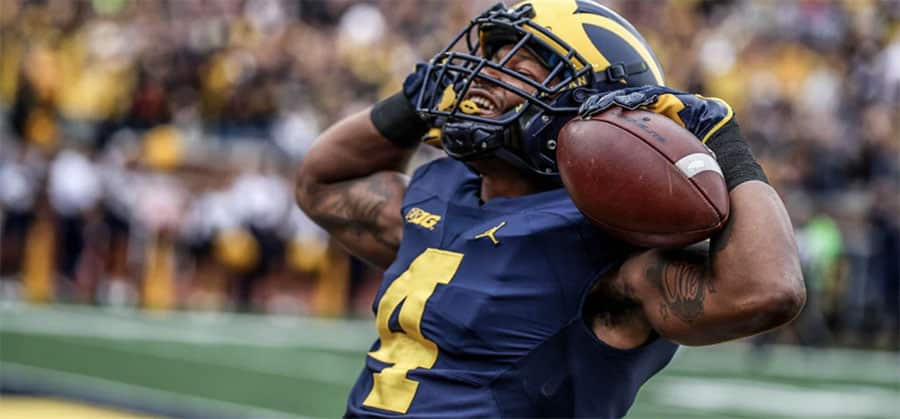 4. Nico Collins – WR 69
The Texans are going to be awful in 2021, but that is irrelevant to fantasy football and particularly to the wide receiver position. In fact, 6 of the top 15 fantasy receivers from a year ago played for teams that missed the playoffs.
Collins is in a position to get a ton of targets on a team that will be playing from behind every week this season. The Texans have a bunch of tiny wide receivers that are more fit to play in the slot than on the outside. This should mean more deep balls and red zone targets for Collins in year one.
In a year that 40 times were even more meaningless than they typically are, none may have been more impressive than Collins'. At 6'4″ 215 lbs, Collins ran a ridiculous 4.4 on his pro day. This combination of size and speed is going to be crucial to the Titans this season, as we don't see them moving the ball on early downs, as a result, he could become the go-to receiver in third-and-long situations.
It seems we have a top-20 WR from the late second-round or later of the NFL draft every season (A.J. Brown, Chris Godwin, Chase Claypool, Terry McLaurin). We think Collins is the guy that fits that bill this season, and with an ADP that puts him in the final round of your fantasy draft, he is worth a flier.
5. Josh Reynolds – WR 78
Reynolds steps into a defined WR2 role in Tennessee and we can make the argument that he is a better fit than Davis here. Davis and Brown were extremely similar receivers, both guys were more contested-catch/possession receivers than big-play threats. Reynolds adds that big-play potential to this offense, and it's worth pointing out that Ryan Tannehill consistently ranks as one of the best deep-ball throwers in the NFL.
There are several questions surrounding just how productive Reynolds will be in 2021. How much of Tannehill's success was tied to Arthur Smith's playcalling? How much of Reynolds's struggles in Los Angeles were tied to a crowded group of pass-catchers and underwhelming QB play?
Here is what we do know, Derrick Henry will demand crowded boxes, AJ Brown will demand opposing #1 corners, and Ryan Tannehill has been unbelievably consistent over the past two seasons. Given the fact that the team lost 11 targets per game between Davis and Smith this offseason, it seems Reynolds is in a great spot to outplay his current ADP of 215th overall.
6. Desean Jackson – WR 96
At this point in your draft, you are just swinging for the fences and in our opinion, we want to take a big swing and a miss than add a name we know will never crack our lineup. Jackson put up 27 fantasy points in his opener in 2019 and was done for the year by week two. Same story last season, injuries plagued him throughout the season and he really never got going.
If there was ever a reason to believe he can return to form, this is it. Sean McVay gets everything out of his players. He's turned Robert Woods and Cooper Kupp into fantasy monsters. Matthew Stafford is an absolute gunslinger, willing to take a shot on every play. Even more, now in LA, Jackson should be pushed to show out for a new city in the second-biggest market in the US.
Again, Jackson is going undrafted in most season-long and best-ball leagues right now. He's worth a late-round dart throw, particularly in best ball given his big-play ability, it only takes one long touchdown to crack your lineup.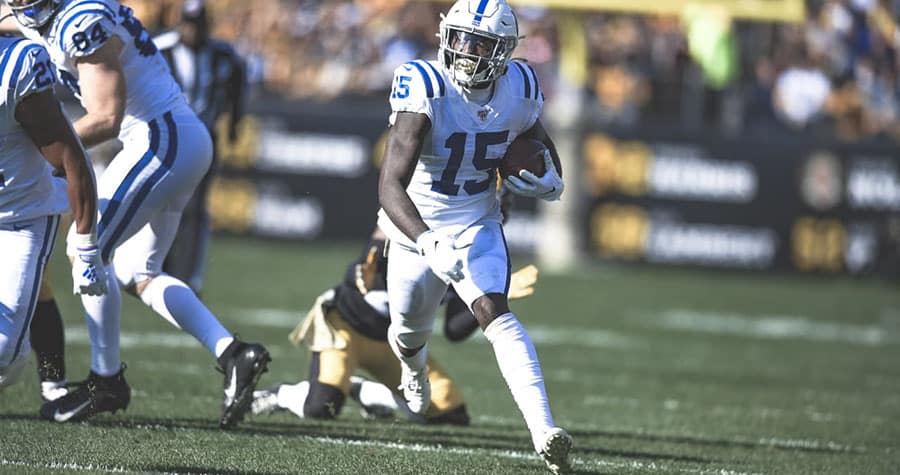 Additional Sleeper WR's Worth a Look in 2021
Digging even deeper for sleeper wide receivers? Here is another four names worth keeping in mind as you head into your 2021 fantasy draft.
Paris Campbell – WR 79
Van Jefferson – WR 89
Amari Rodgers – WR 91
Josh Palmer – WR 94