2021 Fantasy RB Sleepers
2021 Fantasy RB Sleepers
There is no position as thin or as important to fantasy owners as running back. If you don't get two in the first three rounds of your draft, you had better find value in late-round sleepers or it's going to be a long fantasy season.
In this article we identify four mid-to-late round sleeper running back picks to have on your radar. Each of these RB's is currently being drafted at least two rounds later than our rankings dictate they should be and each has upside that could make them high-end RB 2's by the end of the season.

Real Money, Season Long Fantasy
Forget mock drafts! Hone your drafting skills by entering a real-money season long league on Underdog. Compete in a live snake draft for as little as $1, with cash payouts of up to $1 million! Download the app today and use the bonus code ROOKIE to receive a $25 bonus that can be cashed in on a Best Ball Mania II entry.
1. Myles Gaskin – RB 22
Somehow Myles Gaskin finds himself in line for a huge role, that are way undervalued at the moment. Despite starting only 7 games for the Dolphins in 2020, Gaskin finished the season as RB 12 in fantasy PPG. That should see him drafted as a low-end RB1 or high-end RB2, but his current ADP has him slotted as a low-end RB2.
Chris Grier has made it clear that Gaskin is the guy this season and we should know by now not to doubt his eye. The way he has reworked this Dolphins roster is not only an impressive feat but gives us even more reason for optimism when it comes to Gaskin. The Dolphins ensured favorable boxes by adding both Will Fuller and Jaylen Waddle on the outside and ensured open running lanes by adding free agent center Matt Skura while drafting Liam Eichenberg in the second round of this year's draft.
Gaskin is particularly attractive in PPR leagues. He had the league's fifth-highest catch rate (41 of 47 targets) and was productive in the passing game averaging just under 10 yards per reception. We currently have him ranked as our RB 18, not a huge difference from his current ADP (RB 22), but a difference of two full rounds in draft value.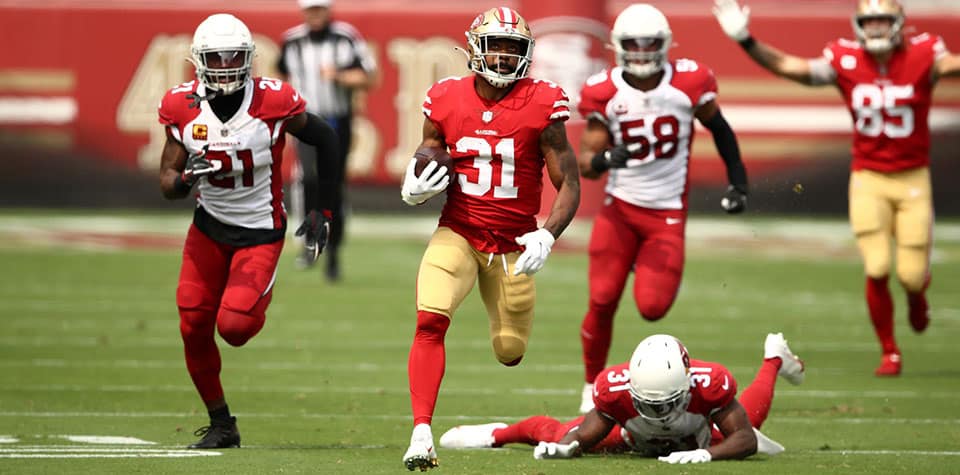 2. Raheem Mostert – RB 30
If pressed to give one guy outside of the top 10 that could finish this season as RB1, Mostert would be our guy. Clearly, he does not come without risk. He's always injured, seems to always lose carries to at least two other backs, and has only 36 receptions in 58 career games.
Nevertheless, the upside is impossible to ignore. He has never averaged less than 5 YPC in his six-year career and is arguably the fastest RB in the NFL, which has led to consistent home-run plays that can turn into week winners in fantasy football.
We get rookie Trey Sermon is going to be a trendy pick this fantasy season, but he is nowhere near as explosive as Mostert, and it's worth remembering that speed is the number one thing Shannahan looks for in a running back. In fact, we would make the argument that rookie Elijah Mitchell is the bigger threat to steal work from Mostert in this backfield.
He runs those outside stretch plays that rely on an RB with 4.4 speed to gain the edge and get the ball upfield. If you pull up the NFL's Next Gen speed stats, Mostert clocked the NFL's top speed of 2021, while Matt Breida topped the list each of the previous two seasons. Sermon simply does not fit that bill.
Beyond just the fit, the 49ers themselves have made it clear that Mostert is the guy heading into 2021. We expect him to receive the bulk of the early-down work for as long as he can stay healthy, and if that ends up being 14-16 games, he could very well finish this season as a top-five fantasy running back. We currently have him ranked as our RB 22, which more than two rounds higher than his current ADP.
3. James Conner – RB 37
There is a reason draft experts hated the Najee Harris pick, and Steelers beat writers were infuriated by the decision to let Conner walk. Conner was not the problem in Pittsburgh, the offensive line was.
Conner was extremely productive when the Steelers offensive line was competent, and even last season he averaged a full half-yard per carry better than his backups. In his last season with an even average line in Pittsburgh, 2018, Conner finished as RB7.
Now in Arizona, there is plenty of reason to believe Conner will have a resurgence in 2021. The Cardinals offensive line finished the season as PFF's 12th rated line. As bad as Kenyan Drake was last season, he still finished the season as RB 14 in half-point PPR leagues.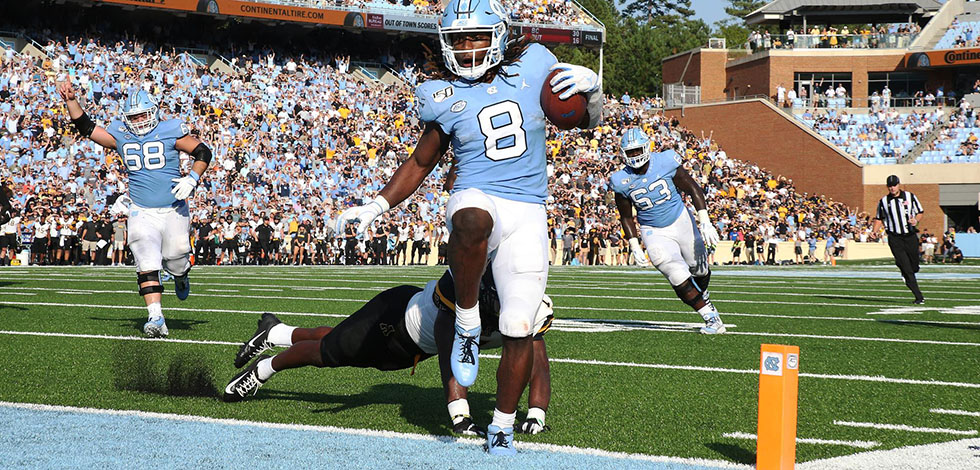 4. Michael Carter – RB 39
This should be a familiar name for subscribers that already read our 2021 Rookie Sleeper article. Carter may have slipped to round two of the 2021 NFL Draft but he finds himself in a perfect fantasy situation.
While we think Carter will start the season as RB2 in New York, he should be drafted ahead of several RB1's in the league, which clearly is not the case given his current ADP (RB 39). The current starter in New York is Tevin Coleman, who only started one game for the 49ers last season, only suited up for 8 games, and was unbelievably unproductive (particularly when considering the system he was playing in), averaging only 1.9 YPC.
Carter offers similar explosiveness to peak-Coleman (4.3 40 time) and was extremely productive as a pass-catcher throughout his career at UNC. The question is clearly, how long will Coleman hold off Carter, or how long can Coleman stay healthy? We think, as a change of pace back to Coleman, Carter's 39 ADP is fair. However, as the guy in Mike LaFleur's system, he has RB1 upside… which moves him up our current running back rankings to RB 32.