FantasyDraft Promo Codes
FantasyDraft Promo Codes
March, 2019

Best FantasyDraft Promo Code this March
Use our FantasyDraft promo code this March to receive their maximum deposit bonus and a free GPP entry to a contest that pays out over $5,000. This is our current best FantasyDraft Promotion of 2019.
Typical FantasyDraft Promotions:
New Player Discount
Deposit Bonus
Free Entries
Promotional Outlook
FantasyDraft New Player Discounts
FantasyDraft Deposit Bonuses
FantasyDraft Free Entries
FantasyDraft Promotional Outlook 2019
How to Use Your FantasyDraft Promo Code
You shouldn't have too much trouble using your FantasyDraft promo codes, as the process is very straightforward. Still, it's always smart to ensure that any codes you apply are fully valid and that the respective benefits have been fully confirmed and applied before proceeding with any payment. It's very easy to mistype a code or accidentally use an expired one, so remember to double check before continuing with the process.
We also recommend that you test out multiple codes to see which one can offer you the biggest benefits. Various codes are usually available, so it's worth trying them all to get the most bang for your buck. Remember though that codes cannot usually be used together or in conjunction with other offers.
To use your code, you'll simply need to head over to the FantasyDraft official site and click to sign up for your own account. The signup procedure on this site is immensely simple and can be completed in just a few moments. The site will ask you to enter your email address, as well as coming up with a username and password for your account.

You will also be asked to enter your country and state of residence, along with a promo code if you have one. Next, on the right side of the screen, you should see a message that reads "Have a Promo Code?" and you'll need to click on the words "Promo Code" to make a new box appear.
You can then enter your code into the box, ensuring that it is spelt correctly before accepting the terms and conditions and confirming the creation of your account. On the next screen, you should see a message informing you of the benefits provided by your code.
Since most FantasyDraft promo codes involve bonus money, it's important to note that this money won't actually appear immediately in your account balance. Instead, your bonus cash will be released in small amounts as you play contests, so keep on playing to unlock that free money.

Who is FantasyDraft?
FantasyDraft is a daily fantasy sports site based out of Charlotte, North Carolina. This company puts a huge emphasis on offering the fairest and most exciting experiences for its entire userbase. To that end, FantasyDraft has joined forces with some of sport's biggest stars like Tony Parker, Drew Brees, Chris Bosh and London Fletcher.
Players on FantasyDraft can actually compete against some of these famous names, or win trips to go and meet them in real life. Signed memorabilia and sporting goods also appear as contest prizes, and all of this helps FantasyDraft to offer some entirely unique opportunities to its many users.
The presence of those big players is one highlight of this company's services, but there are many other great advantages to consider. For example, unlike most rival brands, FantasyDraft pays out to more players per contest. In big GPPs, for example, the top 25% of players will walk home with some cash. That's a really large payout zone and means that you have more chances than ever before to win. Not only that, the contest entry fees are also very low on this site, so you can enter more contests than you'd usually be able to enter on another site. Again, this gives you a better chance of winning and fits with the company's philosophy of putting the players first.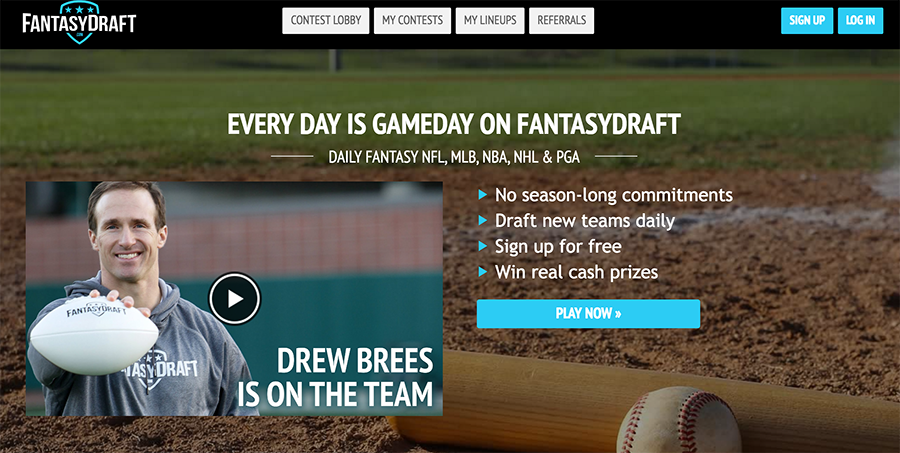 FantasyDraft Roster Structure
Other advantages include the flexible roster building for various sports, letting you make more decisions and choose the players you want, rather than being limited or restricted in any way. You're also encouraged to refer your friends to the site and play together. You'll earn cash for every referral, and even more bonus money for each time your referred friends pay to enter a new contest. The referral system works really well and allows the most loyal customers to earn great rewards for continuing to use the site.
The FantasyDraft team also puts a huge emphasis on keeping its contests as fair as possible. Other sites don't have the same sort of commitment to balance and fair-play, so many players can often be left feeling disappointed and outmatched by the more experienced users. A common technique used by advanced DFS players is to enter a huge amount of rosters into a single tournament, giving the player a much greater chance of winning some money than the other participants. On FantasyDraft, this isn't possible. Every player has a restriction on the number of lineups they can enter, keeping the playing field balanced and even for everyone.
Overall, if you're looking for a DFS site where you can be sure of having a good time and a reasonable chance of actually winning some money, FantasyDraft could be the perfect one for you. Right now, this site offers contests for NHL, NFL, NBA, MLB and PGA Tour golf, with more sports set to be added in the future.
All of the classic contest types are available on the site, and the interface is user-friendly and very intuitive. To top it off, the site even includes an in-built database that shows you information and statistics on each player as you add them to your rosters.