FantasyDraft Promo Code
FantasyDraft Promo Code
Lock in the max deposit bonus and free entry offer for September

FantasyDraft is Now Monkey Knife Fight!
FantasyDraft recently announced that they have been acquired by Monkey Knife Fight. If you are looking for a fun, new way to enjoy daily fantasy sports, we recommend checking out what MonkeyKnifeFight has to offer.
Current Monkey Knife Fight Promotions

| | |
| --- | --- |
| Promo Code | HELLOROOKIE |
| Promotion | 25% Deposit Bonus With a Free Entry |
| Promo Date | Offer valid August 1 through September 30 |
| Promo Terms | Offer valid for new players only, must make a minimum $10 deposit. |
Terms and Conditions Behind our FantasyDraft Promo Codes
The terms and conditions attached to our various promo code offers varies drastically from one DFS website to another. Some platforms give you immediate access to your deposit bonus but require the funds roll over as many as 35 times, others drip the funds into your account as you enter contests.
As far as this FantasyDraft promo code offer is concerned, your deposit bonus is gradually released to your account at a rate of 4%. This means if you enter $100 in contests, you receive $4 of bonus funds back into your account.
It is also worth pointing out that FantasyDraft is the only site that offers Player Loyalty Rewards. These funds are in addition to your bonus and reward you by giving you 10% of your rake back. This means an additional 1-2% in bonus funds per contest entry.
You can always find the latest terms attached to each of these offers on the FantasyDraft Terms of Use page.

How to Use our FantasyDraft Promo Code
FantasyDraft makes it extremely easy to take advantage of their various promo code offers. In fact, we can sum the entire process up in four simple steps.
At the top of this page, simply copy our promo code and head to the FantasyDraft homepage or app. We always keep the best available offer at the top of our promo code directory, so no need to try multiple promo codes.
When on the FantasyDraft homepage, you will find two different options to sign up. There is a signup button right in the middle of the landing page, and another one in the top right corner. Both will bring you to the registration form, where you will paste our promo code.
The registration form at FantasyDraft includes the typical fields such as username, password, email, etc… At the bottom of this form is a link to enter your promo code. Clicking this link will open a text box where you can paste in our promo code and click the 'register' button to complete the process.
Once you are signed up, simply make an initial deposit, and you will immediately see your bonus funds credited to your account. Make sure you subscribe to the Hello Rookie newsletter to get the best FantasyDraft advice throughout the NFL and CFB seasons.
If you have any questions beyond these four steps, we strongly recommend you reach out directly to either FantasyDraft or email our team and we will be happy to advise you along the way. The Fantasy Draft Help Center is another great resource for new players and your issue may be covered there as well.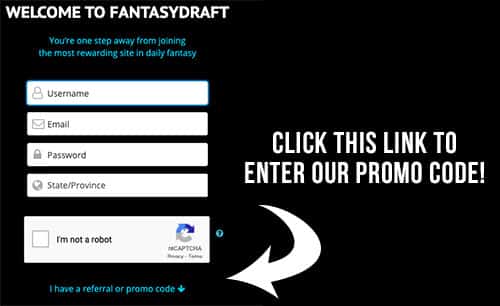 FantasyDraft FAQ's
While FantasyDraft is arguably the third oldest DFS website still running, many of their players are former FanDuel and DraftKings players that may not be familiar with the site. Here are answers to some of the questions we receive most often, and some of the key differences between FantasyDraft and FanDuel and DraftKings.
How do I receive my FantasyDraft bonus funds?
Once you make your initial deposit using our promo code on FantasyDraft, your bonus funds will automatically appear in your account as pending. These will be automatically added into your account as you enter contests.
Where is FantasyDraft currently legal?
DFS is currently legal in most states in the US. In fact, FantasyDraft currently operates in 41 states and all of Canada (not available in Arizona, Delaware, Hawaii, Idaho, Iowa, Louisiana, Montana, Nevada, and Washington). If you live in one of these states you simply will not be able to access the website and app.
What sports does FantasyDraft offer?
FantasyDraft offers contests for each of the major US sports: NFL, NBA, MLB, NHL, and PGA. They currently do not run contests for college sports, Nascar, or the UFC.
How does the player reward promotion work?
This is a relatively new offer from FantasyDraft, but is pretty straight forward: players receive 10% of their losses back at the end of a bad week. So, if you lose money over the course of a week, FantasyDraft will give you 10% of those losses back. This keeps you in the game and will be particularly helpful during the NFL season. A bad week won't end your year.

Review of Current FantasyDraft Promo Code Offer
The review below provides a break down complete with rating, which should provide you with an overview as to how the current FantasyDraft promo code offer compares to their top competitors.
While the initial deposit bonus at FantasyDraft is somewhat lower than FanDuel and DraftKings, we did have to take into effect that FantasyDraft also protects 10% of your losses which is obviously a huge bonus.
| Review | Top FantasyDraft Offer of 2020 |
| --- | --- |
| Summary | FantasyDraft offers its players a ton of benefits, unfortunately, player-friendly promotions simply are not one of them. If you are waiting for a 100% deposit bonus to join FantasyDraft, it will not happen. That being said, once you are a player there are a ton of benefits to playing on FantasyDraft including their rewards system, lower rake, and plenty of overlay. |
| Author | Chris Lollis |
| Rating | 4.2 (out of 5) |