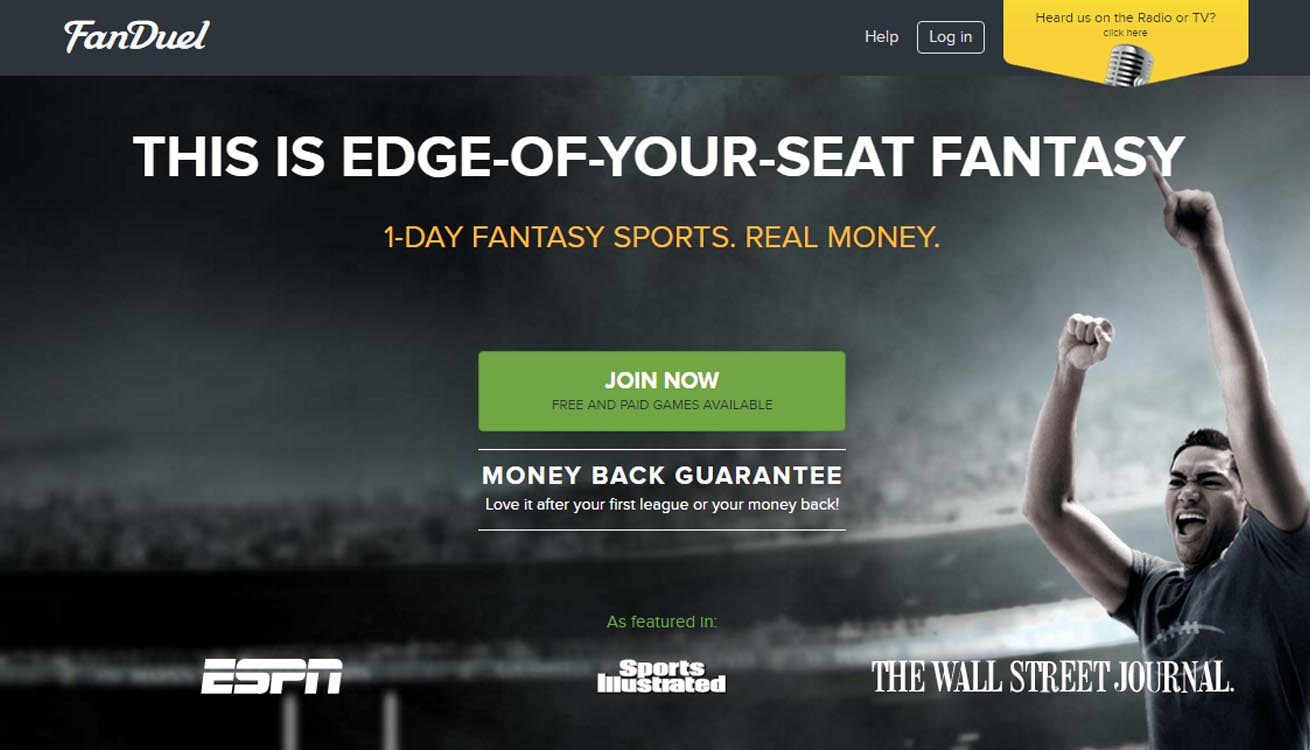 FanDuel Fantasy Football For Newbies
FanDuel Fantasy Football For Newbies
Season long fantasy sports leagues are mundane & are fast becoming a thing of the past.
By now, its inevitable, you've heard of Fanduel Fantasy Sports via tv commercial, internet, radio or friend. If you've come this far, you're probably still debating on whether or not to give daily fantasy sports a go or are on the verge of creating your new account. We've all been there and frankly, you have to pull the trigger at some point. While change is usually never a fun thing, in this case, it absolutely is. Sure, we all enjoy the age old comradery of season long fantasy leagues, and most of us probably half heartedly still participate in them. But after that initial adrenaline rush of proving your fantasy wisdom via the once per year draft for example and trying to haggle throughout the entire year to improve your roster with the same few people who are either incredibly conservative or incredibly liberal with their roster management, it's not blasphemous to want more out of fantasy football. In the past, the only thing you could do to 'spice' things up was to play in multiple leagues. The end result was more of the same and often roster mismanagement or blatant hatred of the system, bringing even you deep into your couch claiming, 'I just want to watch the games again', without having to think about probables, doubtfuls or outs.
Not anymore, dust off your wits, you're being called back into fantasy sports action via Fanduel.
All that 'old-time' season long fantasy blues nonsense is for those stuck in the past. So let bygones be bygones, let those fantasy few who still rock Blackberrys and flip-phones die along with their never adjusted rosters & no-trade policies. You for one, understand the potential greatness of picking the perfect roster on any given Sunday and proving your prowess on a weekly basis.
Most of us know all of this already but are still, (for whatever reason) slow to pull the trigger on getting started with daily fantasy sports. We were in the same exact place at one point in time and one day just decided to give Fanduel a shot. For only $10, we were each able to create a new user account and see what all the 'buzz' was about. After understanding how streamlined the entire process was via Fanduel and how fun it can be to start and finish an organized fantasy competition within a few days, we we're hooked and have been playing ever since.
Below we'll take you by the hand and walk you through the incredibly simply process of getting started with Fanduel Daily Fantasy Sports.
Take a deep breath, set your fantasy football trophies and crowns of years past on your desk and dive in, it's time.
How To Get Started On Fanduel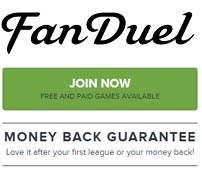 While there are many different daily fantasy sports networks to play on, Fanduel is and will always remain one of our favorites. Fanduel covers all the major sports at both the collegiate and professional level in a variety of contests. One can expect to find daily fantasy sports contests in huge volume from extremely low buy-ins to the highest of stakes and or potential winnings on Fanduel. Furthermore, Fanduel has become somewhat of an industry standard concerning user experience, available contests and consumer trustworthiness. For a more detailed look, check out our in-depth Fanduel Review.
Signing Up On Fanduel:
Signing up with Fanduel is extremely easy and will take you all of about 2 minutes to accomplish. It should be mentioned that after creating your Fanduel account and entering your Fanduel Promo Code, you'll be given a 10 minute timer regarding taking advantage of your deposit bonus. Essentially, you'll just need to fund your account via any major credit card or of course paypal with a minimum of $10. This just ensures that you'll be granted your deposit bonus and overall gets those who are slightly timid to finish the process and be ready for a contest right away (some of us need a gentle and cheap nudge anyway).
Step By Step Fanduel Signup Process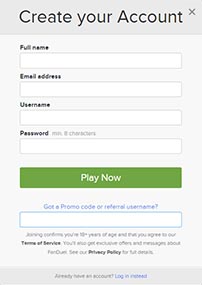 Visit Fanduel & create your user account information after clicking on the orange 'Join Now' button.
Before clicking the green 'Play Now' button, be sure to first click the text reading, 'Got a promo code?'. A blank field will open in which you can enter a Fanduel Promo Code. Which in turn will double any amount of money you choose to play with as a new user.
Head on over to our Fanduel Promo Code page to access the largest current deposit bonus available.
Locate our blue 'Reveal Promo Code' button to reveal the promo code.
A new tab will open in your browser, simply navigate back to this page and view the now revealed exclusive Fanduel Promo Code.
Either copy and paste or simply memorize our promo code and enter it into the blank field after filling in your new user account details.
You'll be sent a welcome email and given a general nudge in the right direction where you can choose the DFS contest of your choice.
Choosing Which Fanduel Contests To Play:


Fanduel offers 5 main categories of contests, including Featured, Tournament, League, Head To Head, 50/50s & Multipliers. While each one of these categories offers plenty of variety in terms of size, entry fees & potential prizes, it should be noted that in addition to the main Fanduel contest categories, Fanduel routinely offers specialty contests, such as the 'World Fantasy Football Championship'.
Fanduel Contest Categories
Fanduel Slates Recognition
'Slates' relating to Fanduel is essentially a fancy DFS definition to describe the actual time and dates of the competitions to take place. For example, when choosing which Fanduel contest you enter, you'll notice that each contest has it's own 'slate'. Specifically, in relation to Fanduel Fantasy Football, one will need to be aware of the particular 'slate' in place for the contest their considering entering. For example, the NFL schedule (as we all know) has a weekly schedule which typically has games on Thursday (Thursday Night Football), Sunday (All Day) and Monday (Monday Night Football). Thus, when entering a Fanduel Contest, you'll need to decided which 'slate' of games you'd like to compete in.

While there is certainly no competitive advantage in choosing any particular slate, (it's merely personal preference) we'd direct you towards the traditional fantasy football weekly schedule. Meaning, as a beginner, it's probably a good idea to choose Fanduel 'slates' that begin on Thursday and end on Monday. This in-turn means that you'll have the entire NFL roster to choose from when selecting your squad. You'll also of course have until the first game on your slate actually starts to edit your roster, however we strongly recommend that you have your lineup sorted out at the very least 5 minutes before game time. After the first game starts for your contest's slate, your roster along with every roster in your individual contest will be locked until the end of the contest (in our example Monday Night). Another cool thing worth pointing out is the fact that you'll notice a 'Game Time Timer' in the top right hand corner of the Fanduel Lobby when logged into your account. This definitely helps one regarding having their lineups set in time.
However, there are many other types of slates to consider as you dabble throughout the many different types of Fanduel Contests. For example, some slates are for one day only, such as Thursday only, Sunday only or even Monday only. Heck, you can even find slates for Thursday and Sunday only. Essentially, there are a ton of different ways you can play Fantasy Football with Fanduel and you'll have fun finding out which slates you like playing the most. One of our favorite things to do is choose a few contests for slates running Thursday through Monday as well as a few slates for each individual day (Thursday only, Sunday only & Monday only). This basically gives us the traditional Fantasy Football week along with the added drama and fun with stakes higher for each individual game day.
Fanduel Fantasy Football Contest Information Overview


One of the best parts about Fanduel is that the website and app's user interface is incredibly intuitive, meaning it's very easy to navigate even as a newbie to daily fantasy sports. One of the first items you'll come across as a newbie is being able to quickly decipher which contest you'd like to participate in. Fanduel however makes it easy to quickly determine the important contest information your seeking via the Info, Entries, Prizes & Enter bar. Which will display immediately after clicking on any contest in any category of contests.
Examining Fanduel Contest Before Entering
Fanduel Contest Info Tab – The Fanduel Fantasy Football 'Info' section of the contest bar clearly defines all teams involved for that particular contests slate as well as a complete scoring breakdown for how every participants lineups will be scored.
Fanduel Contest Entries Tab – The Fanduel Fantasy Football 'Entries' section of the contest bar clearly defines every Fanduel player who has registered to participate in that particular contest. To be exact, it lists every contestants username (when clicking on any username you can view their lifetime Fanduel stats).
Fanduel Contest Prizes Tab – The Fanduel Fantasy Football 'Prizes' section of the contest bar clearly defines the potential winnings for the result of the contest. While many times the prize for winning first can be found in the title of the contests, most of us like to also view the potential winnings per percentile. For example, most Fanduel Fantasy Football contests actually payout to a huge number of places.
Fanduel Contest Enter Tab – The Fanduel Fantasy Football 'Prizes' section of the contest bar allows you to actually enter that particular contest (should you have the available funds/qualifications). Additionally, when clicking on the 'Enter' tab, you can easily choose to enter an existing favorite lineup of yours or create a new lineup from scratch.
Coming To Grips With Fanduel's Fantasy Football Scoring System:
Fanduel's Fantasy Football scoring system is pretty standard. There's no real specific items to point out as being more important than any other. It's in fact designed to be very fair and to not blatantly put more weight into one form of scoring than others. However, some of the technical savvy fantasy sports guru's out there will certainly try to find some sort of system to take advantage of the system. Don't worry, these sorts of players have been around for ages and the scoring system is the same for everyone. The name of the game is to earn the most points, the best way to do that is undoubtedly to have a well rounded roster (including kickers & defenses) and of course have a bit of luck with potential stars for any particular week.
The full Fanduel Fantasy Football scoring system is below for your consideration.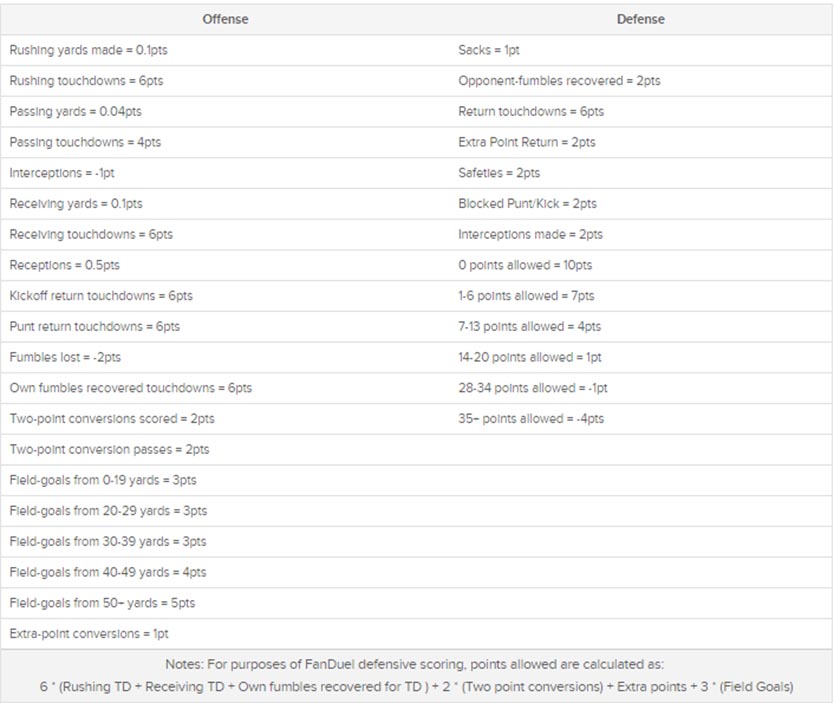 Better Understanding Basic Fanduel Daily Fantasy Sports Strategy
First and foremost, when it comes to fantasy football (as we all well know), everyone is a genius or has the best strategy or team, right? That's always the case of course until the contest is over, because in the end, it's all about the numbers, and numbers 'don't lie' as they say. The important thing to wrap your head around concerning DFS (Daily Fantasy Sports) and frankly Fanduel is the idea of daily/weekly contests. In the past, we'd perhaps study up for a day or two, have a draft with our buddies and then try to best manage our respective teams throughout an entire season to possibly make the playoffs and ultimately the championship. One of the best parts about an entire season long fantasy football league was the commitment it took to win. That commitment consisted of not only a great initial draft, but making strategic decisions week in and week out from playing player and team matchups to accepting or declining trade offers and staying tuned to the infamous waiver wire. While this was a respectable way to earn fantasy football 'street cred' & weird trophies (probably even cash) in the past, DFS is essentially an entire different animal.
Fanduel Fantasy Football is not some turbulent, chaotic mixture of random complex outcomes. It's actually beautifully simple. Every user is given a $60,000 budget to spend as they see fit on 1 QB, 2 RBs, 3 WRs, 1 TE, 1 Defense and 1 Kicker. The people who do well in their particular contest will win. Those who even just do 'okay' (in most contests) will at least win their money back or a very small amount. Therefore, rather than focusing on just one contest every week, once you become comfortable with the general workings of the Fanduel Fantasy Football lobby and system as a whole, it's best to play multiple contests every single week. Afterall, you'll most likely put a great deal of time into determining who you like for any particular week, it only makes sense to enter your great lineup (or at least a variation of) into multiple contests. One of our favorite things to do is routinely enter a lineup into a set of conservative or frankly cheap contests as well as one or two contests offering larger payouts when finishing well in the results. this ensures that we not only at least make our money back or win a small amount, but we also have the possibility of winning a decent amount of money.
Therefore, the number one thing to begin to understand Fanduel Fantasy Football strategy is to understand money management (your actual Fanduel cash account) on a weekly and season long basis. While it's certainly fun to risk it all on one week or day (in a single contest), most of us would like to enjoy the entire NFL season of fantasy football and are reasonable when it comes to odds and percentages. Thus, the best thing you can do as a newbie to DFS and Fanduel Fantasy Football is to sample a few different typical contests at low risk and yes fairly low reward. This will in-fact set you up for success throughout the entire season and as you slowly but surely grow your Fanduel cash account, you can begin to enter contests with the potential for higher payouts.
Beyond the obvious importance of your Fanduel cash account management & risk management, the real DFS Fanduel Fantasy Football strategy comes down to your line-ups themselves & the contests you enter them into. Which if done correctly and meticulously can lead to massive success.