Latest Draft Promo Code Offers
Latest Draft Promo Code Offers
Updated Draft new player offers for the 2020 NFL season

Top Draft Promo Code Offers for September
Use the promo code HELLODRAFT when you register at Draft this September to lock in their absolute best new player offer. This includes a deposit bonus and free entry into a $5 NFL Week 1 or Best Ball contest.
[Click to reveal promo code.]
Click to reveal promo code.
Draft Best Ball Free Entry
The Draft best ball format took over the fantasy industry before the start of the 2020 NFL season, and for a limited time you can enter one for free. Use the promo code HELLODRAFT for a free draft.com best ball entry!

[Click to reveal promo code.]
Click to reveal promo code.
Free NBA Draft Entry Promo Code
The NBA and the Draft App go together like peanut butter and jelly. Draft has NBA leagues ranging from 3-12 teams with prize pools up to $1 million. Use the offer below and draft your Dream Team for free today!

[Click to reveal promo code.]
Click to reveal promo code.
---
We keep our Draft promo codes updated daily with their top available promotions. We updated this landing page with current promotions, terms, and FAQ's on September 1st. Please note that we have a dedicated page for SuperDraft promo codes and FantasyDraft promo codes if you are looking for the latest promotions for those platforms.

| | |
| --- | --- |
| Promo Code | HELLODRAFT |
| Promotion | Free entry into $3 snake or auction draft. |
| Promo Date | Offer valid: September 1st | Offer expires: October 1st |
| Terms | For new Draft users only, free draft entry only with a minimum deposit of $5. |
| More Details | Click here for answers to FAQ's regarding our current DRAFT promotion. You should also check in on the Draft terms of service. |
Terms for Our Draft Promo Code for 2020 NFL Season
As the official sponsor of the Hello Rookie podcast, we work directly with the Draft team to ensure our patrons always have access to their best available new player promotion. We have a dedicated and exclusive Draft promo code offer for our readers, listeners, and viewers this July. 
If you would like to lock in free entry and a one-time deposit bonus, there are two ways to do so. Either follow the link at the top of this page, or simply use the promo code HELLODRAFT, and you are all set.
Feel free to reach out to our team if you have any questions regarding our current Draft bonus code or anything else Draft related. This is our 4th NFL season with Draft and we have seen just about everything they have to offer.
Draft Rollover Requirements
Draft.com does not have rollover requirements with its free entry offer. That being said, there will be a rollover requirement if they bring back the deposit bonus offer we saw a few years ago. As of right now, the free entry is yours and anything you win in the free contest can be withdrawn immediately.
Guide to Using Our Draft.com Promo Codes
Taking advantage of our Draft promo code could not be easier. We will have our new Draft account created and you will be in your first snake draft in minutes.
From the Draft.com landing page, click the join now button to pull up the registration window.
Here you will enter all of the typical information to create your account. The process begins by choosing a username and password. Once you have created your account, you will be asked if you have a Draft bonus offer.
Enter our code, HELLODRAFT into this box and complete your registration. Fund your account through PayPal and you are off to the races.
Our current Draft free entries offer is attached to their best available offer. This is a free $3, 6 team draft entry that you can use whenever you are ready.
You can claim your bonus right away, or wait until you feel you have the hang of the app. There are always free Drafts, simply sort by the entry fee and enter the $0 drafts.

Enter a Snake Draft at Draft.com
Once your Draft promotion is locked in and your account is created and funded, you will be ready to enter your first Draft. Time to discover why this is one of the fastest-growing fantasy sites in the industry.
From the Draft App landing screen, we want to click on Lobby in the lower-left corner. This will bring up a list of available contests including league size, entry fee, and total prizes.
If you have free entry to a contest it will have a ticket next to the entry fee. Claim your bonus by simply entering the contest!
We should mention here that the free entry you receive for using our promo code can be used on any of the Draft sports. This includes fantasy football, fantasy basketball, fantasy baseball, and fantasy golf.
From here we tap on the contest we want to enter, click Enter on the details screen, and we are in. The Draft will start as soon as the league fills. Use the downtime to analyze matchups and create a player queue.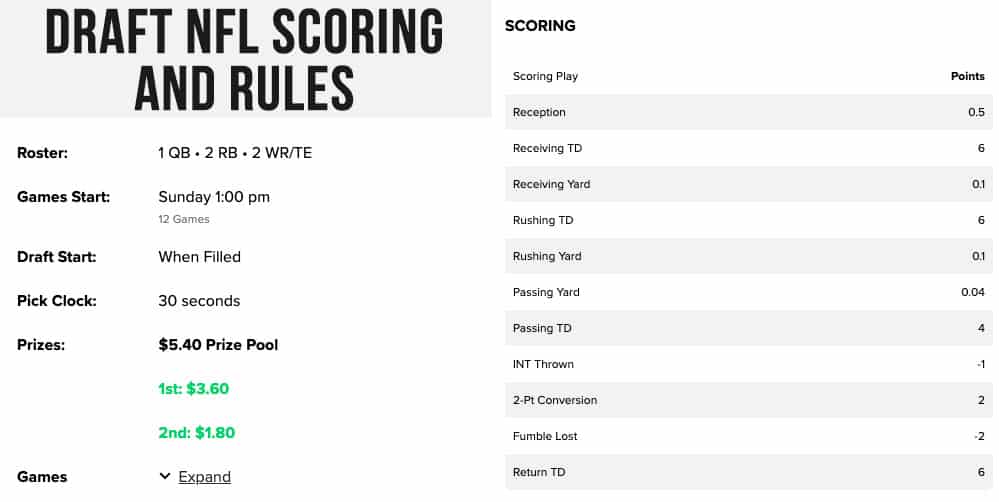 Some Quick Tips for Winning on Draft
This is the fourth football season that we have covered Draft. Beyond that, we do daily drafts throughout the NBA season as well. You can say we have some experience.
With that in mind, here are some quick tips that we wish someone would have shared with us when we first started:
Matchups are important but don't ignore the studs. Nelson Agholor may have a great matchup, but even on his best day and Julio's worst you should take Julio.
Matchups are King once the studs are gone. If you have a lower draft pick, you can create value by grabbing upper mid-tier guys in smash matchups.
Always wait on a quarterback. Again Draft.com drafts are a lot like your season-long drafts. There is plenty of value on QB, and unless Mahomes is in an A+ matchup, we recommend holding off at QB until your last pick.
Use the player queue. We are not saying you need to set up a 100 player queue each week, but you should be queuing players as the draft is happening.
We can't stress enough how important taking advantage of free entries is. Enter free drafts and hold off on using the voucher you receive with our coupon code until you have developed your own strategy.
FAQ's for Draft Deposit Bonuses and Free Entries
If you are coming to Draft.com from a salary cap DFS website, or even from your season long league, you are certain to have questions along the way.
Here are some of the questions our readers often ask us when they first get started using the Draft app. We encourage you to give Draft a try. Find out for yourself why fantasy players around the country love drafting their dream teams at draft.com!

What terms are attached to Draft Promo Codes?
We get this question a lot from guys transitioning into daily fantasy from more of a sports betting background.
Simply make the minimum deposit (currently $5), use our Draft Bonus Code, and get your 3 free entries. That is it… anything you win with the entry is yours to withdraw immediately.
The offer does not seem as large as companies like DraftKings and FanDuel, but there is a reason for that. Draft has branded itself as Fantasy For the People. They are concerned with creating the easiest way to play DFS, this means no massive prize pools, sportsbook, or complicated promotions.
Compare the offer to our current DraftKings bonus offer to get an idea of how this promotion compares with competing DFS platforms.
Is Draft free?
Yes, you can play on the Draft app for free anywhere in the country! Simply download the app on the App store or on Google Play, create your account, then start looking for any free drafts in the lobby.
What is the minimum deposit on Draft?
As we mentioned above, you can join Draft and make no deposit at all. That being said, if you want to take advantage of the Hello Rookie promo code on Draft, then there is a $5 minimum deposit.
Is it easy to win on Draft?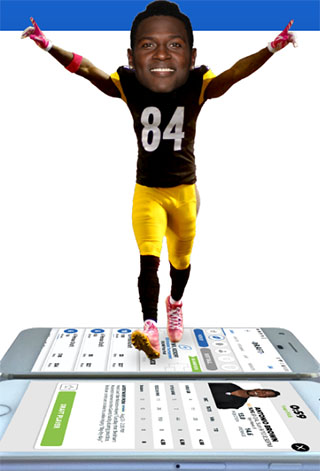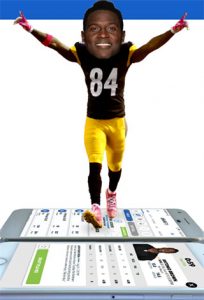 Our readers often here us refer to Draft as the easiest site to win consistently on. While we argue that this is true, it can also be slightly misleading.
On one hand, the contests are much smaller and the learning curve is less steep than FanDuel and DraftKings. On the other hand, the fantasy drafts are likely to be much more competitive than your season-long league. Overall, winning on Draft is arguably the easiest of all the daily fantasy sports sites.
How do you make a deposit or withdrawal on Draft?
All transactions on Draft are completed through PayPal, this includes both deposits and withdrawals. You can deposit on Draft, through PayPal, using a checking account, Visa, or Mastercard.
When you place a withdrawal request, a Draft team member reviews your account and approves the request extremely quickly.
The funds are then immediately available for you in your PayPal account. The process is completed as fast, if not faster, as any other fantasy sports site.
Does FanDuel Own Draft?
While the two companies operate separately, yes FanDuel recently acquired the Draft App. To be more accurate, Paddy Power BetFair actually acquired both companies in 2018. Check out our FanDuel sportsbook promo code for July. There you will find even more details on how the two companies operate.
The nice thing about the Draft-FanDuel merger is it gives you access, as a Draft player to all things Paddy Power Betfair. This includes New Jersey sports betting, Indiana sports betting, PA sports betting, and West Virginia sports betting.

How do you play Draft?
The Draft app is essentially the daily fantasy football version of your season-long league. There are 2-12 teams that complete a snake draft for a one day slate of NFL or NBA games.
For instance, let's take a look at the contest attached to our free entry bonus offer. The six league members each pay a $3 entry fee, creating a guaranteed prize pool of $18.
The league members then compete in a snake-style draft, exactly like you would complete in your season-long league. The main difference here is that you are only drafting players from the NFL Week 6 slate of games. The games would start Sunday afternoon and end with the Sunday night primetime game on NBC.
Once the Sunday night game ends, a winner is named and their winnings are instantly available in their Draft account. You can choose to either withdraw your winnings or use them to enter more drafts.

Draft New Player Deposit Bonus for 2020
With sister company FanDuel and competitor fantasy sports site DraftKings adding deposit bonus offers back in Septemeber 2019, Draft was quick to follow suit. They now have a deposit bonus available to new players this July!
New players that register using the promo code at the top of this page will receive a 100% deposit match of up to $500. This is the same offer you would see attached to a sportsbook promo code.
Not into deposit bonus offers? No worries, you can still choose to simply get a free entry by using our promo code HELLODRAFT. This free entry is a $3 entry into a contest with a guaranteed prize pool of $18. The odds of winning money in the contest are 33%.
If you do take advantage of the deposit bonus offer, keep in mind the funds gradually release into your PlayDraft account over time. You will receive $4 in bonus funds for every $100 in contest entries.

Draft.com Review and Outlook for 2020
This promotion review was completely update for 2020. It compares Draft promotions to those available at competing DFS sites. For those looking for an overall review of the Draft App, we recommend checking out our breakdown of all of the top DFS apps for 2020.
Draft is currently our top-rated app for the 2020 fantasy football season! As far as the current promotion is concerned, Draft is just sort of middle of the pack. They trail industry leaders like FanDuel and DraftKings but are still more aggressive than the traditional companies we partner with like Hims and SeatGeek.
While this review seems overwhelmingly positive, there are plenty of downsides when it comes to Draft. They do not offer a salary cap product, and even worse, do not off any sort of college football product. It is, however, refreshing to see a company understand what they do well and stick to it.
Draft Promotion Rating
How exactly does the HELLOROOKIE Draft promo code offer compare to other platforms? Our current rating of 4.6 indicates that the offer is one of the best in the industry. While a free entry may not seem like a lot, you have to keep in mind that unlike a deposit bonus, this Draft free entry bonus has no terms, conditions, or rollover requirements attached to it. When it comes time to make a withdraw request, you will be grateful that the terms for the promo are so straight forward. The other thing to keep in mind with this offer, and our rating, is that you are getting access to our number one rated fantasy app and the number one rated app in the App Store!
Product SKU: 1
Product Brand: Draft
Product Currency: USD
Product In-Stock: https://schema.org/OutOfStock