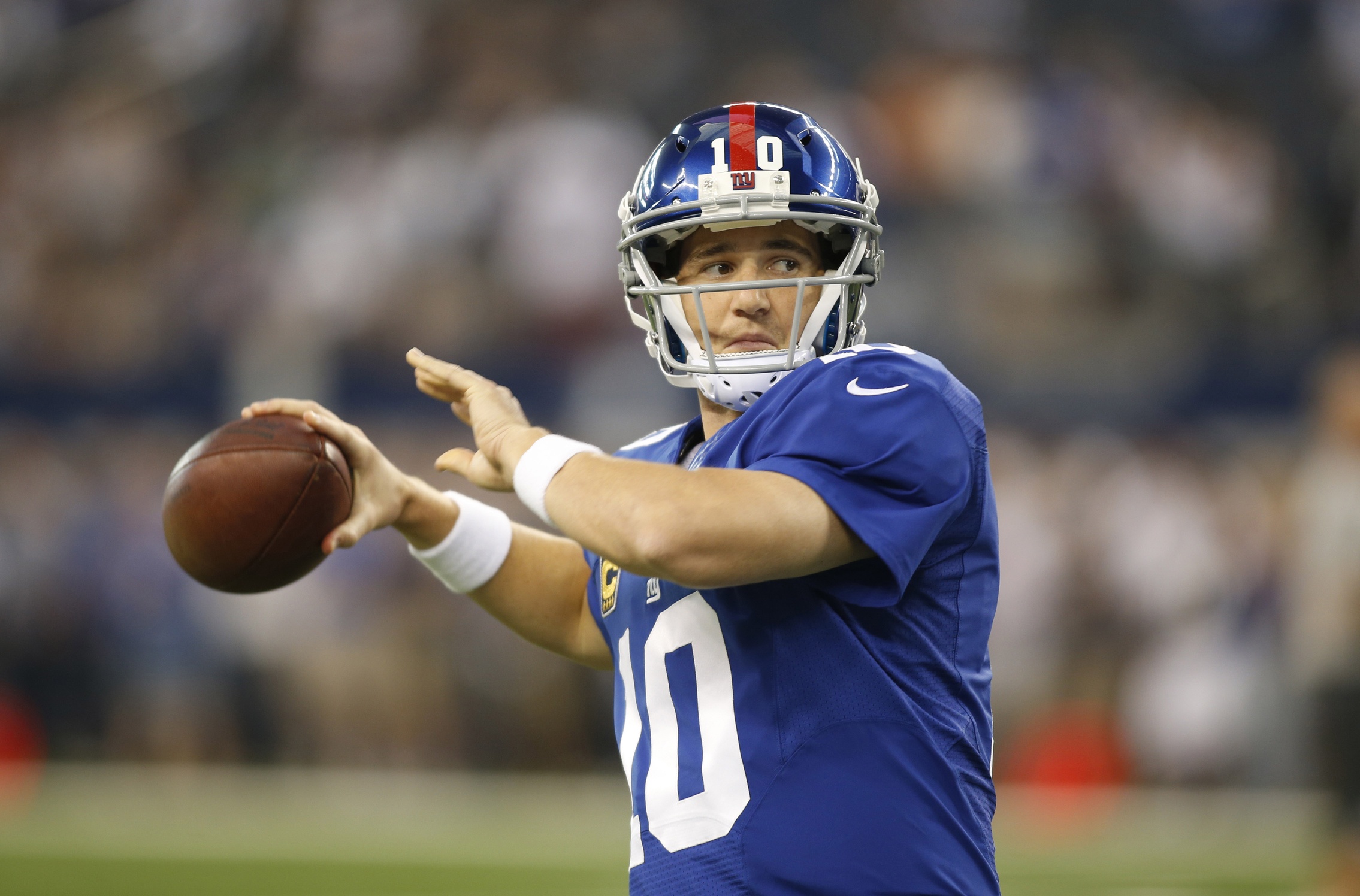 Developing a Winning DFS Strategy
The world of DFS is constantly evolving, with players always finding new strategies and techniques to perfect their game. In order to keep up with your rivals and maintain your chances of winning those big money GPPs, you too need to modernize your tactics and stay one step ahead of the competition. In order to help players win more often and understand the best ways to play, we're going to give you some pointers.
The next NFL season is still a little ways off, so we're going back in time to take a look at one of our best lineups from last season. We are going to look at a lineup that did particularly well, explain our reasoning for why and how we built it, and break down how you can do the same. Specifically, we are looking at a Week 5 lineup that managed to place near the top of every contest it entered on FanDuel. The same strategy can be applied to DraftKings, FantaysDraft, Yahoo, or any website. Let's take a look at each player in the team and tell you why you should have chosen them.
Quarterback Strategy
We'll begin with our team's signal caller: Eli Manning. At the time, it would have been easy for players to invest in the league's superstars like Tom Brady and bank on one of those big name players racking up the points. In fact, only 3% of players decided to pick Eli Manning for the Week 5 round of games.
It's easy in NFL DFS to focus on the biggest stars, especially when choosing your quarterback, but it can be wise to really do your research and try to find some value in this position. Valued at just $7,700 on FanDuel, it was clear that Manning represented a good value selection. He was going up against the 49ers, who had been struggling against the pass for quite a while. He was also in excellent form, having bagged 7 touchdowns in the three previous weeks. As expected, Manning dominated the game against the 49ers and earned us a nice bundle of fantasy points.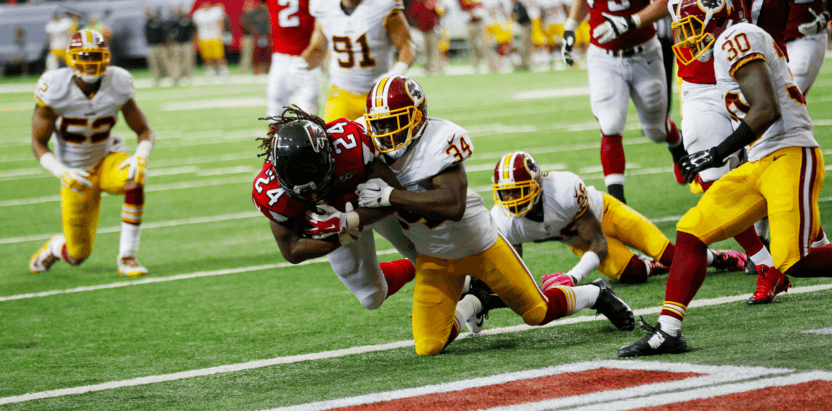 Running Back Strategy
Next up, let's give a mention to Devonta Freeman. Owned by 22% of players at the time and priced at just $7,600, Freeman was one of the most consistent backs in the league in those early weeks. When choosing your players, you need to remember to look at the opposition. Freeman was matched up against a weak Redskins squad and was almost certain to have a great game. He duly delivered with 153 yards and a touchdown, along with 7 receptions.
The lesson to be learned from this story is to never ignore the importance of matchups. Good players can struggle against good teams, so it's not always the smartest thing to simply stack your roster with stars. You need to take into account the quality of the opposition just as much as the quality of the player you select.
Another one of our RBs for Week 5 was Le'Veon Bell. Priced at $9,000, Bell was a popular pick at the time and had an ownership rating of 57%. Rightly so, as Bell was showing off some incredible consistency and was matched up against San Diego.
The Chargers had been struggling to deal with runners and Bell took full advantage of that weakness. Again, this is yet another example of choosing the player based on the opposition. Bell's consistency and elite level production are very important factors, but he might not have produced as many fantasy points had he been playing against a stronger defensive team.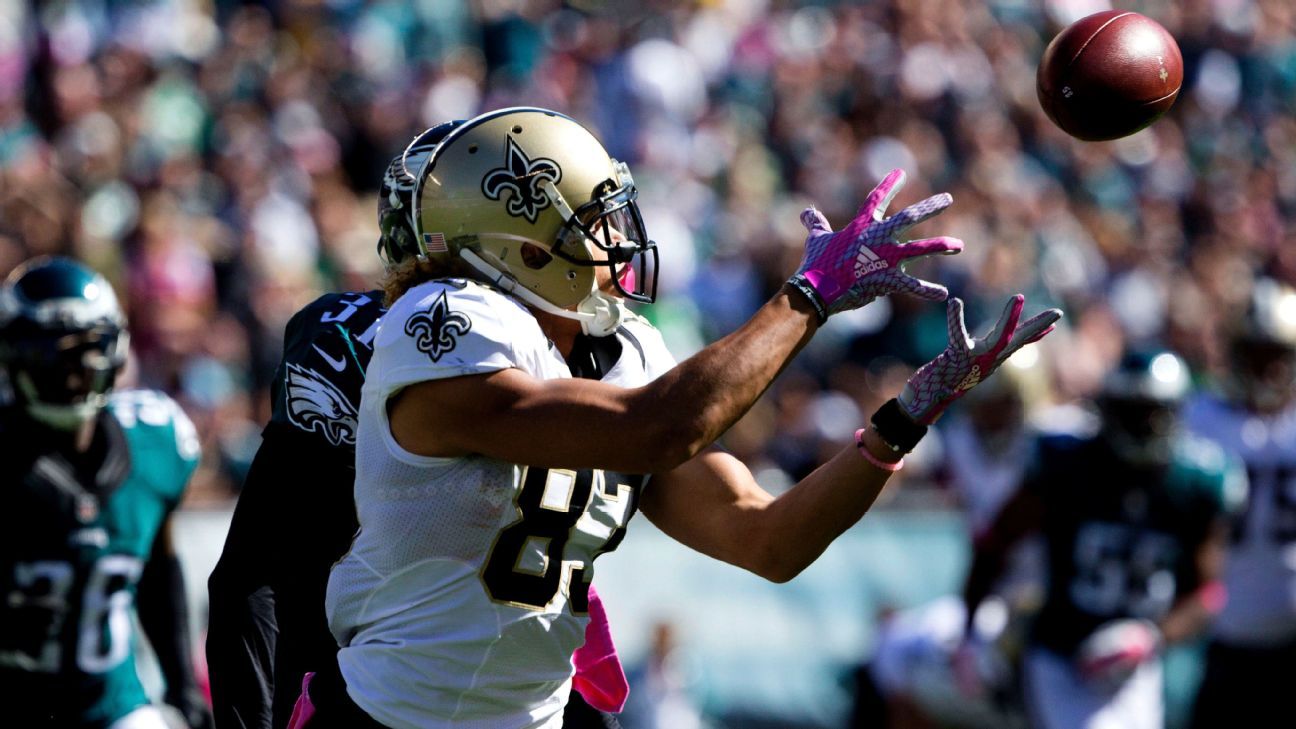 Wide Receiver Strategy
Tight End Strategy
Our chosen TE was Martellus Bennett. Ultimately, Bennett had a bit of a rough game in which he only made 32 yards. However, in the very same game, he was targeted almost a dozen times. That meant that he had the potential to have a lot of influence on the score, but just wasn't being found by QB Jay Cutler. We knew he had the potential, but this just goes to prove that you can't always be sure of how any game will play out.
Luck is always an element in DFS, but you have to try and keep it on your side by making the smartest decisions possible. Finally, we chose the Broncos in defense as they were one of the most obvious selections in our roster. Going up against an inconsistent Raiders offense, it was clear that the experienced Broncos line would get the job done. Sometimes, you just need to make your selections based on logic and history.