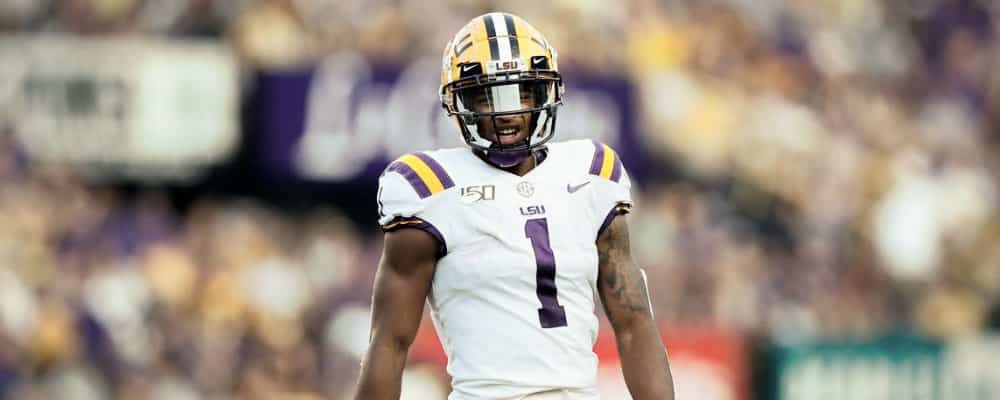 Where Can You Play Daily Fantasy College Football?
Where Can You Play Daily Fantasy College Football?
Daily fantasy college football is available across the majority of the US, with several big-name DFS operators offering slates for the early, afternoon, primetime, and late slates. We will get into the complete list of options later in this article, but for now, here are our two favorite operators including the best available sign-up bonus from each if you want to try your hands at fantasy college football this week.
Best Salary Cap CFB DFS App
5.0 out of 5.0 stars
Salary Cap College Football Contests at FanDuel
FanDuel fantasy players can play salary cap College Football contests that are very similar to the NFL product, but with one major twist. FanDuel CFB utilizes a SuperFlex position, meaning you can roster two quarterbacks in every lineup. Register at the link below to get up to a $500 bonus and one free entry, every week, for the rest of the season.
Get Offer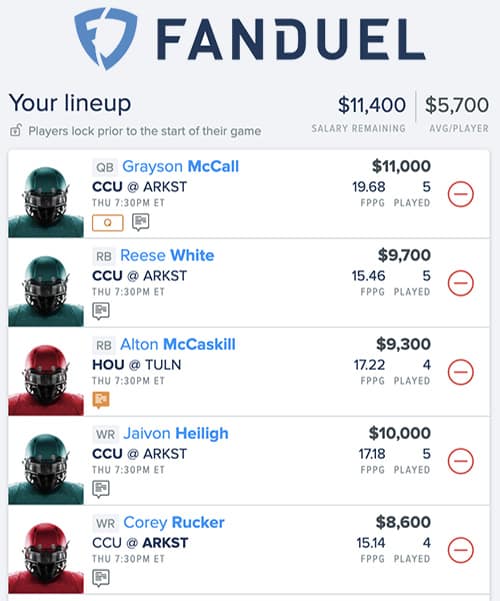 Best Overall CFB DFS Product
5.0 out of 5.0 stars
5.0
Player Prop College Football Contests at PrizePicks
If you love player props and college football PrizePicks is the app for you. PrizePicks offers pick'em style over/under contests for every major college football game. Stack correct predictions to receive up to a 20x payout for your entry. New users that sign up using the promo code 'ROOKIE' receive a $100 deposit bonus and $5 free entry.
Get Offer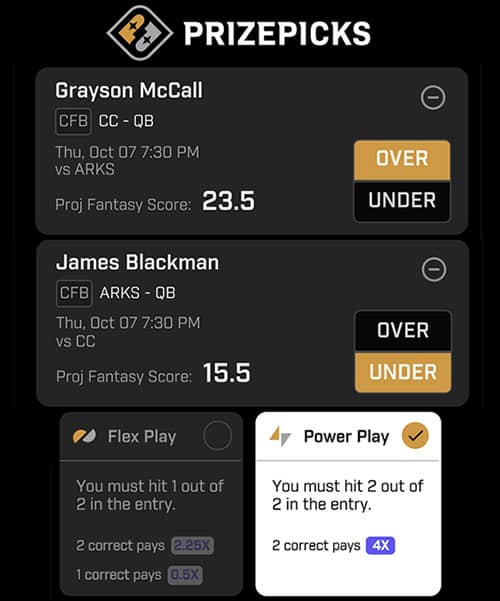 DFS CFB Options for the 2021 Season
Latest Update: October 5th, 2021
Among the college football contests you will find on DraftKings, their $250,000 contest is arguably the most popular. With just a $4 entry fee, and six figure top prize, it is easily the largest fantasy CFB contest in the industry.
Click here to view their current slate of CFB contests and to receive a free entry.
If you are looking for some better odds, the lobby is full of cash game options for each of the major slates each week.
If you love college football and fantasy college football, but haven't already bookmarked or subscribed to Hello Rookie, make sure you do so. We cover all things CFB from betting to DFS, and have already released the most thorough CFB fantasy player rankings for 2020.
We release picks for every CFB slate, and share our locks against the spread each weekend of the college football regular and postseason.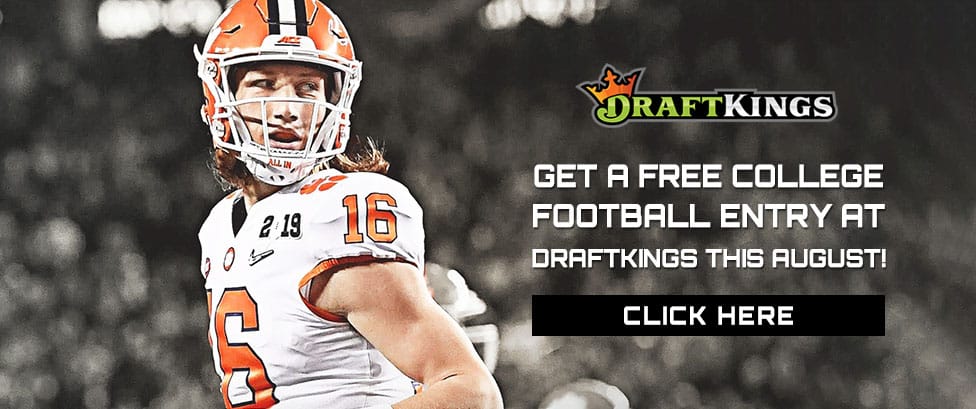 Who Can Enter College Football DFS Contests?
Not everybody can enter college football contests on DraftKings and FanDuel. There are several states that have banned college sports, and if you live in one of these states CFB contests will not be available in your lobby. In order to continue offering fantasy pro sports in these states, FanDuel and DrafKings are not allowed to offer college sports. When you register to play in these states, you are agreeing not to enter college football contests, if you do you forfeit any right to your winnings.
Check the chart below to see if your state is listed, if so then you are ready to start playing on one of the two biggest websites in the industry. If your state is not listed, there are still plenty of options including daily and season long CFB games. Simply continue reading this article to find out where you can play in 2019.
Again, the chart below provides you with a list of states that are eligible to play fantasy college football on DrafKings:
| | | | |
| --- | --- | --- | --- |
| Alaska | California | Connecticut | Washington, DC |
| Florida | Georgia | Illinois | Kansas |
| Kentucky | Michigan | Minnesota | Nebraska |
| New Jersey | New Mexico | North Carolina | North Dakota |
| Oklahoma | Oregon | Rhode Island | South Carolina |
| South Dakota | Texas | Virginia | West Virginia |
| Wisconsin | Miami | | |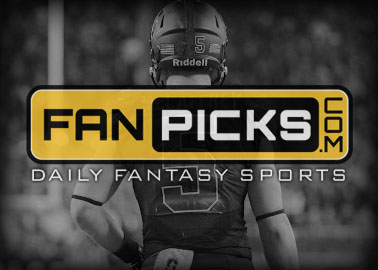 Alternative DFS College Football Options
So what if you live in a state that has banned college fantasy sports? Unfortunately, this means you need to look outside of the US for a DFS provider that offers CFB.
At this moment, that means your only option is FanPicks. Luckily, FanPicks offers a tried-and-proven alternative to DraftKings and FanDuel.
One thing you have to remember with daily fantasy college football is that we went three seasons without it. During those three years, we completely moved our CFB operation to FanPicks and while it certainly doesn't offer the features that you find with the big two, it is a more-than-acceptable alternative.
The great thing with FanPicks is that they offer a wider variety of college football slates than DraftKings offers. You can find small 2 game slates or massive 20 game slates.
The college football roster structure and scoring system is the same on FanPicks as DraftKings, with a full PPR and the Super-Flex option. This allows you to use the picks from our college football articles when building your FanPicks lineups.
Wherever you decide to play this November, the key point of this article is the daily fantasy college football is alive and well… no matter where you live in the United States.
Fantasy College Football FAQ's
We have covered daily fantasy college football for nearly 8 seasons already! You have questions and odds are we know the answer. Let us know if you can't find what you are looking for and a team member will get back to you immediately.
Is it legal to play fantasy college football for money?
Whether or not you can legally play fantasy college football depends on the state you live in. Our recommendation is to allow DraftKings (or FanDuel) to let you know if you can legally play fantasy CFB in your state. Simply visit their app and try to enter a college football contest. If you can, then fantasy CFB is legal in your state.
Is DFS CFB legal in states that banned betting on college sports?
Again, this varies from state-to-state, but typically no. States that wrote legislature legalizing sports betting, but banning amateur states likely did the same with DFS.
How many games are in a typical fantasy college football slate?
The number of games included in a slate varies between sites. Typically FanDuel and DraftKings will limit a college football slate to just the 8-14 best games. They will, however, offer an early slate that begins at 12, an afternoon slate that starts at 3:30, a primetime slate that starts at 8, and a late slate that starts around 11. Want to get crazy? FanPicks offers an all-day slate that can 40+ games.
What happens now that the Big 10 cancelled their season?
There will be fantasy college football as long as there are games. If the Big 10 runs their season in January, then we are just going to get an extra three months of CFB action.