Updated CFB National Title Odds, Staff Picks, User Poll
Updated CFB National Title Odds, Staff Picks, User Poll
The 2019 College Football National Championship race is heating up, and the beautiful thing about this year's race is that we get to settle it on the field. Well, sort of. Win and your in, that is the name of the game at this point.
That shouldn't be a problem for Clemson and Oklahoma, the Big 12 and ACC conferences are a joke and both teams will be massive favorites from here on out. You can make an argument that if any of Alabama, LSU, Oregon, Ohio State, Wisconsin, Penn State, Georgia, or Michigan are able to win out, they will be locks for the CFB Playoff. If all of them lose, then it opens up the door for a one-loss Oregon team to sneak back into the discussion.
With 11 of the top 22 teams in the country, we can clearly all agree that the SEC and Big 10 winners deserve to be in this season. Right? My guess is no. Let's try to figure out what the hell this broken system is going to do this season.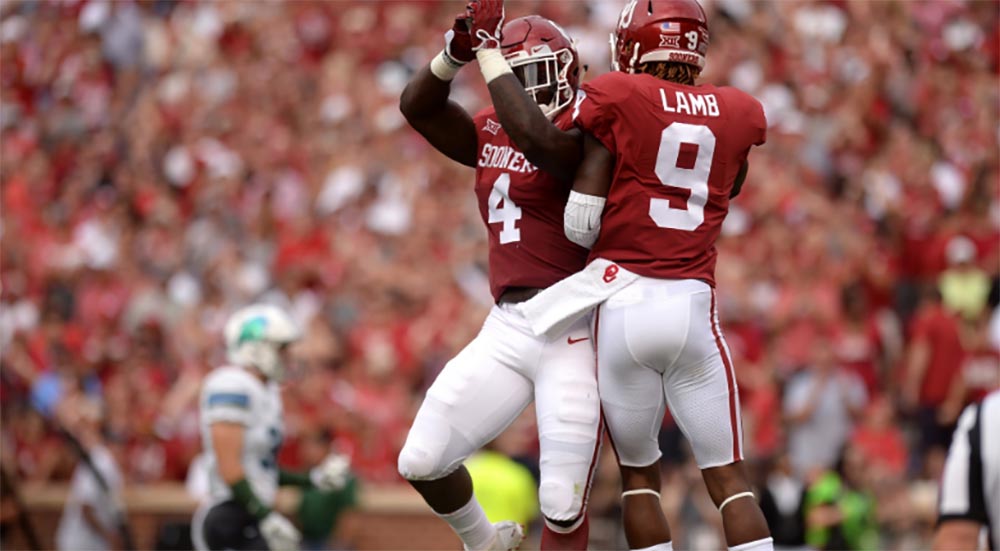 Our National Championship Pick for 2019
While the college football playoff system is considerably better than what we had just a few years ago, it is far from a perfect solution. The problem lies in lopsided conferences and lopsided strength of schedules.
The truth is that there really isn't a Power 5. There are two conferences that tend to be good year-in, year-out (SEC Big 10), and three other conferences that are occasionally good (ACC, Big 12, Pac 12). Aside from Clemson, are we truly convinced the ACC is better than the AAC this season?
With that being said, with most teams just getting to their half-way point in the season, there is still a ton of football left to be played. I'll take a team that doesn't have to play 2+ games against top 10 teams yet this season.
Oklahoma Sooners
When putting my money on the line, I will take the team who's toughest remaining game between now and the playoffs is with a Baylor team that beat Rice by one score. Oklahoma and Clemson are both going to be huge favorites in each of their remaining games while Ohio State has to play Michigan, Penn State, and Wisconsin. Alabama has to play LSU and at Auburn. Even Oregon plays 2 more ranked opponents and rival USC in the final 6 weeks of the season.
The Sooners should be able to cruise into the Playoffs, and will only continue to improve as that inexperienced offensive line gains experience, and as the defense continues to grow in the Alex Grinch system. At 5/1 they seem to at the very least look like a lock to at least make the dance.
Our Top Longshot Bet to Win the 2019 National Championship
If you look at the odds at the bottom of this article, the two programs that really jumped out to me were Oregon and Michigan. Both of these teams need little to no outside help to get in. If Michigan wins out they will likely finish as an 11-1 Big 10 Champ with 4 wins against top 10 teams. Oregon's resume would be much less impressive with likely only one top 25 win on the entire season, but at 11-1 with 11 straight wins, they would have a decent argument to be the top 1 loss team in the country.
Michigan Wolverines at 100/1
I know this pick looks crazy given the way Michigan has looked this season, but what seems even crazier is putting 100/1 odds on a team that controls its own destiny. Even after getting decimated by Wisconsin in Week 4, if Michigan wins at Beaver Stadium and then again at home against Notre Dame, they should be able to coast into a 10-1 matchup with Ohio State. With that in mind, you can expect to see Michigan's number move from 100/1 to 50/1 or lower with a win Saturday night.
Now let's talk about the team. The defense clearly isn't the issue. Don Brown has this group improving every week, they have future NFL players on all three levels, and Cam McGrone has turned into a difference-maker at LB.
The issue is the offensive side of the ball, specifically the passing game. The offensive line started the season slowly but has played much better over the past month. Josh Gattis has struggled mightily as a play-caller, and Shea Patterson has clearly struggled with consistency and ball-security. We have seen zero reasons to feel optimistic that these two guys can figure it out in 2019, but they do have one thing going for them: not one or two, but five pass-catchers that we think have legitimate NFL-upside.
Current 2019 National Championship Odds
The table below gives you the current National Title odds, updated on 10/18/2019. We will update these odds following each week's games. This update came following the Week 7 slate, but is sure to change after Michigan plays Penn State on Saturday night, and then again after the Alabama/LSU and Ohio State/Wisconsin games.
| Team | Current Odds |
| --- | --- |
| Alabama Crimson Tide | 2/1 |
| Clemson Tigers | 3/1 |
| Ohio State Buckeyes | 9/2 |
| Oklahoma Sooners | 5/1 |
| LSU Tigers | 7/1 |
| Wisconsin Badgers | 12/1 |
| Georgia Bulldogs | 16/1 |
| Penn State Nittany Lions | 50/1 |
| Michigan Wolverines | 100/1 |
| Oregon Ducks | 100/1 |
| Notre Dame Fighting Irish | 200/1 |
| Auburn Tigers | 200/1 |
| Baylor Bears | 200/1 |
| Boise State Broncos | 200/1 |
| Utah Utes | 300/1 |
| Texas Longhorns | 1000/1 |
| Arizona State Sun Devils | 1000/1 |
| Minnesota Golden Gophers | 1000/1 |
If you haven't already done so, let us know who your pick is to win the 2019 National Championship. By taking the poll, you will gain access to the current results to get an idea of the opinion of our readers.