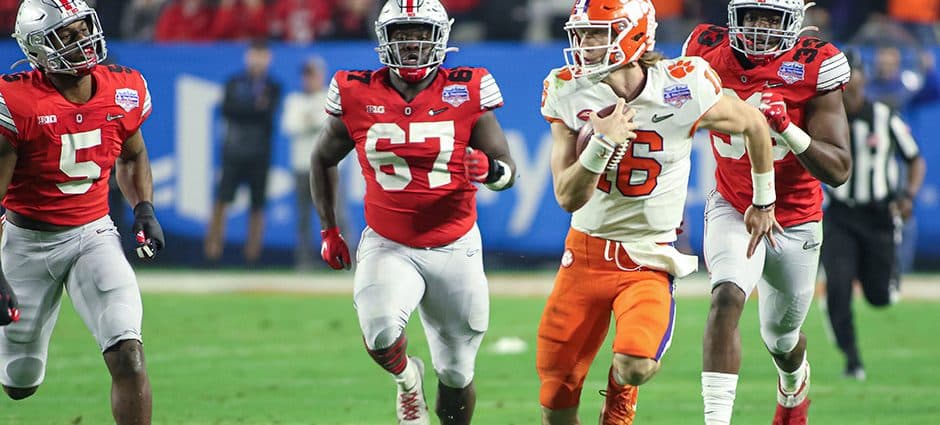 How to Bet the National Championship – Picks Against the Spread and Total
How to Bet the National Championship – Picks Against the Spread and Total
This National Championship offers a unique challenge to bettors as it features two teams that have combined to be underdogs only once this season.
Considering Clemson was the top team in the country at the start of the season, have covered 8 of their last 9, won 29 in a row, have a starting QB that has never lost and are the reigning champs, a +5.5 spread with 75% of the money still coming in on LSU is crazy.
The Tigers have four massive wins in their last seven games (Auburn, Alabama, Georgia, Oklahoma) and have only been held under 36 points once all season.
You can find our picks for the game in the next section down, or take the poll below to let us know who you like in the 2020 National Championship!

How Our Experts are Betting the 2020 National Championship Game
Before we jump right into our picks, let's talk about the current line, and how it got to as high as LSU -6.5 in some places. If we look back to less than two weeks ago, FanDuel had LSU as a 1 point favorite in this hypothetical National Championship game.
After the public watched LSU steamroll the Sooners and Clemson come out somewhat flat against the Buckeyes, that number has shifted 4.5 points on FanDuel and 5.5 points at the top domestic books.
Not only has the number moved, but the public has not stopped betting the LSU side. At the moment, 75% of the tickets written on this game are on LSU… easily the highest ever for a National Championship game.
Here is a look at how the global market opened this game, and where the lines are now:
| Book | Opening Line | Current Line |
| --- | --- | --- |
| Bovada | LSU (-5) | LSU (-6.5) |
| BetOnline | LSU (-5) | LSU (-5.5) |
| MyBookie | LSU (-5) | LSU (-6.5) |
| 5Dimes | LSU (-5) | LSU (-5.5) |
| BetNow | LSU (-6) | LSU (-5.5) |
If we compare those numbers to the domestic books, FanDuel opened at -5.5 and remain there, while DraftKings opened at -3.5 and quickly moved the line to -5.5.
Key Numbers
As sports betting is legalized around the country, more information is available than ever to bettors, which means you are going to be overloaded with stats and data heading into Monday's title game.
Here are the stats we think matter most:
While Clemson had the better win in the CFP, LSU has the better resume on the season. Clemson has two wins over teams ranked in the top 25 (No 2 Ohio State and No 24 Virginia). LSU has five wins over top 25 teams (No. 4 Oklahoma, No. 5 Georgia, No. 9 Florida, No. 12 Auburn, and No. 13 Alabama).
Clemson is 5-0 in their last five matchups with SEC opponents and 9-1 in their last ten matchups against the SEC.
LSU has the nation's top yardage (564 ypg) and scoring offense (49 ppg)… but Clemson has the nation's top-scoring (11 ppg) and passing defense (154 ypg).
LSU is 3-0 ATS on a neutral site and has won 10 of their last 11 games against ACC opponents.
Clemson has covered 8 of 9 games with the only miss coming in a 45 point win against Wofford. Lawrence is 25-0 and 19-6 ATS as a starter.
Our Pick Against the Spread
This game is going to be tight, there is no way you can argue it won't be. Even the computers can't agree on this one… ESPN gives Clemson a 56% chance of winning while Sportsline gives LSU a 60% chance of winning.
We know both teams are capable of winning here because we have seen them do it already this season. LSU has wins against Auburn, Alabama, Oklahoma, and Georgia. While Clemson just beat an Ohio State team that came into the game as the nation's top-scoring offense and defense, having throttled everyone in the Big 10, arguably the nation's deepest conference.
While the LSU passing attack (2nd in nation) vs the Clemson passing defense (1st in the nation) is going to get all of the headlines, and rightfully so… we think it determines the winner of this game. LSU's defense has looked beatable throughout this season (Tua and Ehlinger both threw for over 400 yards against the Tigers)… Clemson is going to score enough to win this game if their defense can get stops.
That is a big if.
Brent Venables is the highest-paid assistant coach in the country and based on the job he did this season, you could make the argument that he should get another raise this offseason. The challenge here is immense. He needs to generate pressure on Burrow by blitzing (this Clemson front will not win against LSU's offensive line), without getting torched on the back end. Nobody has done it all season, blitzing Burrow has been a death sentence.
We were in an eerily similar situation last season. Alabama came into the National Championship game with a QB that averaged 320 passing YPG despite rarely playing more than a series in the third quarter of games. Venables defense was the tops in the country last season as well, and he found a way to hold Alabama to just 16 points. The question is can he do it again without Ferrell, Wilkins, and Lawrence?
While we aren't sold that the Clemson defense will shut down Burrow like they did Tua last year, we are more than happy to take the 6.5 points in what is going to be an extremely tight game.
Our pick: Clemson +6.5
Our Total Pick
Everybody expects fireworks in this game, and as you might expect the over is an extremely popular bet. In fact, 66% of the tickets written so far have been on the over.
If the line ends up closing at 69 (70 available on global books), LSU will have gone over that number 8 times this season, but Clemson would have just two games over the total on the year. Keep in mind Clemson's defense has been considerably better than LSU's. They have allowed more than 14 points just three times this season, while LSU has allowed opponents to score more than 14 points eight times.
As good as Venables' Clemson defense has been the last two seasons, he did give up a combined 76 points to Clemson in the 2015 and 2016 National Title games.
We just don't see that happening here and will be fading the public again on this one.
This Clemson defense is too good to let LSU get to 35 points. Only one team has scored 35 against Clemson in the last three seasons, and that was the fluke 2018 game against South Carolina. Not a title game that Clemson had two weeks to prepare for.
Speaking of title games, only one national championship game has gone over 69 points in the last 14 seasons. That was the 2015 Clemson/Alabama game that needed 40 4th quarter points, including a 95 yard Kenyan Drake kick return, to go over.
Our pick: under 69