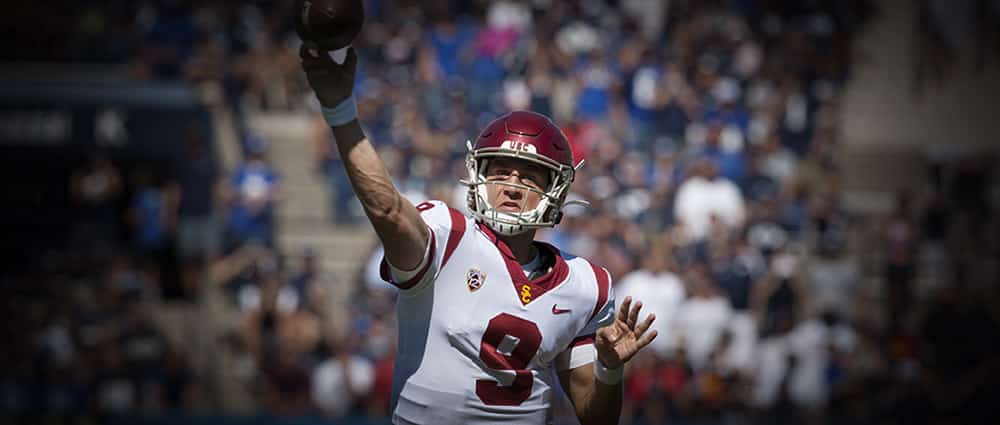 DraftKings Week 13 College Football Picks and Lineups
DraftKings Week 13 College Football Picks and Lineups
With only three college football regular-season slates remaining for 2019, we have to embrace every remaining second of this as next September is a long way off. Before we jump right to our picks for this CFB Week 13 slate, let us know what your favorite DraftKings plays for the week are in the poll below.
Our Week 13 College Football DFS Targets
Let's start Week 13 off with a look at the team implied totals and how they compare to each team's season average. As you can see from the table below, Vegas clearly thinks Iowa State, USC, and Louisville have the slate's most favorable offensive matchups. I think our picks for the week actually reflect that same sentiment.
| Team | Opponent | Implied Total | Avg PPG |
| --- | --- | --- | --- |
| Iowa State | Kansas | 41 | 36 |
| USC | UCLA | 40 | 32 |
| Ohio State | Penn State | 39 | 52 |
| UCF | Tulane | 38 | 43 |
| Memphis | USF | 37 | 40 |
| Louisville | Syracuse | 36 | 31 |
| Navy | SMU | 35 | 37 |
Kedon Slovis
DraftKings Salary – $7,000 | FanDuel Salary – $9,300
Slovis is clearly a perfect fit for Graham Harrell's air raid offense and has been on an absolute tear over the last four games (30 DraftKings PPG). In week 13 he faces a UCLA defense that comes in giving up 298 passing YPG (122nd in the nation) and nearly 330 passing YPG on the road. Slovis also makes for an easy stack with Michael Pittman Jr, who is also averaging over 30 DraftKings PPG over the past month.
---
Macale Cunningham
DraftKings Salary – $6,100 | FanDuel Salary $8,900
Running Scott Satterfield's QB friendly system, Cunningham has consistently hit value in favorable matchups this season. After playing through injuries for about a month earlier this season, he is finally fully healthy and in arguably his most favorable matchup to date. Syracuse is giving up a ridiculous 472 yards per game, and 485 yards per game over their last three.
---
Breece Hall
DraftKings Salary – $6,700 | FanDuel Salary – $9,000
Hall has been a mainstay in our lineup articles since establishing himself as David Montgomery's replacement back in week 7. He has averaged just under 29 DraftKings PPG over that stretch. His week 13 opponent is a Kansas defense that is giving up over 240 rushing YPG on the season and over 250 rushing YPG in Big 12 games this season.
---
Joshua Kelley
DraftKings Salary – $6,700 | FanDuel Salary – $8,800
Kelly had 289 rushing yards and 2 touchdowns in this game last season and has reestablished himself has the focal point of the UCLA offense. Clearly Chip Kelley will look to lean on Kelley and try to keep this game from becoming a repeat of the Washington State game that saw his defense give up over 700 total yards and 60 points. USC is giving up 168 rushing YPG this season, including a near Pac 12 worst 4.6 YPC.
---
Michael Pittman Jr.
DraftKings Salary – $7,600 | FanDuel Salary – $9,000
As we mentioned earlier, Pittman has averaged 31 DraftKings PPG in his last four starts, and you could argue that this matchup with UCLA is easily his best matchup to date. Not only is UCLA a bottom 10 pass defense in the country, but they gave up nearly 700 passing yards to Washington State's air raid offense earlier this season. While USC has four fantasy-relevant pass catchers, Pittman is clearly Slovis's favorite target.
---
Chartarius Atwell
DraftKings Salary – $5,900 | FanDuel Salary $8,900
Atwell is another player that has made a lot of our 2019 college football articles. Like Cunningham, he has burnt bad ACC defenses. He has one of the better team target percentages in the country and has converted that workload into 25+ fantasy points in each of the last three games.
---
Dillon Stoner
DraftKings Salary – $5,200 | FanDuel Salary – $8,400
We know Stoner is going to be one of the chalkiest plays in this slate, but I don't see any way to avoid playing him here. Stoner has racked up 243 yards and 4 touchdowns in two far less favorable matchups since Wallace's knee injury. West Virginia's run defense is far stronger than their pass defense. They are holding opponents to just 4.0 YPC while giving up over 265 passing YPG on the season and over 300 passing YPG in Big 12 play.
Putting it All Together: Week 13 CFB Lineups
So you know what our favorite plays are, but how about some of our favorite lineups? Here is a preview of how we are building our week 13 CFB lineups on DraftKings.
As always, we highly recommend you put your own twist on any of these plays. Let us know what changes you would make in the comments at the bottom of the article, or simply take the poll at the top of this page and share your thoughts there. Good luck this week… only three left!

New to College Football on DraftKings?
If you have not yet tried out fantasy college football on DraftKings, don't wait another week to do so! We are down to the last month of the CFB regular season, which means only a few more slates remain. You can play for free with our current DraftKings promo code offer.