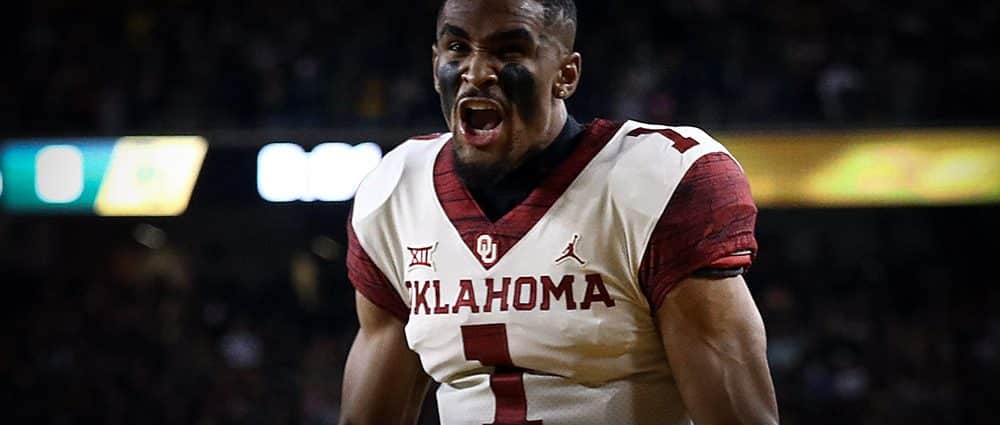 Championship Weekend DFS Picks for DraftKings and FanDuel
Championship Weekend DFS Picks for DraftKings and FanDuel
Who wants to have some fun? And I'm not talking about hitting golf balls into whale blowholes… I'm talking about the best college football DFS slate of the year.
It's conference championship week, which is the Superbowl of daily fantasy college football. We have our picks ready, but in the spirit of the week we changed our poll up to simply pick the winners from each of the games in the Saturday slate. Let us know who you got below!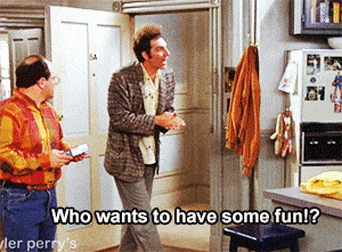 Our College Football Championship Week DFS Targets
The first thing worth noting this week is that the quality of the games is obviously way up. While we still have three double-digit lines (Ohio State, Clemson, Boise State) even those teams will face tougher matchups than they did for most weeks this season.
In fact, the only team with a positive scoring correlation when comparing implied totals with yearly scoring averages is Boise State, who are projected to score 2 more points than what they averaged on the season.
Week 13 College Football Team Implied Totals from PointsBet
| Team | Opponent | Implied Total | Avg PPG |
| --- | --- | --- | --- |
| Clemson | Virginia | 44 | 44 |
| Boise State | Hawaii | 39 | 37 |
| Oklahoma | Baylor | 37 | 42 |
| Ohio State | Wisconsin | 37 | 50 |
| Memphis | Cincinatti | 33 | 40 |
| LSU | Georgia | 31 | 47 |
| App State | Louisiana | 31 | 39 |
| Central Michigan | Miami | 30 | 32 |
So, in a slate that will obviously see scoring dip due to the lack of mismatches, who do we like? The guys below represent our core group of players for the Championship Week slate on FanDuel and DraftKings.
Jalen Hurts
DraftKings Salary – $9,000 | FanDuel Salary – $11,800
Hurts is easily the must-play guy in this slate… even in a tougher matchup, and as the highest-priced player in the slate. He is averaging just under 5x his $9,000 salary on the year, easily cleared 4x in the first matchup with Baylor, and has only been held under 4x value twice all season.
---
Trevor Lawrence
DraftKings Salary – $7,700 | FanDuel Salary $9,700
I love this matchup for Trevor Lawrence, as Virginia's secondary is getting shredded by everyone right now, but the run defense is the best the Tigers have faced since Texas A&M. Over their last four games (all wins) they are giving up over 300 passing YPG and 3 passing TD's per game. That is a stretch of games that includes Liberty and Georgia Tech.
---
Darrynton Evans
DraftKings Salary – $7,000 | FanDuel Salary – $9,300
Both App State and ULL are more than willing to take the air out of the ball and go extremely run-heavy, as evidenced by the 17-7 score the first time these teams met. Lafayette also boasts a top 25 pass defense and App State will be without 2 of their top 5 pass catchers, making a run-heavy game plan even more likely. As good as they are against the pass, they are equally bad against the run, giving up over 185 rushing YPG on 4.6 YPC. Evans closed out the 2019 regular season with back-to-back-to-back monster games, averaging 33 DraftKings PPG over that stretch.
---
Jonathan Ward
DraftKings Salary – $6,600 | FanDuel Salary – $9,000
We expect CMU to bury Miami of Ohio tomorrow, which is good news for Ward. Miami is extremely strong against the run but struggles against the pass, so expect to see CMU's run-heavy offense run to build the lead, then run some more to run out the clock. Miami gives up over 190 rushing YPG on the season, and Ward had gone over 100 total yards in 7 straight games before the Toledo game last week. Expect a monster 30+ point week out of him here as well.
---
George Holani
DraftKings Salary – $5,600 | FanDuel Salary – $8,200
Of the non-stud RB picks in this slate, Holani makes the most sense. You have to assume that Boise will go run-heavy to keep Hawaii's offense on the sideline for as long as possible. When Hawaii does have the ball, they certainly won't be able to run the ball or have enough time of possession to keep Boise's offense off the field for long stretches. It is also worth noting that as of now the forecast is calling 70% rain in Boise tomorrow. Holani turned 12 total touches into 100+ yards and 3 touchdowns in the first meeting between these two teams and has seen his workload steadily increase since.
---
Damonte Coxie
DraftKings Salary – $5,800 | FanDuel Salary – $8,800
Coxie enters the AAC championship game on an absolute tear, averaging just under 26 DraftKings PPG over his last five games. He is also a guy that shows up in big games, scoring 25+ points in big conference games against SMU, Cinci, and Houston. Memphis really struggled to get their running game going in this matchup last week, Taylor and Gainwell combined for only 112 total yards, and I don't see them being able to run it too effectively here this week. On the season, Cinci allows only 3.6 YPC but has given up over 230 passing YPG.
---
Terrell Jana
DraftKings Salary – $4,200 | FanDuel Salary $6,000
With 60 catches for 690 yards on the season, Jana has been one of Perkins' most reliable weapons down the stretch, including a 13/146 game against North Carolina in week 10. Clearly Virginia is going to be playing from behind early in this one and based on volume alone, Jana could reach value for his $4,200 salary. Particularly in DraftKings's full PPR format.
---
Garrett Wilson
DraftKings Salary – $4,100 | FanDuel Salary – $5,800
A five-star recruit out of Texas, the Garrett Wilson emergence feels way too similar to Olave's rise at the end of last season. If you remember, Olave came out of nowhere to have a monster game against Michigan, then another big game in the Big 10 championship. Wilson has loads of talent and you have to think Ohio State will need to throw it at least slightly more than they did last time they faced Wisconsin. With loads of big-play ability, Wilson is about as high-risk, high-reward of a start as you will find in this slate.
Our DraftKings and FanDuel College Football Lineups for Conference Championship Week
Below are two examples of how we are putting together our lineups for this weekend's monster slate of college football action. We strongly advise you to put your own twist on these picks and give yourself a chance to take us down this week!
Try Fantasy CFB for Free on DraftKings
If you have not yet tried out fantasy college football on DraftKings, don't wait another week to do so! We are down to the last month of the CFB regular season, which means only a few more slates remain. Enter a conference championship contest for free with our latest DraftKings promo code.