BetOnline Review
BetOnline Review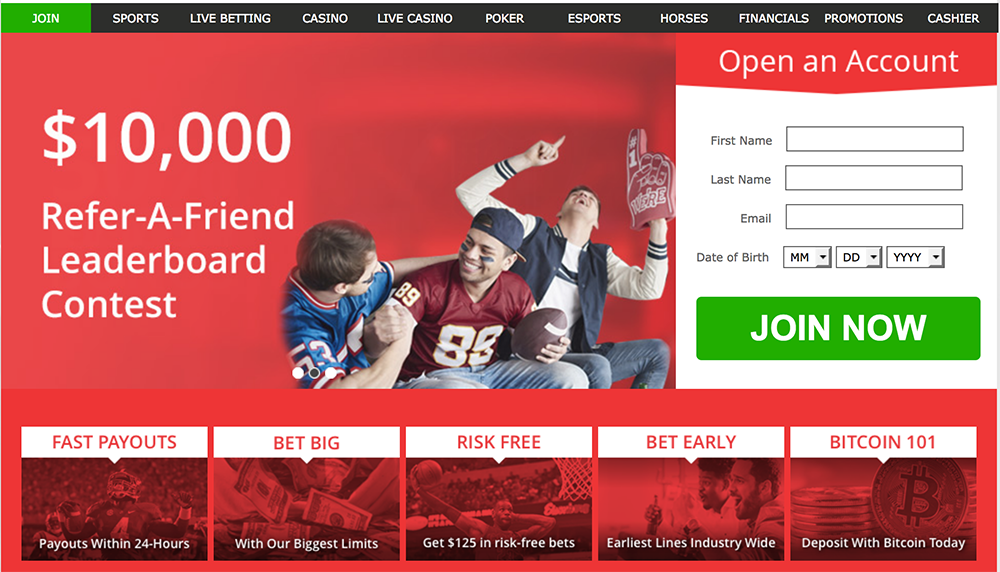 BetOnline.ag SportsBook Review
BetOnline is one of the world's biggest sportsbooks, offering huge promotions, incredible welcome bonuses, high betting limits and a whole lot of options. BetOnline.ag is all about offering its customers the best possible experiences and excelling in every possible area.
It might sound ambitious, but the team at BetOnline want to set the bar as high as possible, and in all of our experiences with this company, we've been highly impressed at how well they've succeeded. The site has quickly become one of the leading lights in the US sportsbook world, and we'll be looking at various individual aspects of the BetOnline experience here in this review to help you decide whether or not to sign up for an account of your own.

BetOnline got started way back in 2001 but has really asserted itself in the US market in recent years. Originally called Best Line Sports, the company underwent a rebrand and currently operates out of Panama.
It accepts bettors from all over the world and also offers a myriad of casino games and a poker room that has proven to be very popular with American players. The company is sistered with SportsBetting.ag, which is another top quality online sportsbook you might want to check out.
BetOnline has proven to be one of the most reliable options for sports bettors, offering solid payout speeds, exciting promotions and more. Let's take a closer look at what exactly BetOnline has to offer.
One of the most important parts of any online sportsbook is the customer service department, so let's start there. We're glad to report that BetOnline doesn't have much of a history of serious player complaints and has developed a reputation for reliably processing payments, so players don't tend to need to get in touch with customer service staff members.
However, it's always nice to know that friendly and helpful support workers are standing by, just in case you need them. Fortunately, BetOnline absolutely ticks this box. The site offers round-the-clock support, 365 days a year.
You can get support for any issue you have via phone, email or live chat. In our experience, any issues or queries have been resolved promptly and efficiently.

BetOnline Cashier Review
The great customer service extends behind-the-scenes too, as BetOnline is able to offer exceptional payment processing speeds, allowing you to get money in and out of your account with ease. The site offers a huge variety of deposit options, including credit cards, debit cards, Bitcoin, checks, bank wires and more.
As far aw withdrawals go, you can get your winnings via check, bank wire, Bitcoin or person-to-person transfers. Fees are minimal on these options and they're all pretty fast. With checks, you can pay a little extra to get the money delivered even more quickly.
All of this means that when you bet with BetOnline, you won't have to worry about waiting a long time to actual get your winnings out into the real world, which is definitely a big bonus.
It is worth noting in this section that if you take advantage of our BetOnline.ag promo code when you sign up, that money and anything you win with the bonus money, has to roll over a certain number of times before it can be withdrawn. This is an industry-standard policy with no workaround, if you don't like it, don't accept the bonus cash.

What Sports Can You Bet On at BetOnline?
So we can see that the services and systems in place on BetOnline are more than satisfactory, but let's look at the actual betting options. Fortunately, BetOnline continues to excel here, offering a huge range of betting markets and propositions, with a big focus on popular American sports.
The site does offer countless betting options on other popular events and sports like soccer, rugby, tennis, and more, but there's definitely a lot of emphasis on the US leagues on BetOnline.
The vast majority of BetOnline's users are based in the US, so the site is catering to the biggest part of its audience. Straight bets, parlays, teasers and pleasers, if-bets and many more options can all be found on BetOnline, along with additional bet types unique to each sport. You can also bet live on a variety of events, and the site is well-designed to help you find what you need without much hassle.
BetOnline also offers great odds, updating lines quickly to keep up with shifts and trends in the market and to offer more attractive propositions when compared to rival sportsbooks.
If you're looking for competitive odds and good value on your bets, this is a great place to be. The site also offers solid wagering limits, letting casual bettors place bets of just $1, while high limits players can go all the way up to $25,000 on certain events.
To make the site even more attractive, BetOnline also offers huge welcome bonuses and a great range of promotions throughout the year to keep loyal customers coming back for more.
All in all, it's easy to see why so many Americans have chosen BetOnline as their number one sportsbook. This is easily one of the best overall betting sites in the industry, with unbeatable promotions, solid customer service, early lines, huge betting variety, broad betting limits, fast payment processing, and more.
Everyone has factors that mean more to them when signing up for a new betting site, but whether you're looking for reliability, value, or something else entirely, BetOnline will be able to meet your needs. It's a highly impressive site and we can recommend it to anyone.